Create your own scarf, using natural dyeing techniques.
About this event
HAWAR textile institute from Friesland in The Netherlands bring their expertise to Craft in Focus!
During the workshop eco-printing you can create your own scarf, using natural dyeing techniques.
Leaves, flowers and twigs can transfer their natural color to fabric. With eco-dyeing – also called plant printing – a pattern is printed on fabric with leaves from different plants. The trick is that the leaf not only leaves a colored spot, but that even the grain is visible in the print. At Textile Institute HAWAR they know exactly how you can achieve this.
During the workshop they will teach you about the natural colorants of the different leaves and how you can make a nice sharp print. In this workshop you will make a pattern of different leaves on an Etamine de Laine scarf. The woolen scarf has a size of 180 by 50 cm.
Hawar provides an extensive selection of leaves, and you are warmly invited to bring your own plant, tree or flower leaves. The result will then be a surprise!
NB: Part of the workshop is fixing, this takes 1.5 hours, so keep in mind that you cannot take the scarf with you immediately after the workshop.
Harm Harms is known for his innovations in the field of textile processing. He developed the Funpump for dyeing on textiles as well as a new type of felting machine. In 1980 he founded HAWAR with Meinie Wardenier. What started as a silk painter's studio has grown into an internationally renowned textile institute. In combination with a very extensive store and an inspiring gallery, it is a unique place for the textile lover.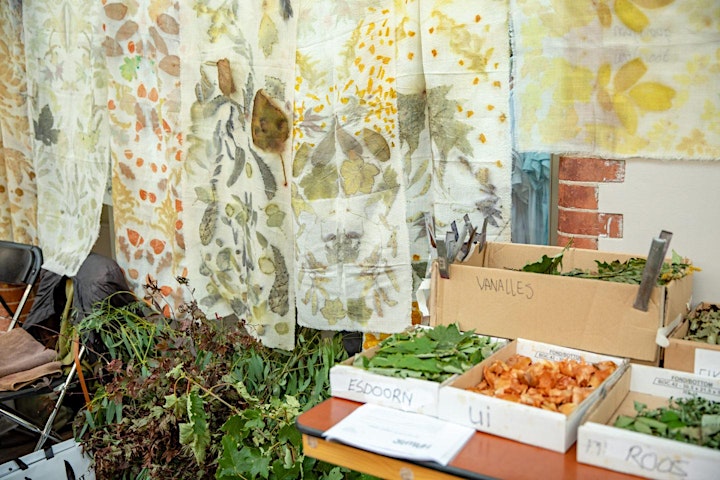 Organizer of Craft in Focus: Eco-print your own scarf
After six successful editions in Amsterdam, and a New York pilot in 2017, the Craft in Focus Festival will be making its return to New York, and taking place Saturday, May 18 to Monday, May 20, 2019. The three-day festival will transform Industry City in Brooklyn, NY into an open workspace and presents hands-on workshops for people of all ages, master classes and demonstrations, focusing on master craftsmanship. For more information on the Craft in Focus Festival, please visit our website.
Entrance to the festival is free, classes are ticketed.

May 18, 19, 20, 2019 at Industry City, Brooklyn.
Opening hours: 11am – 6pm, doors open 10.30am