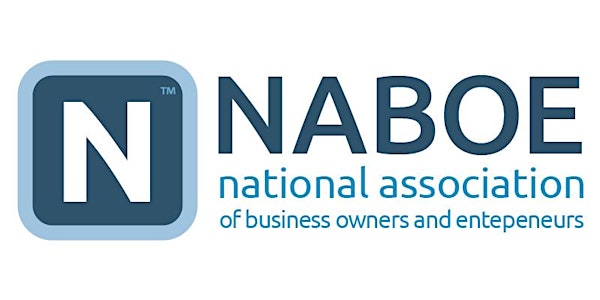 Cracking the Growth Code: Why some businesses Excel, and others do not!
Join us for great networking, a full breakfast and terrific presentation.
When and where
Location
Lakewood Country Club 13901 Glen Mill Rd Rockville, MD 20850
Refund Policy
Refunds up to 7 days before event
About this event
NABOE Presentations
Our Panel of entrepreneurs will discuss multiple approaches to how they are growing their small businesses. These entrepreneurs all grew their revenues in excess of 30% to 50% over the past year. This panel discussion will explore how they did it and how they intend to maintain this level of growth in 2022 and beyond. If you are a business owner, plan to be, or just interested in serving the small business community, this is a must-see presentation that goes to the heart of running a small business.
Panel Members
Jason Bach, CEO, Mosaic Tech Partners
Buff Colchagoff, CEO, Rosetta Health
Matt Lescault, CEO, Lescault & Walderman
NABOE Platinum Sponsors
Click to learn more about each Sponsor
Atigro (Ken Fischer)
IBAA (Alan Schulman, Insurance)
SHS Services (Steven Suissa, Payroll Services)
Shulman Rogers (Lane Hornfeck, Corporate Law)
CEO Focus (Ron Wills, CEO Coaching & Mastermind Groups)
NABOE Business Memberships Powered by CEO Focus
About the National Association of Business Owners & Entrepreneurs
NABOE is an association of business owners and leaders who have in common their desire to learn, grow and better themselves and their organizations. NABOE serves its members by bringing thought leaders, contemporaries and vetted resources together in high-end, respectful educational settings. NABOE offers presentations helping leaders change and direct their companies grounded in science based programs and solutions.
Please note: We respect the privacy of the individuals who attend our programs and have a strict "no solicitation" policy. See below:
Relaxed Networking: We pride ourselves on having relaxed networking events where our C level participants feel comfortable. Programs offered by the National Association of Business Owners & Entrepreneurs have a strict, no solicitation rule. Violations of this no-solicitation rule are immediately removed from our membership rolls and will not be allowed to attend future events. It is up to the discretion of the Membership Committee if an individual will be reinstated.