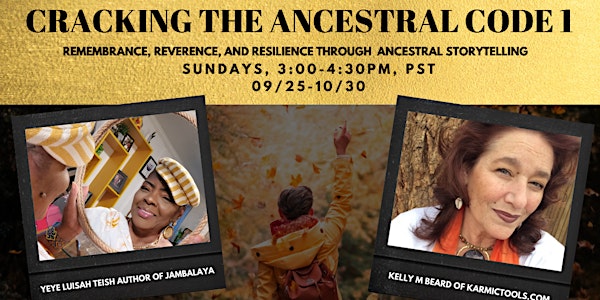 Cracking the Ancestral Code 1
Cracking the Ancestral Code I: ( 6 classes, monthly moon rituals, a nine-day elevation, and a Praise-singing for Oya)
Refund Policy
Contact the organizer to request a refund.
Eventbrite's fee is nonrefundable.
About this event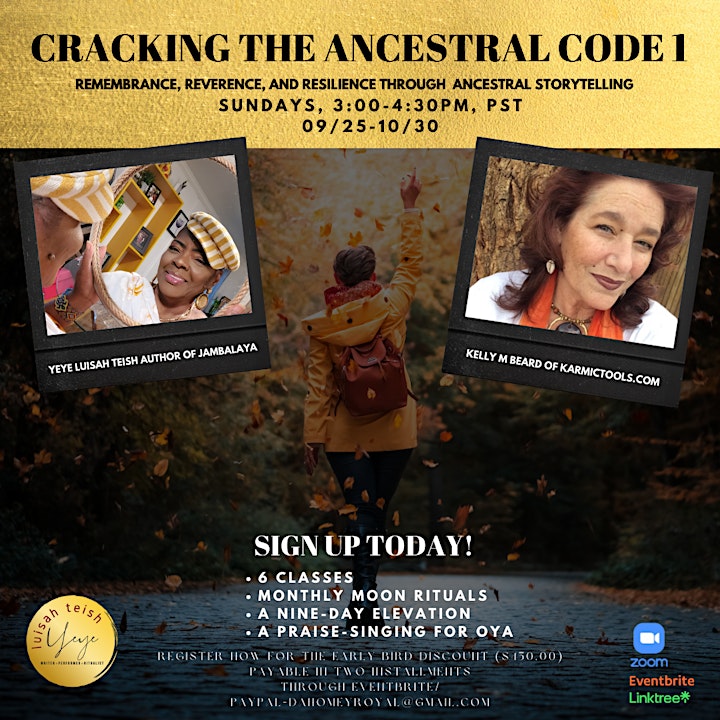 Cracking the Ancestral Code 1: Remembrance, Reverence, and Resilience through Ancestral
Storytelling.
(This is the beginner's class)
Sundays
3:00-4:30PM Pacific Time
09/25-10/30
6 classes, monthly Moon rituals, a nine-day elevation, and a Praise-singing for Oya.)
Overview:
Storytelling is the grandmother of the church, the school, and the theater. Our ancestors defined the sacred, explained our origins, and recounted the history of our lineages through vibrant story sharing. These stories help us to claim our inheritance, to incorporate the wisdom of our ancestors into our daily activities, and to carry that power into the future.
We will use both objective (discovery/lineage research) and subjective (recovery/spirit messages, dreams) for "remembering" the stories of the ancestors. Participants are encouraged to research their own bio-cultural inheritance and an "affinity culture".
The practical applications of ancestor reverence include guidance, protection, and healing, which are so important in this time of the infectious pandemics of disease, racism, poverty, and environmental degradation. Stories recounting the power of the ancestors to intervene in these difficulties inspire resilience.
Reverence practices include the construction of sacred spaces in the home (ancestor shrines), acknowledging holy ground in nature, (forest/cemetery), and researching sacred sites (such as Goree Island, Congo Square, Goddess temples, and others).
The Ancestral Line Visualization reconnects us with the Consciousness of the ancestors. Suggestions for clarifying our dreams help us to understand their message, and we embody those messages through the creation of invocations,
chants, music, art, and writing.
This series employs film/video of myths, rituals, sacred arts and crafts, and performances.
It includes Moon rituals, corresponding to precise astrological influences guided by Shamanic Astrologer Kelly Beard of Karma Tools.
The community will participate in a praise-singing (poetry, music, and prayer) for
"Oya, the Boss-Lady of the Cemetery", and "She Who Leads the Procession of the
Ancestors".
Participants in this class will receive guidance for creating personal rituals to deepen their relationship to their own ancestors, and to activate the energies of the Nine Layers of the Soul.
This promises to be a spectacular Ancestral Season.
Register now for the Early Bird discount ($450.00) payable in two installments through Eventbrite.
Deadline: October 8th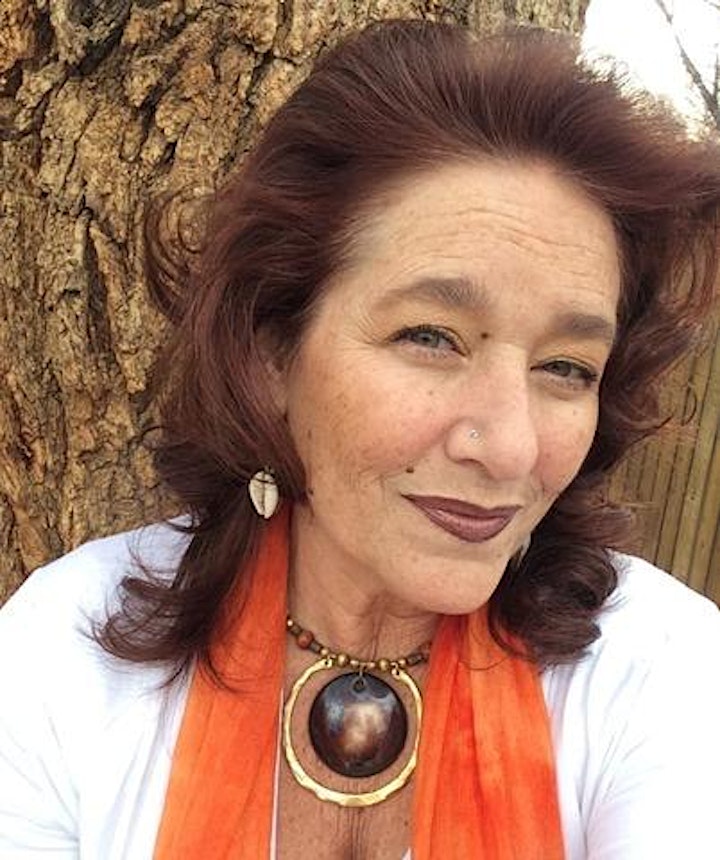 Kelly provides customized tools, practices & support for other healers, artists, activists, athletes & conscious leaders so that they can do their own soul work, personal healing & expand their education. Naturally drawn to religion, philosophy & spiritual practice for soul growth & self-mastery, including astrology, tarot & shadow work, Kelly creates sanctuary for seekers who want to better themselves so they can better the world.
YEYE LUISAH TEISH
Chief Iyanifa Fajembola Fatunmise also known as Yeye Luisah Teish is an American author of African and African-diaspora spiritual cultures. She also is an affluent ritualist, keynote speaker, and spiritual advisor on a global scale. Primarily known for Jambalaya: The Natural Woman's Book of Personal Charms and Practical Rituals, a women's spirituality classic published in 1985 by Harper & Row Publishers. This book has been translated into German, Spanish, and Dutch. As of 2021, the work can be purchased on Audible.com narrated in her own voice.
She has contributed to 40 anthologies, most notably Spiritual Guidance Across Religions: A Sourcebook for Spiritual Directors and Other Professionals Providing Counsel to People of Differing Faith Traditions. And, magazines such as Ms., Essence, Sage Woman, and the Yoga Journal have provided further accessibility to her poetry, and essays. Her articles and artworks appear in Coreopsis: Journal of Myth and Theater, and the Cascadia Subduction Zone Journal of Speculative Fiction.
As an Oshun priestess (Yoruba Goddess of Love and Sensuality), Yeye continues to officiate over spiritual retreats, rituals, and workshops that span over forty years since her introduction into the Ifa spiritual practice.
Yeye holds an honorary Ph.D. from the International Institute of Integral Human Sciences.
Yeye's background in her own words.
Yeye, she knows a lot. So much.
Black Madonna and The Dark Mother - circa 1990s