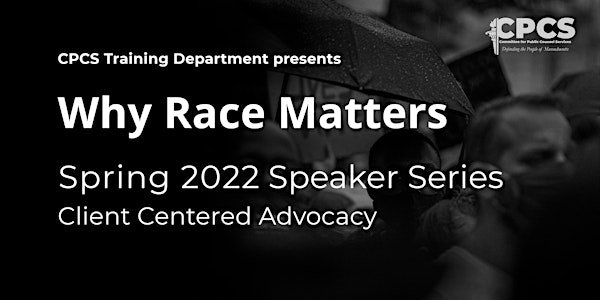 CPCS Training Dept. Presents: Why Race Matters - Spring 2022 Speaker Series
Theresa Coney, CPCS Training Department Racial Equity Training Lead, presents a speaker series advancing racial equity and justice.
About this event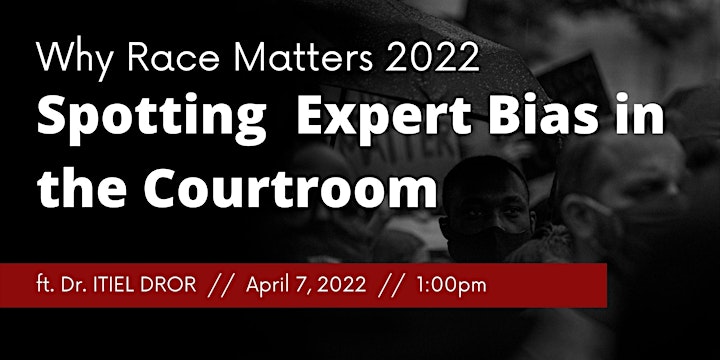 Spotting Issue of Expert Bias in the Courtroom
Speaker: Dr. Itiel Dror
Thursday April 7, 1:00pm - 4:00pm
Biases plague many domains of our life, and the legal system is no exception. Therefore, experts are heavily relied upon as their judgment and decision making is regarded as objective and impartial. Drawing from the field of criminal justice, Dr. Dror will present research and evidence from real casework that many different types of biases affect even experts, including fingerprinting and DNA forensic laboratory decision making. Legal and forensic evaluations are highly impacted (and can be distorted) by irrelevant contextual information or even by the context in which information is presented or obtained. Confirmation bias and other cognitive biases that Dr. Dror will discuss are implicit and impact hard working, dedicated and competent experts, and thus are widespread but hard to detect. Dr. Dror will articulate the psychological mechanisms by which forensic and other experts make biased and erroneous decisions. Lastly, Dr. Dror will show how this research can assist in identifying and exposing such weaknesses and in providing practical ways to mitigate them.
CLE Credit:
3.0 CLE
for Adult Criminal Trial, Adult Criminals Appeals, CAFL, MHLD, YAD, YAD Appeals and SDP/SORB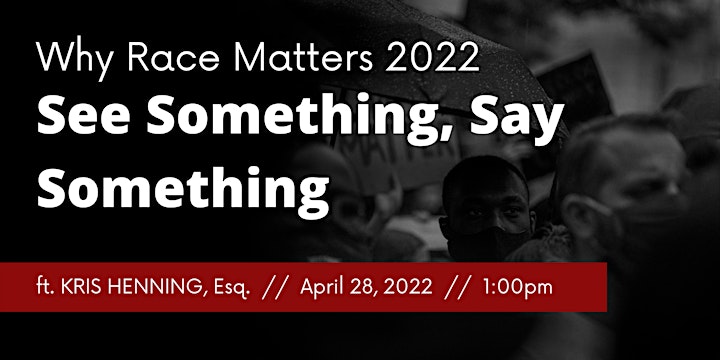 See Something, Say Something: Interrupting Bias and Litigating Race and Trauma in the Courts
Speaker: Kris Henning, Esq.
Thursday April 28, 1:00pm - 4:00pm
Developing the skills necessary to raise race in the courtroom is a critical component of your success in litigation. Join the Author of Rage of Innocence: How America Criminalizes Black Youth, Blume Professor of Law, and the Director of the Juvenile Justice Clinic and Initiative Georgetown Law as she works with us to develop the critical thinking, concrete skills, and tools we need to raise race in the Court. In an engaging and interactive style, Professor Henning will help us understand how racial bias, hyper-surveillance, and the traumatic effects of policing impact all our cases -- juvenile, criminal, family court, and mental health cases. Together, we will develop strategies to interrupt the dehumanizing language, attitudes, and legal decisions that harm our clients of color.
CLE Credit: 3.0 CLE for Adult Criminal Trial, Adult Criminals Appeals, CAFL, MHLD, YAD, YAD Appeals and SDP/SORB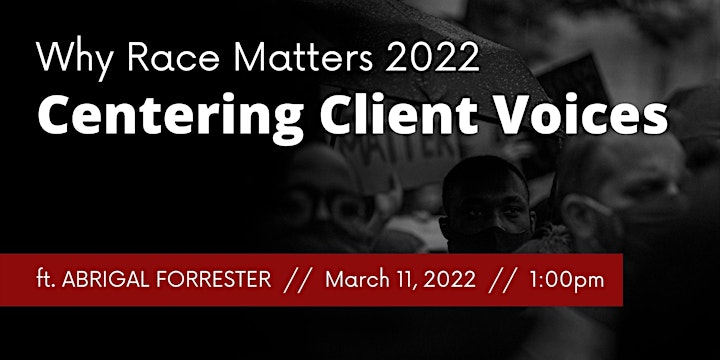 Centering Client Voices
Speaker: Abrigal Forrester
Friday March 11, 1:00pm - 2:30pm
This module introduces participants to the Why Race Matters: Client Centered Advocacy Speaker Series. Participants gain an understanding of why litigating race and addressing systemic racism in the adult criminal, juvenile, child and family regulation, and mental health legal systems are critical in representing clients. Participants gain a deeper understanding of how creating and fostering an environment of acceptance and inclusion creates better outcomes for our practice, our office, and our clients.
CLE Credit:
1.5 CLE
for Adult Criminal Trial, Adult Criminals Appeals, CAFL, MHLD, YAD, YAD Appeals and SDP/SORB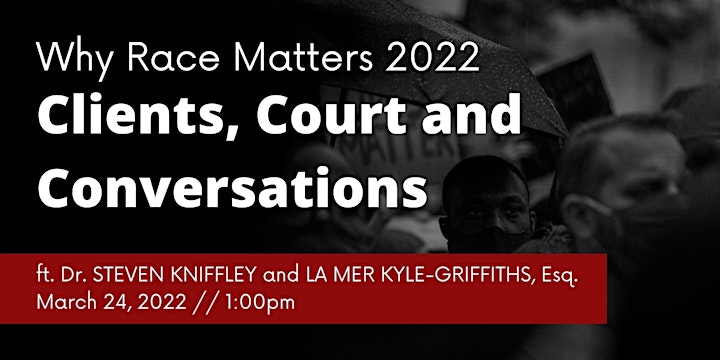 Racial Trauma: Clients, Court and Conversations
Speakers: Dr. Steven Kniffley and La Mer Kyle-Griffiths, Esq.
Thursday March 24, 1:00pm - 4:00pm
Participants leave with a better understanding of racial trauma and race-related stress as well as its psychological and physical impact on their clients. We explore how to assess these impacts on our client and gather the building blocks of a rich story of our client's experience. Participants learn some of the flaws that can appear in evaluations and assessments by other players in the legal systems impacting our clients. Finally, we build skills and tools to mindfully discuss these experiences with our clients and other witnesses and to bring these stories to life at every stage of the case.
CLE Credit:
3.0 CLE
for Adult Criminal Trial, Adult Criminals Appeals, CAFL, MHLD, YAD, YAD Appeals and SDP/SORB