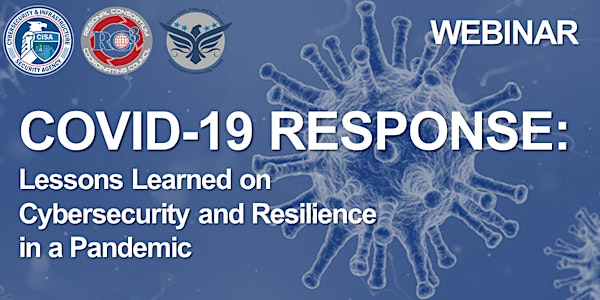 COVID-19 Response: Lessons on Cybersecurity & Resilience in a Pandemic
Join this webinar for lessons learned thus far on cybersecurity and resilience during a pandemic
About this event
Thank you for your interest. The live event has sold out, but a recording will be available on the CISA webinar YouTube channel in the coming weeks.
__________________________________________________________________________________
COVID-19 Response: Lessons Learned on Cybersecurity and Resilience in a Pandemic
COVID-19 has forced state and local governments to rapidly change how they operate and adapt to a volatile new environment. Now, state and local officials are teaming up to discuss lessons learned thus far about securing our communities during a pandemic.
Join this webinar to learn the latest on everything from cybersecurity for a remote workforce, to COVID-related phishing and malware campaigns.
This webinar is part of a series co-hosted by the Cybersecurity and Infrastructure Security Agency (CISA), the Regional Consortium Coordinating Council (RC3), and the State, Local, Tribal, and Territorial Government Coordinating Council (SLTTGCC).
The webinar link and dial-in information can be found at the end of your registration confirmation email, under "Additional Information."