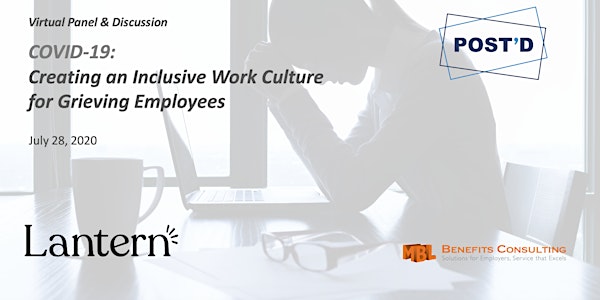 COVID-19: Creating an Inclusive Work Culture for Grieving Employees
Join us for a virtual panel on guidance for employees navigating life during COVID-19, before and after a death.
Date and time
Tuesday, July 28, 2020 · 8 - 9am PDT
About this event
As a result of COVID-19, we are preparing for the reentry of a new workforce that is managing both collective and individual grief. Yet, most companies are not ready to support their employees.
According to a study by the Grief Recovery Institute, 85% of workers said grief affected their productivity and decision-making abilities, and lost productivity and absenteeism related to grief costs employers $75-$100 billion annually.
Liz Eddy, Co-Founder and CEO of Lantern, an end of life planning service, will share step by step guidance for navigating life before and after a death. She'll provide tips on:
How to create an inclusive and supportive culture around grief during and after COVID-19
Tools and language needed to create your own company plan to ensure that employees feel supported and prepared for what's ahead
____________
About the Post'd People Group:
‍The Post'd People Group is a national HR network founded by a group of women who have built their careers in people operations. The group meets over casual dinners or breakfasts to discuss timely and relevant industry topics. www.keepmepostd.com #postdpeople #humansfirst #comingtogether
About the organizer
This event is brought to you by the Post'd People Group.