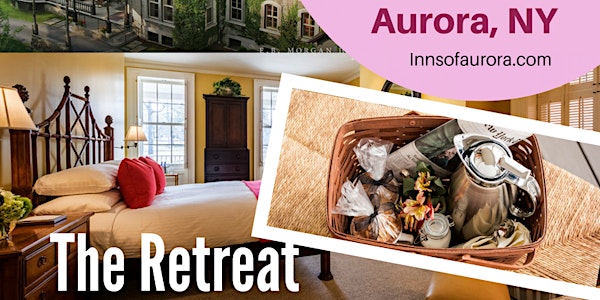 Courage + Purpose Retreat: For the Woman Who Hustles With Heart
When and where
Location
Aurora Inn 391 Main Street Aurora, NY 13026
Refund Policy
Contact the organizer to request a refund.
Description
Our Fabulous VENUE SPONSOR: INNS OF AURORA
Explore, engage and be inspired, all while amping up your business strategies with like-minded entrepreneurs in a wine country resort at the Courage and Purpose Retreat. Hosted by the newest tribe of women who empower, this unique summit is ready and set to take place November 13th-15th 2016 in upstate NY's breathtaking and bucolic Fingerlakes.
Designed expressly for women entrepreneurs who thirst for enrichment; aspire to amplify their businesses; love to build new relationships; and hustle with heart, this three day all-encompassing conference offers these opportunities and more.
Afforded the chance be educated, energized and further fulfilled, self-driven women of all walks will connect to conquer at The Retreat. Together, they will share their passions and goals. They'll learn, laugh, bond and blossom, all while reveling in a luxurious spa setting. The Retreat offers the gamut, from business-accelerating fuel provided by invigorating speakers to brainstorming masterminds and in-depth workshops that dig deep and infuse courage and purpose into both women's careers and personal lives.
Under the changed autumn leaves, the revitalizing experience of The Retreat will blend that brand-boosting training with lively conversation and flat-out fun. Together, attendees will savor sumptuous and nutritious meals, wine tastings, yoga, and an array of spa activities. Guests will also be wowed with fabulous surprises and free giveaways…all the more to take away!
The Retreat is the ideal destination—a mini vacation with bonuses galore—for women entrepreneurs who celebrate the opportunity to stir up their creativity, form new relationships and pamper themselves, as they feed their minds and build their enterprises with courage and purpose.
Agenda Sneak Peak: Registration 10:30-11:15am on Sunday 11/13
DAY 1, Sunday November 13, 2016:
10:30-11:30AM Registration
Welcome Remarks
Keynote :: Life and Death Daily Decisions: How they Affect Your Long Term Success by Jennifer Dawn, Bestselling Author Redefining Success
Lunch
Speaker :: Thank you, and No by Sarah Walton, Bestselling Author, Redefining Success
Panel :: (The Struggle & Success: Life/Wife/Motherhood) Q&A
Panelists:
Danielle Paul, a 39 year old Mother of 3 who knows what it's like to hustle as a successful consultant.
Susan Vernicek, a 35 year old Mother of 2 year-old twins, 10-Year Entrepreneur, Amazon Bestselling Author and a Wife
Brandyn Randolph, a Mother of 3 boys and serial Entrepreneur, Co-Founder of Lady Savant Society
Business Accelerator #1 (Tools & Structure: Content Creation & Social Strategy Implementation), Susan Vernicek, #1 Bestselling Author, Get All A's in the Game of Life: Entrepreneur Edition
Break/retreat/relax and vendor shop
7:15 pm :: Group Dinner
DAY 2, Monday, November 14, 2016
Morning YOGA with Bianca Mazzola in the LOFT
Breakfast
Speaker :: "Creativity Accelerator" Workshop lead by Mariel Alvarado, Bestselling Author, Redefining Success
Business Accelerator #2 – Get it Done (Come with a project to execute)
LUNCH
Panel :: (The Struggle & Success: Entrepreneurship) Q&A
Panelists:
Tara Gilvar, Founder of B.I.G. and has over 25 years of experience building brands and developing marketing campaigns. Tara is also a Mother of 3.
Nancy Tisch, Owner/WineMaker at Bet the Farm, Aurora, NY
Caytha Jentis, An award winning independent filmmaker.
Speaker :: What Lies Beneath – Getting to the Root of Your Success Presented by Lisa Lieberman-Wang, #1 Bestselling Author, Fine to Fab
Closing Remarks Vendor shop/break

6:45pm :: Sponsored Cocktail
7:15pm :: Group Dinner
DAY 3, Tuesday, November 15, 2016
Breakfast/Check out
What Is Included in Your Retreat
• Loaded SWAG bag
• 2-Night Stay (Sunday and Monday)
• Breakfast Included (Monday AM & Tuesday AM)
• Lunch Included (Sunday, Monday)
• Dinner Included (Sunday, Monday)
• Yoga Class (optional)
• All taxes and fees are already included

*Unfortunately no refunds after November 1, 2016*