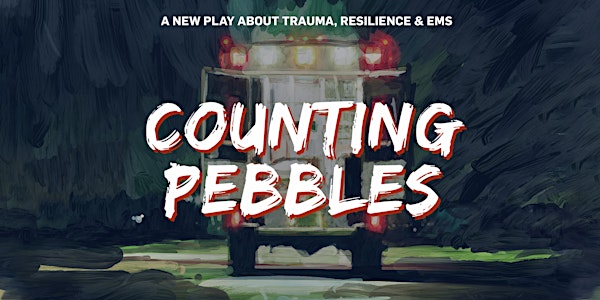 Counting Pebbles
When and where
Location
Yale Cabaret 217 Park Street New Haven, CT 06511
Description
Update: Our Sunday show has been moved to 1:00pm.
Though our show is sold out, we will have several tickets available at the door. Feel free to come and we will try to get you in!
After responding to a fatal overdose of one of their own, rural EMTs question the repetitive trauma and stress of their work. Based on EMS provider stories gathered across the U.S. from 2016-2018, this project grapples with the unique challenges faced by emergency medical responders.

We know that the first responder community continues to face loss, addiction and trauma. While this play is not based on any individuals or services in the Connecticut area, it addresses difficult issues that are pressing and relevant, including trauma, suicide, overdose, addiction and grief.
Created by a team of EMTs, WFRs, healthcare providers, theater artists, writers, musicians and disaster responders, this play tells stories of responders struggling with trauma, burnout, and the aftermath of a coworker's death. While the characters are fictional, parts of their experiences are based on interviews and conversations with EMS providers from across the country that took place during 2016-2018. The play has been in development since summer 2016, was completed in late 2018, and began rehearsals at the start of 2019.

Feel free to visit https://www.faultlineensemble.org/on-stage or to contact us at faultlineensemble@gmail.com for information about the project.
This first performance hopes to solicit audience feedback and discussion in order to improve the project. Please join us for a discussion after the play to share your thoughts.

---
Tickets:
$5 Suggested donation at the door

EMS providers get in free
All ticket proceeds will be donated to the Honor Wellness Center (www.honorwellness.org)
---
For more information, visit www.faultlineensemble.org/on-stage.html.