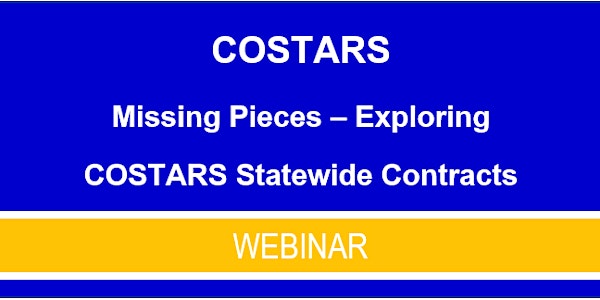 COSTARS Webinar: Missing Pieces - Exploring COSTARS Statewide Contracts
Join the COSTARS team for a session to explore how members can optimize purchasing through COSTARS and maximize their negotiating power!
About this event
Missing Pieces in Your Procurement Puzzle? Explore COSTARS-enabled Contracts!
Many COSTARS members actively use COSTARS-exclusive contracts to purchase competitively priced products and services.
If you currently do not currently utilize the statewide, COSTARS-participating contracts in your procurement strategy, this is a must-see session! Members have access to many statewide contracts that provide them with more procurement options and we'll explore these missing pieces to complete your procurement puzzle.
Attendees of this webinar will learn how statewide contracts can optimize purchases you have already made from COSTARS-exclusive contracts and how members can maximize their negotiating power!