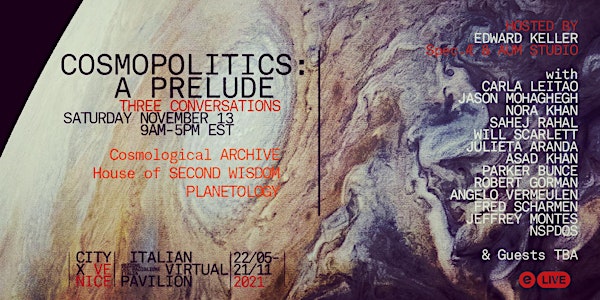 COSMOPOLITICS: A Prelude
COSMOPOLITICS: A PRELUDE
About this event
COSMOPOLITICS: A PRELUDE

livestream on Youtube here: https://www.youtube.com/c/EdKeller
Cosmological ARCHIVE 9AM-1130AM
House of SECOND WISDOM 1130AM - 130PM
PLANETOLOGY 2PM - 5PM
There are a range of themes and questions we take on as we work toward a cosmopolitics: we ask, what might constitute a 'cosmic commons' and what alternate cognitive frameworks might we need to map it? What is an operational new nature; when does architecture transform into landscape, extend beyond a horizon, link to systems off planet, and catalyze a revolutionary universality? What might we choose to design, to launch this new nature, a universalist politics? Would we design a new law of physics? a new legal system? a planetary infrastructure that would guarantee food and shelter for all denizens on earth, human and otherwise? Is this a design project for material systems, informational systems, biological systems; a new body for ourselves, or a new brain?
What 'gestural ecologies', to use Nandita Biswas Mellamphy's term, can we deploy as designers of our planet and for our planet? A framework of planetary ethics [and beyond] is called for; as architects, we situate our project in this larger universalist frame, deploying forms of radical empathy, co-evolving, mutualism, and shared ontologies. The projects and conversations in this event work to sketch out some initial approaches to this design challenge.
HOSTED BY Ed Keller / Spec.Æ & AUM STUDIO
with
Carla Leitao
Jason Mohaghegh
Nora Khan
Sahej Rahal
Will Scarlett
Julieta Aranda
Asad Khan
Parker Bunce
Robert Gorman
Angelo Vermeulen
Fred Scharmen
Jeffrey Montes
NSPDOS [Collin McClain, Nick Travaglini]
& Guests TBA
Convened as part of the 17th Venice Architecture Biennale Italian Virtual Pavilion, Sezione del Padiglione Italia, within the "Space and Planetary Design" group under the Creative Directorship of Ed Keller. The Virtual Italian Pavilion curated by Tom Kovac and Alessandro Melis titled CITYX Venice responds to 'How will we live together?' curated by Hashim Sarkis MIT, organized by La Biennale di Venezia. The exhibition is open until the 21st of November.
@cityxvenice
#italianvirtualpavillion #cityxvenice #labiennaledivenezia