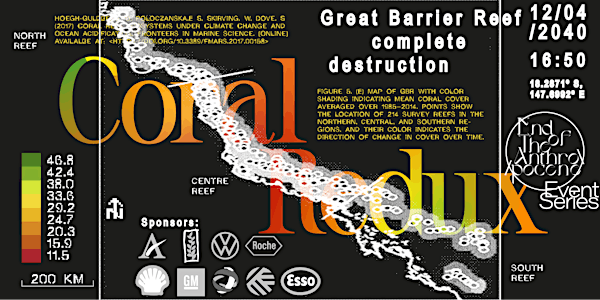 Coral Redux
Total global coral destruction
When and where
Location
Great Barrier Reef The Reef Cairns, QLD 0000 Australia
About this event
We are already seeing major and fundamental change occurring in the world's ocean in response to climate change and that the rate of change is largely outstripping the ability for coral reefs to adapt genetically or relocate.
Although they occupy less than 0.1% of the ocean floor, tropical coral reef ecosystems provide habitat for at least 25% of known marine species.
While local factors can have significant impact on coral reefs (e.g., pollution, overfishing, and the physical destruction of reefs), changes in ocean temperature and chemistry due to anthropogenic activities are dramatically reducing the distribution, abundance, and survival of entire coral reef ecosystems.
If greenhouse gas emissions are not mitigated, it is very clear that the ocean will be a vastly different place by the mid to late century.
_
Tickets to this event are free, but if you would like to give the cost of a club entry please consider donating to climateemergencyfund.org