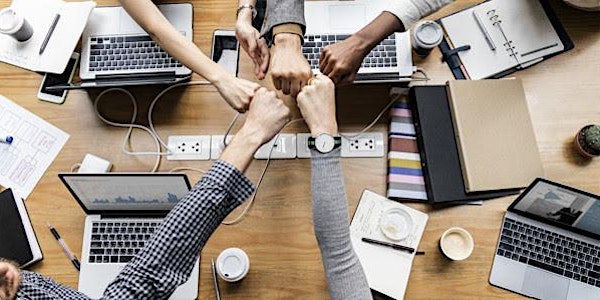 Coping with Covid Aftermath: Sharing Best Practices to Return to Work
This is a COVID-19 support session for clinicians and EAP's. Featuring speakers from the front line of the pandemic with discussion groups.
By EAPA Lone Star Chapter
When and where
Date and time
Wednesday, February 10, 2021 · 9 - 11am PST
About this event
According to a recent HR industry survey, 90% of HR professionals say their stress level has increased in the last year. Not surprising. However, almost half describe the increase as dramatic. Among the challenges facing HR, "boosting employee wellbeing, including mental health" is highlighted.
As employers adjust with the extraordinary challenges of the new workplace landscape which include working from home options or return to the office guidelines, many employees continue to face family dilemmas and other daily anxieties. Especially, those workers that were already struggling with mental health issues long before Covid-19. Meanwhile, front line workers are overwhelmed with information and new treatment options as well as increased caseloads.
In our efforts to support each other during this unprecedented time, the EAPA Lone Star chapter has scheduled a separate meeting from the usual monthly CEU event for EAPA members and other interested professionals.
The purpose of this session is for Clinicians and EAP's to share and brainstorm ways in how we are all supporting our organizations, employers, and clients. The hope is to walk away with alternative ideas and best practice to bring to your organization and support to one another.
Our chapter goal for this professional support initiative is to create a forum and channel to exchange information, ideas and be a sounding board as we navigate through the constant changing healthcare parameters impacting clinicians and EAP's during the current healthcare crisis.
This event is not intended to be a marketplace resource but it will be a gathering platform of valuable real time peer to peer information.
During this meeting we will highlight pressing questions for discussion by the participants. We also plan to feature speakers who have served on the front line. This format will be used to gather attendee feedback for an online forum group.
Please register for this special event today as seating will be limited. Priority early bird registration by Friday February 5th will be given to EAPA Lone Star chapter membership. Non membership is welcome based on space availability.
Do you have a question for the group discussion? You will be provided a link after registration or feel free to submit it via email to eapa.lonestar@gmail.com prior to the event. We look forward to seeing you there.
Survey source data: HRExecutive.com
Image credit: freepik.com
About the organizer
The Employee Assistance Professionals Association (EAPA) is the world's largest, oldest, and most respected membership organization for employee assistance professionals. With members in over 40 countries around the globe, EAPA is the world's most relied upon source of information and support for and about the employee assistance profession. We are Lone Star Chapter # TX05 representing North Texas.