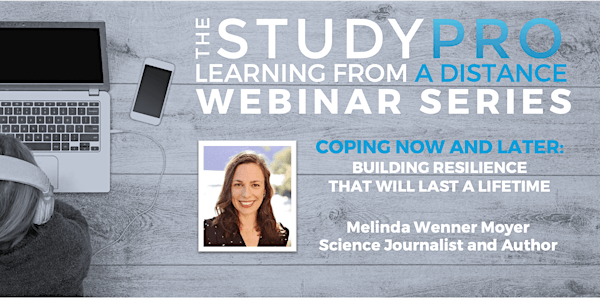 Coping Now and Later: Building Resilience that will Last a Lifetime
Yes, we are in a pandemic. But this NY Times contributor tells us we can turn the skills we are developing into resilience for life.
About this event
2020 was a despicable year. We spent an inordinate amount of energy just staying afloat and quelling our COVID fears:
When will it end?
How can we stay safe?
Will the future (ever) look like the past?
And through it all, we had good days and bad. We sunk into emotional potholes and celebrated silver linings. But interestingly, we also slowly and predictably learned how to become more resilient.
So how do we bottle up the plights of the pandemic to become "better copers for life", resulting in greater resilience for ourselves and our family?
Please join The StudyPro for a very special January "Learning from a Distance" presentation by Melinda Wenner Moyer, contributing editor at Scientific American, and writer for the New York Times and Washington Post. Melinda will present:
"Coping Now and Later: Building Resilience that will Last a Lifetime"
During her presentation, Melinda will share:
Evidenced-based strategies for coping
How to support yourself and your family in ways that build resilience
The best way to manage feelings and behaviors (for yourself and your children) throughout it all
Melinda will share the research and strategies from her numerous articles, parenting newsletter, and upcoming book. We look forward to hosting her and hearing your questions!