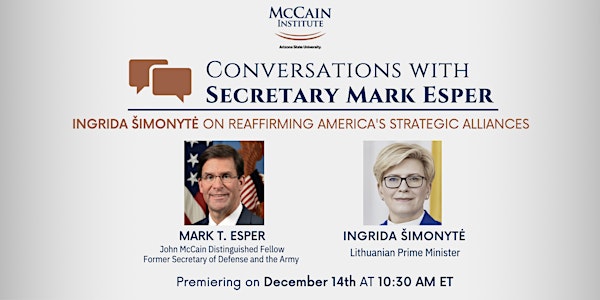 Conversations with Secretary Mark Esper
Please join us for our next installment of Conversations with Secretary Mark Esper featuring Lithuanian Prime Minister Ingrida Šimonytė
Date and time
Wednesday, December 14, 2022 · 7:30 - 8:30am PST
About this event
DAY OF EVENT ZOOM LINK: https://asu.zoom.us/j/87975094320
As a NATO member state, Lithuania is on the frontline for the alliance against Russia and is one of the most vocal advocates for a united effort to counter the Kremlin's foreign aggression. Lithuania also hosts one of NATO's multinational battlegroups which helps to provide strong deterrence and defense for the whole alliance. These types of actions demonstrate Lithuania's solidarity, determination, and ability to defend NATO members' territory and populations.
To further the conversation on this issue, the McCain Institute seeks to convene experts to discuss the United States' strategic security partnerships and how they address some of the most pressing challenges of our time – an increasingly aggressive Russian state, mounting international authoritarianism, the global plague of disinformation, and strategic competition. This event is part of a public conversation series between Dr. Mark T. Esper, the John McCain distinguished fellow and former U.S. secretary of defense, and experts on various issues related to challenges and threats to U.S. national security.
MODERATOR:
Dr. Mark T. Esper, John McCain Distinguished Fellow and Former US Secretary of Defense, @MarkTEsper
PANELISTS:
Ingrida Šimonytė, Prime Minister of Lithuania, @IngridaSimonyte
About the organizer
Guided by values that have animated the career of Senator John McCain and the McCain family for generations, The McCain Institute is a non-partisan do-tank dedicated to advancing character-driven global leadership based on security, economic opportunity, freedom and human dignity – in the United States and around the world. The Institute seeks to promote humanitarian action, human freedom and democracy, and national security, and to embrace technology in producing better designs for educated decisions in national and international policy.