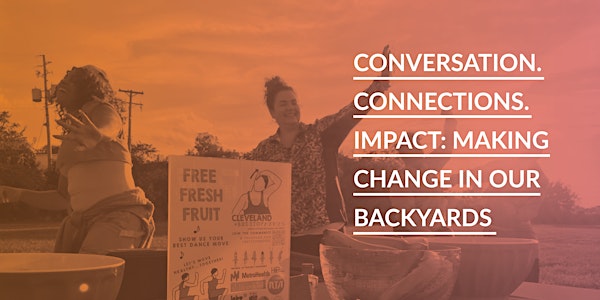 Conversation. Connections. Impact: making change in our backyards
When and where
Location
New Bridge Center for Arts and Technology 3634 Euclid Avenue Cleveland, Ohio
Description
Conversation. Connections. Impact: Making change in our backyards
An ioby convening in Cleveland
Join us for an interactive program about power, place, and the work of making change in our backyards.
The morning will feature a special walking tour of ioby projects that are located in Buckeye neighborhood. We'll meet at 11am at the Cleveland Public Library - Rice Branch, at 11535 Shaker Blvd. Projects featured on the tour will include: Swahili Class, Step Up, Dress Up, St. Lukes Pointe Traffic Calming, Clean House, Ujima Refresh, and ATNSC Center.
The afternoon, taking place starting at 2pm at New Bridge Center, will feature framing remarks by Scot Spencer. As Associate Director of Advocacy and Influence at the Annie E. Casey Foundation, Spencer advances community-focused strategies that increase place-based opportunities in cities. Spencer was the founding chair of the Maryland Commission on Environmental Justice and Sustainable Communities and served as co-chair of the Opportunity Collaborative, Baltimore's regional plan development through the U.S. Department of Housing and Urban Development's Sustainable Communities Initiative.
The program will also highlight the powerful stories of these local ioby project leaders:
Carmen Lane, ATNSC healing center
Vel Scott, Purple Oasis Community kitchen
Allison Lukacsy-Love, Bus Stop Moves
Kaela Geschke, A Bridge That Bridges
Mansfield Frazier, Sun Powered Jobs
Michele Crawford, Design Justice Platform + Design as Protest
Dan Brown, Feed People, Not Landfills
Amanda King, Shooting without Bullets: Youth Photography Exhibit
who will talk about the work they're doing to bring positive change to their neighborhoods. And we'll talk with each other about race and design, the complexity of safety in public space, and what each of us wants to do next to make a difference in Cleveland (see breakout questions on schedule below).
Schedule Overview:

2:00 Keynote: Hear from Scot Spencer, Associate Director of Advocacy and Influence at the Annie E. Casey Foundation.
3:00 Project Panel: Listen to amazing local ioby leaders telling the story of how they've brought positive change to their neighborhoods.
4:00 Breakout Sessions: Participate in facilitated conversations on questions like "Where are the Black Urbanists?", "Centering Race and Design in Cleveland", and "If every design project in Cleveland had been led by People of Color, how would the city look different today?
5:00 Reception and Refreshments: Stay for appetizers, beverages, and mingling!

Visit www.ioby.org/Cleveland to learn more about the range of work being taken on by ioby projects to bring positive neighborhood change to Cleveland.
Questions [or to indicate if you are only able to attend one part of the day]: dana@ioby.org/917.817.2070