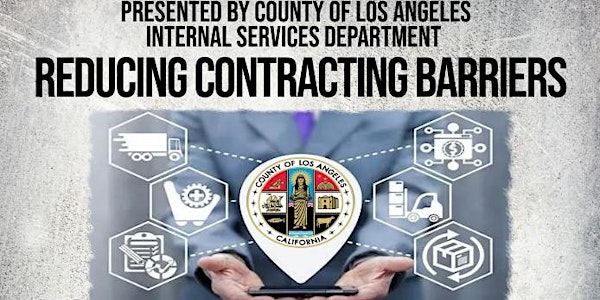 Contract Connections - Reducing Contracting Barriers
Event will cover reducing barriers trainings on contracting, contract payment, vendor registration, job order contracts, and digital equity.
About this event
In a continued effort to stay connected with the vendor community, the County of Los Angeles, Internal Services Department invites you to participate in Business Outreach Event. This virtual event will be hosted on Microsoft Teams on Thursday, December 8, 2022 from 10:00am to 12:30pm.
Presentations will cover reducing barriers. Vendors attending the event will receive trainings on the following:
Contract payment challenges, contracting opportunites and technical assistance, presented by Christie Carr (ISD)
Vendor Registration, presented by Gerald Plummer (ISD)
Job Order Contracts, presented by Tatevik Magakyan (ISD)
How to do business with Public Works, presented by Robert Murphy (PW)
Delete the Divide for Small Businesses, presented by Jamel Thomas (ISD)
Preference Program Certification, presented by Melinda Huynh (DEO)