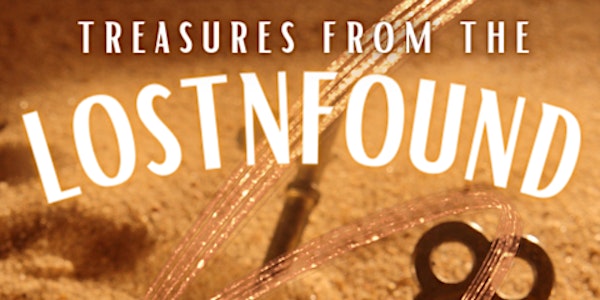 Constructing the scene-Unleashing your imagination w/Rich!
Treasure from the Lostnfound class: Constructing the scene: Unleashing your imagination w/Rich!
When and where
Location
Sanctuary Studios LAX 10914 S La Cienega Blvd Lennox, CA 90304
Refund Policy
Contact the organizer to request a refund.
About this event
Topic: Constructing the scene: Unleashing your imagination w/Rich!
Mon Feb 21st - 7-9pm PST HYBRID - IN PERSON & ONLINE!
This class will meet in person at SanctuaryLAX AND will be streamed online for those unable to attend in person!
**IN PERSON VAXXED AND MASKED!!**
For online attendance please purchase your ticket(s) through Eventbrite!
For in person attendance you can purchase through Eventbrite OR at the door!
(if this changes between now and class I will update on this page)
# Eventbrite page:
# https://constructing-the-scene-feb2022.eventbrite.com
PLEASE PURCHASE ONLINE TIX BEFORE 6:30PM (PST) ON Feb 21st!
You will receive your Zoom info emailed to you around 20-25 minutes before class begins!
Click here for Fetlife event page: https://fetlife.com/events/1077030
Class Description:
BDSM opens up an infinite number of possibilities. By using our imagination, we can all make every scene unique and unforgettable. This workshop will provide techniques for tapping into our creative side in order to construct scenes that result in powerful shared experiences that will keep your partners coming back for more. This class will deconstruct the scene in all its parts, and will touch on topics like negotiation, managing the ebb and flow of energy, navigating subspace and setting up proper aftercare. We will also discuss techniques for increasing your Dominant voice in order to execute your scenes with confidence. Whether you're new or experienced please join Rich for this discussion.
Rich's Bio:
Rich has been in the lifestyle for years and is grateful for the Kink Community who have been an integral part of his journey. Rich found kink/BDSM as not only a way to play, but also a way to strengthen both his relationships and himself. Rich identifies as a Dominant, a role which allows him to dive deep into his own psyche in order to continually become the best version of himself that he can.
Rich believes in ethical non monogamy through open and honest communication and has found the polyamorous dynamics he's been lucky to be a part of to be some of the most fulfilling relationships he's ever experienced.
In vanilla land, Rich does the corporate thing by day and writes and directs horror films by night. He is excited to have the opportunity to share his own personal experiences as well as to learn from others and he looks forward to hosting an engaging discussion.
Feel free to add him on Fetlife: Rich
The "Treasure of the Lostnfound" classes are followed by the Lostnfound Munch! Please join us for late night chat, food, and libations (or soda/water)! 21+ only!
See more info here: https://fetlife.com/groups/89185/posts/7134790
___
ONLINE ACCESS:
Zoom does not provide closed captioning, however, I recommend the Live Transcribe App. It is free, easy to use, and works well with virtual events.
This will be a live, online class offered through Zoom. To participate, you will need to download the free, basic version of the Zoom app before the class! This class will not be recorded and is not available for later viewing.