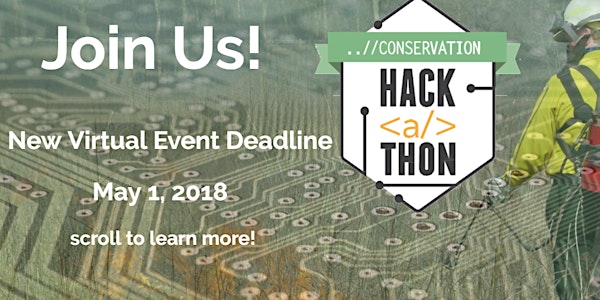 Conservation Hackathon 2018
Description
Jennings Environmental Education Center, along with numerous partners in the region, invite teams of western PA high school students to participate in a first-of-its-kind CONSERVATION HACKATHON : now a virtual event!
This exciting STEM event, aligned with state standards, NGSS, and STEM curricula, challenges student teams to research and understand the science behind a real-life conservation challenge, then use technology, engineering, and math to create a working prototype of a solution.
Additional information is available at www.conservationhackathon.com.
Questions may be directed to info@conservationhackathon.com
Student Team Registration Instructions
NOTE: Teams should consist of 1 Adviser and 3-5 students in grades 9-12.
After clicking register, select "team", and create a name for your team that reflects your school or organization's name

Click "Enter Promo Code" and enter the code that corresponds with your Intermediate Unit (IU) or county (no quotations needed).

Code IU1: Fayette, Greene, and Washington

Code IU2-3: Allegheny

Code IU4: Butler, Lawrence, Mercer

Code IU6: Clarion, Forest, Jefferson, Venango

Code IU7: Westmoreland

Code IU27: Beaver

Code IU28: Armstrong, Indiana

Enter the number of "tickets" that you want for each type of ticket (Adviser, students). You may add additional team members later, but you MUST enter an Adviser FIRST. If no Adviser tickets are available, your IU's registration quota is full and you must join a wait list by contacting info@conservationhackathon.com. DO NOT enter any student tickets if there are no Adviser tickets.

Project titles and descriptions, as well as additional team members, may be entered at a later date. As long as you have an Adviser registered, there will be up to 5 student spots and 1 additional adult spot available at any point, up to the registration deadline of April 30.