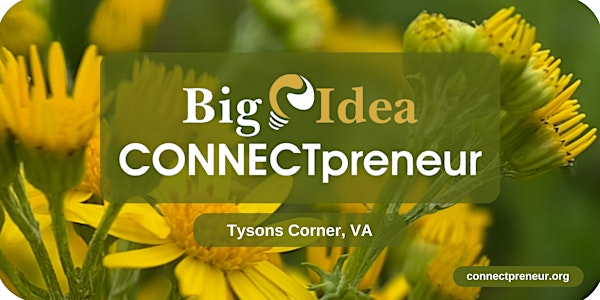 CONNECTpreneur Summerfest - Networking Extravaganza - June 8, IN PERSON
CONNECTpreneur Summerfest - Networking & Pitch Extravaganza, IN PERSON - Tysons Corner, VA June 8, 2023
Date and time
Thursday, June 8 · 5 - 10pm EDT
Location
Valo Park Conference Center 7950 Jones Branch Dr McLean, VA 22102
About this event
The Big Idea CONNECTpreneur Summerfest - Networking & Pitch Extravaganza
IN PERSON - Tysons Corner, VA
June 8, 2023
"The Best Networking Event in the MidAtlantic."
Who said Summer is slow and quiet in the DMV? NO WAY!!
Come out and CELEBRATE innovation, get INSPIRED, and MAKE DEALS at this fun, high-energy Summer Festival of entrepreneurship and early stage investing!
This will be our 53rd consecutive Sold Out in-person event over the last 12 years!
Over 70% of previous attendees surveyed say that CONNECTpreneur is the "Number One" tech and investor event in the Mid-Atlantic region!
This unique event is like none other, because of the high quality of our attendees, speakers and presenters.
And YES, the networking is unprecedented!
PROGRAM HIGHLIGHTS
- 350 business leaders, including 130+ CEOs & Founders, as well as 100+ angels & VCs
- ROCKET PITCH SHOWCASE of 12 promising Emerging tech companies
- Panel of All Star VCs and investors
- Heavy NETWORKING throughout
- Music provided by the Halley Shoenberg Trio, one of the nation's top jazz ensembles
- AFTER PARTY at REFRACTION, the region's premiere innovation community (8th Floor of Valo Park)
All attendees MUST BE pre-registered due to strict building security. Attendance is capped at 500 attendees. We expect another SOLD OUT crowd, so there will be NO on-site registration.
For more information on previous CONNECTpreneur events, presenters, speakers, etc. or to download program books from our previous events, please visit our website at connectpreneur.org.
DATE: Thursday, June 8, 2023
AGENDA:
5:00 - 6:10 pm - REGISTRATION / NETWORKING - Valo Park Atrium
6:10 - 6:25 pm - WELCOME REMARKS - Valo Park Auditorium
TIEN WONG, Founder and Host, CONNECTpreneur
ESTHER LEE, CEO, REFRACTION
VICTOR HOSKINS, CEO, Fairfax County Economic Development Authority
JENNIFER TAYLOR, CEO, Northern Virginia Technology Council
6:25 - 7:00pm - Panel of All-Star Investors - " Current Trends in Early Stage Capital"
Moderator: RANDY DOMOLKY, Co-Founder and Managing Director, Private Access Network
DAHNA GOLDSTEIN, General Partner and Chief Investment Officer, Halcyon Fund
TOM WEITHMAN, Managing Director, Virginia Venture Partners; Chief Investment Officer, Virginia Innovation Partnership Corp.
7:00 - 7:45 pm - COMPANY SHOWCASE / ROCKET PITCH - Valo Park Auditorium
Companies will be announced June 1.
Companies will be introduced by:
ANTHONY MILLIN, Founder and Chair, NEXT, Powered by Shulman Rogers; Venture Partner, Third Sphere
LING ZHANG, Partner, FORVIS
7:45 - 8:30 pm - EXPO AND NETWORKING - Valo Park Atrium
Wine & Cheese Reception in the Atrium featuring the music of the Halley Shoenberg Trio
8:30 - 10pm - AFTER PARTY @ REFRACTION - Valo Park, 8th Floor North
PREVIOUS INVESTOR PARTICIPANTS (partial list)
Over 4000 accredited private investors, VCs, angels, corporate investors and family offices have attended CONNECTpreneur events over the past 12 years, including the following:
Revolution Ventures, Carlyle Group, Google Ventures (GV), Sequoia Capital, Kleiner Perkins, Sierra Ventures, Intel Capital, Garage Technology Ventures, ABS Capital, Sterling Partners, Nokia Growth Partners, Camber Creek, Koch Industries, 1863 Ventures, Conscious Venture Fund, Core Capital, Grotech, UPDATA, Rethink Impact, New Atlantic Ventures, PROOF.VC, Edison Ventures, SWaN & Legend Venture Partners, Venturehouse, Boulder Ventures, TDF Funds, Ballast Point Ventures, Multiplier Capital, Saratoga Investment Corp., Maryland Venture Fund, Hercules Technology Growth Capital, UrbanUs, Third Sphere, Option3Ventures, New Markets Venture Partners, True Ventures, Enhanced Capital, Novak Biddle, 500 Startups, Kinetic Ventures, Halcyon Angels, DFW Capital Partners, Farragut Capital, NextGen Angels, CIT GAP Funds, TEDCO, BluVenture Investors, Leeds Novamark, 1776, Early Light Capital, Private Access Network, CAV Angels, K Street Capital, RLMcCall Capital, Cranbrook Capital, Baltimore Angels, Pennington Partners, Acceleprise, Blue Marlin Partners, US Boston Capital, VentureCross Partners, Berman Enterprises, Dingman Angels, Neuberger & Co. Ventures, McLean Capital, DiamondTech Ventures, Brilliant Keypoint Investments, Paras Ventures, NextSteps Capital, Noblestar Capital, Grindstone Partners, Exhilirator, New Vantage Group, New Dominion Angels, National Capital Companies, MTECH Ventures, Mosaic Capital, Opus8, Blue Heron Capital, Duncaster Investments, Private Capital Network, Next-Stage Development Group, Lancaster Angel Network, Tysons Angels, Harrell Partners, Active Angel Investors, Select Venture Partners, ID Private Equity, Angel Venture Forum, NY Private Equity Forum, Landmark Capital, and Ruxton Ventures.
EVENT PARTNERS
REFRACTION
Valo Park
Fairfax County Economic Development Authority
Northern Virginia Chamber of Commerce
NEXT, powered by Shulman Rogers
FORVIS
Northern Virginia Technology Council
New York Life
Truist Financial
Maryland Tech Council Venture Mentoring Services
Ryan & Wetmore
Baltimore Angels
Dingman Center Angels
MIT Alumni Angels of DC
Startup Grind
Keiretsu Forum
George Mason University - Mason Enterprise
Georgetown Entrepreneurship Initiative
Founder Institute
EO - Entrepreneurs' Organization
Center for Advancing Innovation
Institute for Excellence in Sales
National Association of Business Owners and Entrepreneurs (NABOE)
Annual Wharton DC Summit
Frederick Innovative Technology Center, Inc. (FITCI)
KoBE
US International Development Center
TESTIMONIALS and MEDIA
PRESS: http://connectpreneur.org/press
"No B.S. that was the best biz networking event I have ever been to."
Darren Womer
CEO, National Capital Companies
"CONNECTpreneur is the region's leading event for bringing together people who will drive our economy forward."
Lyles Carr
Senior Vice President, The McCormick Group
"Not every investor and startup meeting in town is worthwhile. I would run through walls to get to yours though."
Joe Kessler
CEO, Next Stage Development Group
"I thought the event yesterday was absolutely outstanding! The attendance was fantastic and the content was extraordinary. Thank you for curating such a great event. The Vice Chair of the County Board was extraordinarily impressed. Thank you so much for allowing us to be part of it and we look forward to the event."
Victor Hoskins
President and CEO, Fairfax County Economic Development Corporation
"You pulled off a great conference. I really enjoyed it. Thanks for inviting me!!"
John Backus
Managing Partner, New Atlantic Ventures and Proof.vc
"Thank you again for the invitation to CONNECTpreneur. It is so incredible to watch the Forum become THE entrepreneurship/investor forum in the Washington, DC metro area, and maybe the entire Mid-atlantic region."
Dennis Defensor
Senior VP, Worldwide Sales, OROCK Technologies
"One of the best events I have ever sponsored!"
Mark Ellenbogen
Partner, BDO
"Congratulations to you and your team for your tireless dedication and excellence in program execution! The sponsors and participants were impressed with your leadership and ability to consistently deliver high value!"
Dr. Diane Tai
President, Award International, Inc.
"Great event this week! Great speakers, atmosphere and people! Reminded me of the good ole days!"
Tom Kohn
Professor, American University
Founder, Transactis
"It was amazing. Best event I have ever attended!"
Jill Chodorov, Angel Investor
"I thought you put on a terrific event. I was really impressed with the caliber of people and the format of the event."
Jim Van Eperen, Angel Investor
Director, Raffa Insurance Services
"That was one of the best VC conferences I can remember attending. It had all the positive energy of the boom years, without the unbridled reckless exuberance."
Jim Long
Founder, VentureCross Partners
"Bravo! Great program."
Tony Cord
Partner and Managing Director, Newport Board Group
"It was first class....well done!"
Chad MacDonald
CEO, Connected Ventures
"Amazing how many high-level people you had..."
Wade Tetsuka,
CEO, US Transactions Corp.
"It was very successful! A good combination of networking time, information, and presentation of deal opportunities. The interview approach worked well I thought, and the room was certainly full."
George Harrop
Managing Director, CapitalSource
"It was a really good crowd of operators and investors…rare for these so-called 'forums.'"
David Giannini
Chairman and CEO, CirrusWorks
"Event was great. Quality attendees, good energy – contacts – content."
Bud Morrissette
CEO, Interstate Group Holdings
"it was an outstanding event! Thank you for having us be part of CONNECTpreneur...I feel like I've experienced the best of breed in networking and relationship groups. Nicely done."
Jack Quarles
Co-Author, Same Side Selling
FAQs
What are my transportation/parking options for getting to and from the event? 
You can park in the South or West parking garages (see map here). If you park in the South garage, take the elevator to L level to the lobby and follow CONNECTpreneur signs. If you park in the West garage, take the elevator to P2, cross the walkway to the building, and follow signs. If you have any issues, please call Amanda at (571) 565-9104.
How can I contact the organizer with any questions?
You can e-mail CONNECTpreneur Community Manager Skylar Rallison at srallison@opus8.com.
What's the refund policy?
All sales are final and there are no refunds. Any cancellations received before June 23, 2022 may be credited towards a future CONNECTpreneur Forum.
Do I have to bring my printed ticket to the event?
No. Once you register on Eventbrite, you are good to go! We will send you a couple of confirmation email s in the days leading up to the event.
Can I update my registration information?
Yes
Is my registration fee or ticket transferable?
The "Service Provider" ticket is fully transferable. The Investor/Entrepreneur/CEO ticket is transferable only to another investor, founder or CEO. It is not transferable to a service provider.
How can I apply to present?
If you have a promising early stage company that is raising capital or wanting to make a product announcement, please contact presenters@opus8.com. We have a Committee review process for prospective presenting companies.
About the organizer
CONNECTpreneur is an affiliate of Opus8, Inc. We facilitate hi-end C-level connections, dealmaking, capital formation, and education. CONNECTpreneur is a community of innovators, entrepreneurs and investors. Since 2011, over 20,000 business leaders from around the world have attended our bi-monthly Forums and monthly virtual "Rocket Pitch + Power Networking" events. The conferences are widely considered to be among the best tech and investment networking events in the country. More info at CONNECTpreneur.org