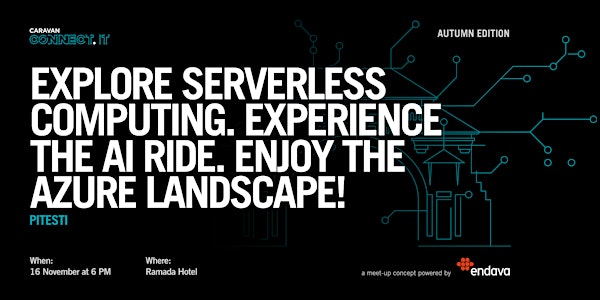 Connect.IT #Pitesti | Explore serverless computing. Experience the AI ride.
Join us at the CONNECT.IT #tech event, taking place at Ramada Hotel in Pitesti*, on November 16, 2022, starting at 6 PM!
When and where
Location
Ramada by Wyndham Pitesti 31 Calea București 110133 Pitești Romania
About this event
Are you ready for some technical excellence, mixed with valuable insights and quality time spent together? Join us at the CONNECT.IT #tech event, taking place at 📍 Ramada Hotel in Pitesti*, on 🗓 November 16, 2022, ⏰ starting at 6 PM!
Connect.IT Pitesti is FREE of charge. 🎫 But we have a LIMITED NUMBER OF TICKETS, so make sure to save your seat until November 14th!
ABOUT THIS EVENT:
The dynamic world of IT is in constant change and evolution. Therefore, being connected has become more important than ever. As relentless enablers between people and technology, we invite you to embark on a journey where we will explore serverless computing, experience the AI ride & enjoy the Azure landscape! Everything is packed in the form of technical presentations, powerful dialogue between speakers and participants, along with a networking session. Get ready! 🔛
EVENT PROGRAM (EEST TIME):
18:00 – 18:30: Registrations
18.30 – 18.35: Meet Endava in a nutshell
18.35 – 19.15: Serverless & Greener Software with Spring Cloud Function and Azure Functions
📢 SPEAKER: Sorin Ovidiu Blaga, Development Discipline Lead
💡 Abstract: What do Serverless Architecture and Green Software principles have in common and… why do we care? We will kick off by finding the answer to this question and then take a quick peek at how top cloud providers are currently supporting Serverless Architecture. Then we will switch to the practical side of things and have a hands-on walkthrough showcasing how to build and deploy Java code to Microsoft Azure Functions by using Spring Cloud Function, powered by Spring Boot.
19.15 – 19.20: Short Q&A
19.20 – 20.00: Let AI do the Paperwork - Leverage Microsoft Azure Cognitive Services for Digital Transformation
📢 SPEAKER: Ciprian Dogaru, Head of Development
💡 Abstract: Artificial Intelligence is not in the future. It's here and now and it's being used by various companies of different sizes more and more. What if you can use AI and Machine Learning without having direct AI or Data Science knowledge and skills? Just plug the API or SDK into your applications and have the full power available for whatever you need it for: vision, speech, language, video, search, decisions, etc. In this presentation we will show how easy it is to move from idea to production leveraging Azure AI and .NET, with real examples from our clients migrating their whole classic processes (including handwritten forms) to digital in just a few weeks.
20.00 – 20.05: Short Q&A
20.05 – 20.10: Closing
20.10 – 22.00: Networking & dinner.
* 📍"DIAMOND BALROOM" Conference Room @ Ramada by Wyndham Pitești, Calea București, No. 31, Pitești, Argeș.
❗ Make sure to save your seat until November 14th ❗
ABOUT CONNECT.IT:
Connect.IT is a concept powered by Endava to build and strengthen the dialogue in the local communities by organizing technical meetups for professionals, facilitating a sharing experience based on their views and interests.
The first edition of the Connect.IT Caravan took place during Spring. Under the umbrella of the second edition, we are launching a roadmap series of events in 11 cities, where Endava is present: Balti, Tg. Mures, Plovdiv, Galati, Chisinau, Timisoara, Iasi, Pitesti, Ruse, Varna & Sibiu.
➖➖➖
*During the Connect.IT event, photo-video materials will be made, which will be used later on Endava's Social Media channels or on other online platforms.