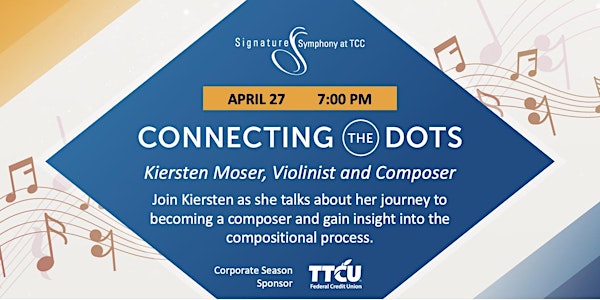 Connecting the Dots with Kiersten Moser, Composer and Signature Violinist
Sales Have Ended
Ticket sales have ended
Thank you for your interest in Signature Symphony. Please visit signaturesymphony.org for information on upcoming events or contact us by phone during our normal business hours. Ticket Office hours are 10 a.m. to 5 p.m., and one hour before a performance begins. Call (918) 595-7777 or email signature@tulsacc.edu for assistance.
Join Kiersten as she talks about her journey to becoming a composer and gain insight into the compositional process.
About this event
Connecting the Dots leads you to a deeper understanding of the historical significance and background of famous composers as well as exposure to new music and ideas. Great for adults and kids, this series is interactive allowing you to participate in live chat and ask questions with real-time feedback.
Preview some of Kiersten's works in preparation for her lecture.
Palace
The first movement ("Idols") is inspired by Jean Calvin's quote: "The human heart is a factory of idols. Every one of us is, from his mother's womb, expert in inventing idols." It was also largely influenced by Glasser's album Interiors (particularly her track "Shape"). The second movement ("Figure I") was inspired by the below sculpture by Brazilian artist Henrique Oliviera and loosely based on the words of St. Paul in Romans 17:15: "I do not understand what I do. For what I want to do I do not do, but what I hate I do."
Abigail Raiford, Soprano
Abigail Gschwend Harris, Piano
Moonscape
Written in 2015 for a collaboration between TU composers and the Gilcrease Museum. Scored for violin, viola, two sopranos, tam-tam, suspended symbol, beer bottles, and six wineglasses.
All streaming access purchases are non-refundable. We respectfully ask that you do not share this unique access link beyond your household.