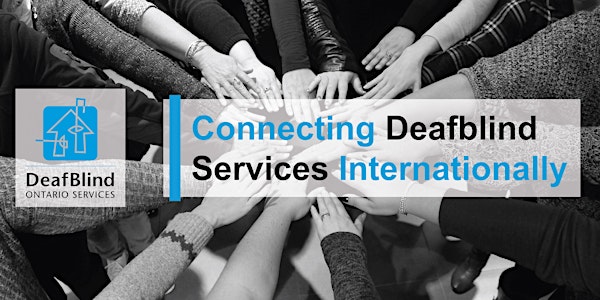 Connecting Deafblind Services Internationally
By DeafBlind Ontario Services
Date and time
Wednesday, October 17, 2018 · 9:30am - 1pm EDT
Location
Holiday Inn Express Newmarket 100 Pony Drive Newmarket, ON L3Y 7B6 Canada
Refund Policy
Refunds up to 7 days before event
Description
DeafBlind Ontario Services is pleased to present an informative session featuring three members of the Deafblind International's Scientific Committee for the 17th DbI World Conference 2019.
Meredith Prain, PhD CPSP – Speech Pathologist, Australia
Meredith will speak about services for people with deafblindness in Australia, and provide an overview of her PhD – Interactions between adults with congenital deafblindness and the staff who support them. Meredith will also speak about Video Interaction Guidance.
Carla Anderson – National Manager, Deafblind Services, Able Australia
Carla will speak about deafblind services in Australia. Topics will include: Pilot Project Communication Guide Training Program, Partnerships with Melbourne Polytechnic TAFE and their Auslan Training Program, Ablelink – ilearn Share Program, Camp Revolution of the National Disability Insurance Scheme and its implications on the deafblind community, and collaborations with various states on deafblindness issues.
Henriette Hermann Olesen – Department Head, Region Nordjylland, Centre for Deafblindness and Hearing Loss, Denmark
" A walk around some of the present focus areas in the work around deafblindness in Denmark"
Henriette will speak about tactile linguality; including arousal as an important factor for developing communication for people with congenital deafblindness.
Lunch will be provided at noon.
_____________________________________________
The 17th Deafblind International World Conference 2019 is hosted by AbleAustralia, and will take place August 12 -16, 2019 at the Surfers Paradise Marriott Resort & Spa on the Gold Coast, Queensland, Australia.
The conference theme is Sharing the knowledge to ACT – Accessibility I Communication I Technology.
For details, please visit https://dbiaustralia2019.com.au/
About the organizer
Mission
DeafBlind Ontario Services supports individuals who are deafblind to live and thrive within the community.
Vision
Enriching lives one touch at a time.
Values Statements 
We are:
Passionate

Collaborative

Leaders

Resilient

Limitless
 We are Passionate
We are driven to empower the people we support and to celebrate their uniqueness.
We demonstrate being passionate by:
Embracing challenges and opportunities with energy and enthusiasm;
Extending the reach of the people we support into the community, where they can achieve their goals, dreams and aspirations;
Creating and providing unique opportunities to learn and grow; and
Motivating and encouraging our co-workers, as well as the people we support, to challenge themselves every day.
 We are Collaborative
Engaging others makes us better. Each of us has something to learn and something to teach.
We demonstrate being collaborative by:
Fostering partnerships with the people we support, their families, other community resources, government, funders and organizations with similar goals—locally, nationally and around the world;
Committing to open communication and transparency when working with each other and our partners; and
Supporting each other and seeking input from others for solutions that benefit all.
 We are Leaders
We set the standard and promote excellence in our field.
We demonstrate being leaders by:
Constantly evolving and striving for excellence in everything we do;
Mentoring, educating and encouraging ourselves and others;
Generating and being receptive to new ideas;
Advocating for people's rights, beliefs and dreams; and
Holding ourselves accountable to the people we support, families, employees, funders and other stakeholders.
 We are Resilient
When faced with challenges, we adapt and grow—becoming stronger together.
We demonstrate being resilient by:
Providing holistic services that are responsive to the ever-changing needs of individuals living with deafblindness; 
Being proactive in identifying and addressing circumstances that may present challenges; and 
Learning from setbacks and being persistent and flexible in our efforts to find creative, workable solutions.
 We are Limitless
We believe in endless possibilities.
We demonstrate being limitless by:
Being courageous, open-minded and creative; and
Empowering each other to go outside the box and achieve goals and dreams.