Connect with the City of North Miami Beach CRA and learn about business development opportunities in North Miami Beach.
About this event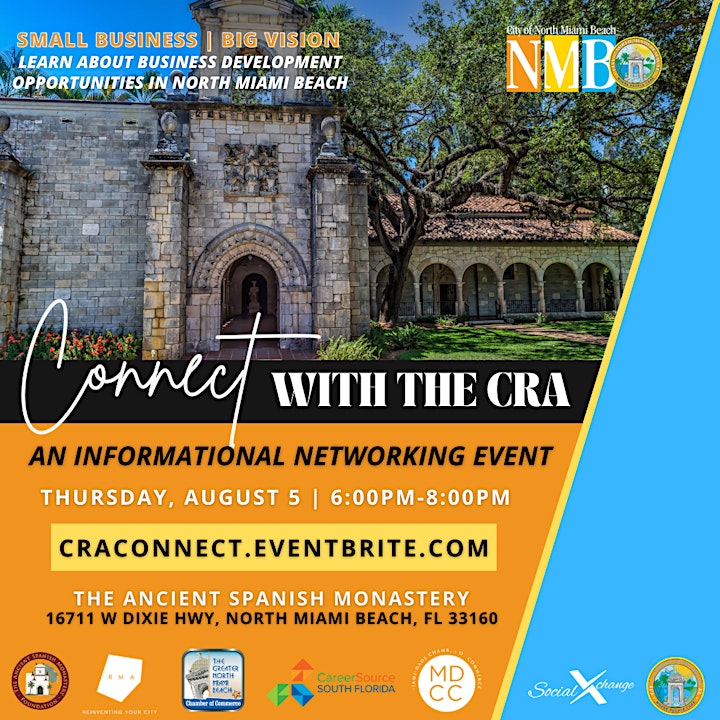 JOIN US FOR A NIGHT OF BUSINESS NETWORKING IN THE CITY OF NORTH MIAMI BEACH!
Discover exciting investment and development opportunities featuring the newly adopted land use and zoning regulations. With enhanced feasibility of private development in the area, strong market potential for commercial and residential uses, and the ability to create a mixed used environment that is livable, workable and walkable.
This opportunity is not to be missed. Refreshments & Hors D'oeuvre will be served.
---------
WHO SHOULD ATTEND?
Small Business Owners, Developers, Investors and Business Professionals!
North Miami Beach is seeking Business Owners, Investors and Developers to help grow our wonderful city!
-----
DETAILS:
Thursday, August 5 | 6PM-8PM (Arrive Early) - Space is Limited
LOCATION:
THE ANCIENT SPANISH MONASTERY - 16711 W. Dixie Hwy, North Miami Beach, Fl 33160
FOR ANY QUESTIONS OR CONCERNS
Francisco Medranda | Francisco.Medranda@citynmb.com