Description
Our Connect with a Leader series continues May 23, join us for lunch with Asawari Mokashi, principal and owner of Code Unlimited!
Change is the only Constant: tips for successful professional and personal transitions
Transitioning from a biochemist to an owner of a creative code consulting firm in a traditional and male dominated, design and construction industry, Dr. Mokashi has seen it all. In this talk she shares the wisdom learned from her mentors and through her own experience that allowed her to navigate the changes in her personal and professional life. The keys to her success have been her willingness to make and learn from mistakes and to chart her own path based on her personality, passion, and ambition. Topics covered are how to identify the need for change, how to plan for a smooth transition, and how to ensure that your family, friends, and peers are a positive force during that change.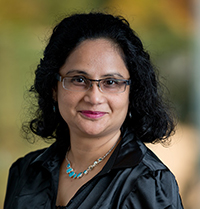 Dr. Asawari Mokashi is a Principal and owner of Code Unlimited along with her husband Samir Mokashi. She manages business operations and human resources for the company. Dr. Mokashi holds a Ph.D. in Biochemistry and Molecular Biology from Oregon Health Sciences University and is a published author who has brought scientific rigor, creative problem solving, and analytical thinking to the Code Unlimited team. Her two decades of research experience in life sciences gave her a head start in becoming a company leader. A national silver medalist in sprint and long jump, she brings her drive, tenacity and team spirit to the company. Since its inception in 2012, Code Unlimited has made its mark in the Oregon community by winning awards in 2017 for 24th largest Women Owned Business, 14th largest Minority Owned Business, Oregon Building Diversity honoree as well as 36th Fastest Growing Company in 2014. Asawari is also a past and current member of many volunteer organizations, nonprofit consumer groups, academic societies and business organizations.
---
Connect with a Leader -
Initiated in 2014 with initial advice and support from the AIA Fellows, this innovative mentoring effort offers an opportunity to meet with leaders in the architectural and related design industries. These intimate conversations are purposefully limited in size to allow for open dialogue regarding experiences, challenges and achievements. Open to students and seasoned professionals alike, these casual mentoring groups are intent on sparking connections and relationships contributing to long term career benefits. Now in its fourth year, Connect with a Leader has fostered connections with over 25 talented industry professionals.