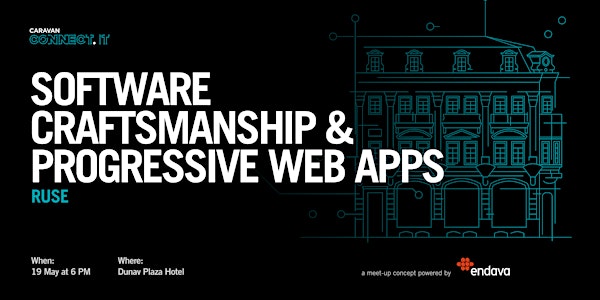 Connect IT Ruse I Software craftsmanship & Progressive Web Apps
Join us for Connect.IT Ruse - on May 19, at Dunav Plaza! This OFFLINE event is FREE of charge, but with a LIMITED NUMBER OF TICKETS.
When and where
Location
Dunav Plaza Hotel, Ruse pl. "SVOBODA", 7000 Ruse Center, Ruse 7001 Ruse Bulgaria
About this event
Connect IT Ruse I Software craftsmanship & Progressive Web Apps is a free event, but the seats are limited, so make sure to book your place by registering today! Join us and get ready to enjoy a powerful mix of technical presentations and insightful networking.
Providing a learning environment for the local community of IT professionals is the best way to be up to date with industry trends, emerging technologies, best practices, and, above all, technical excellence. Curious to find out more?
AGENDA:
🔸 18:00 – 18:30: Registration
🔸 18:30 – 19:15: Miroslav Goranov, Principal Development Consultant, Development @ Endava Bulgaria – "Software craftsmanship - Why being agile is not enough?"
🔸 19:15 – 20:00: Stefan Nedelchev, Senior Developer, Development @Endava Bulgaria – "Progressive Web Apps - The Future of the modern web?"
🔸 20:00 – 20:15: Q&A
🔸 20:15 – 22:00: Networking & Cocktail and some surprises…
ABOUT THE SPEAKERS:
Miroslav Goranov is a Principal Development Consultant and an experienced Engineering leader at Endava Bulgaria who has been working passionately for 20+ years in the tech field. He is also fervent about coaching and mentoring within the company and eager to share knowledge and best practices with the Bulgarian IT communities. Through the years, Miroslav was led by his passion for technology, his genuine interest in people's success, and the desire to be a better version of himself while keeping the craft in his heart.
Stefan Nedelchev is a Senior Frontend Developer at Endava Bulgaria with 8+ years of experience in the field. He has earned his master's degree in Computer Software Engineering from the University in Ruse and is eager to give back to the community.
ABOUT CONNECT.IT:
Connect.IT is a concept powered by Endava to build and strengthen the dialogue in the local communities by organizing technical meetups for professionals, facilitating a sharing experience based on their views and interests.
Under the Connect.IT umbrella, we are launching a roadmap series of events in 12 cities, where Endava is present: Bucharest, Craiova, Brasov, Ruse, Lodz, Balti, Sibiu, Targu Mures, Gdansk, Suceava, Plovdiv, and Varna.