Connect, Experience & Support - Book Signing Event, Plus More!
Book Signing, Small Biz Expo, Networking, Wine Tasting, Good Food & Beer While Supporting The Boys & Girls Clubs of Dane County!
About this event
Come join in the excitement of contributing author, Terri Lynn Yanke's book signing event of her Best Selling book "Overcoming Mediocrity Empowered Women". Overcoming Mediocrity is a unique collection of inspiring stories from 18 AMAZING women who have overcome obstacles to create their own lives of significance. A portion of the proceeds will be donated to the Boys & Girls Clubs of Dane County.
Terri Lynn is the CEO and Founder of Eventful Advantage LLC , and Managing Director of eWomenNetwork - Madison. She believes in creating experiences not just events and hopes you can join in this event where there is not only a book signing but a collaboration of business owners highlighting their businesses and offering special experiences for you while supporting the Boys & Girls Clubs of Dane County.
Tour Serendipity Labs Madison, offering private office space and co-working workspace. They will be giving out complimentary day passes and a chance to win a week at their beautiful offices.
Enjoy wine tasting of select Boisset Collection wines. Quality wines from several prize winning wineries from California and France that can be delivered right to your door. Learn how you can host your own wine tasting!
Enjoy good food and beer while networking and visiting the many small businesses who will be offering specials and prizes:
Gravity Photo Co - Madison's Most Rewarding Photographic Experiences - will be taking headshots right at the event!
Integrative Health Center - Learn about all their wonderful services: Holy Fire Reiki classes, Reiki, Essential Oils, Massage, Ayurvedic Care, Foot Detoxes, Healthy Weight Loss and enjoy a Chair Massage and Reflexology right at the event!
Forward & Up Wellness - helping people just like you to be well, get well and stay well. They take the confusion out of what to eat, how to supplement and what might need to change in your lifestyle for you to make your future a game changer. They empower people to take charge of their own health.
Rick's Art Studio - Meet Rick Yanke, an artist born and raised in Madison, WI. He was chosen to create one of the famous Bucky statues - his being "Strike Up the Band". He will have a collection of completed drawings and paintings available to purchase. Also, you can talk to him about commissioning your own drawing or painting. See him in action at this event!
eWomenNetwork Madison - the local chapter of the #1 Networking and Referral Community for ​Women ​Entrepreneurs. And men are welcome too! Learn more about this wonderful supportive community and get the opportunity to be a guest at one of their two monthly events.
The Boys & Girls Clubs of Dane County - help support their mission to inspire and empower all young people, especially those who need us the most, to reach their full potential as productive, responsible and caring adults.
Do you have career wear that you no longer want? We will be collecting both female and male new or gently worn, undamaged, clean, no older than 5 years old career wear to be used for interviews and to go to work to support the Boys & Girls Clubs of Dane County Career Development department.
If you are interested in participating in this event as a sponsor or a prize giver contact Terri.Yanke@eventfuladvantage.com. All proceeds of the raffle will go to the Boys & Girls Clubs of Dane County.
Free parking in parking lot behind the 525 Junction Road Building (TDS/Johnson Building). Go into back of building from parking lot and take elevators to the 6th floor.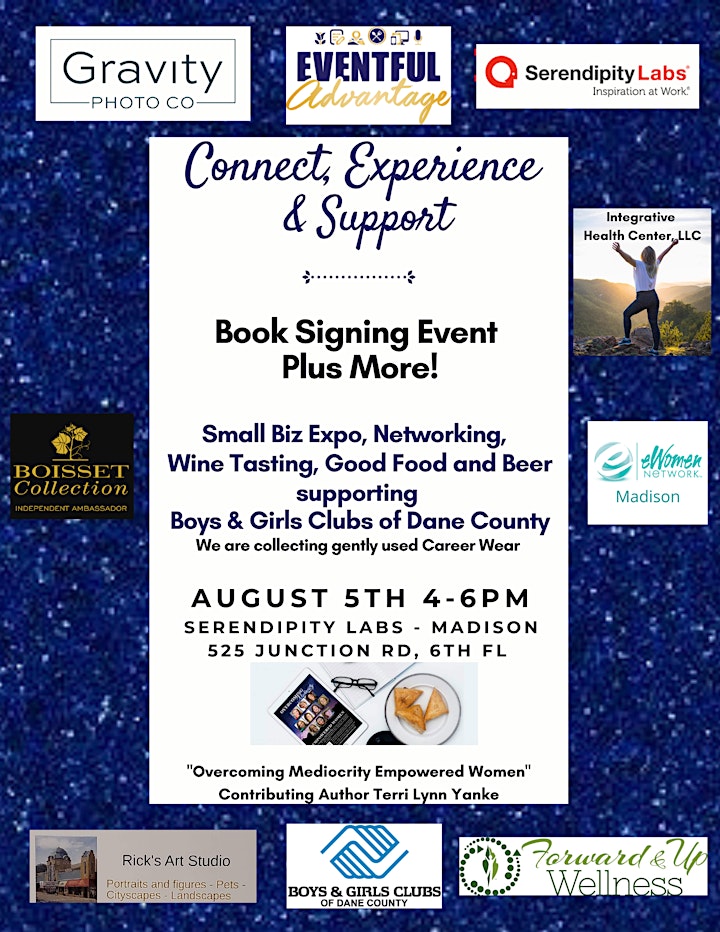 Organizer of Connect, Experience & Support - Book Signing Event, Plus More!