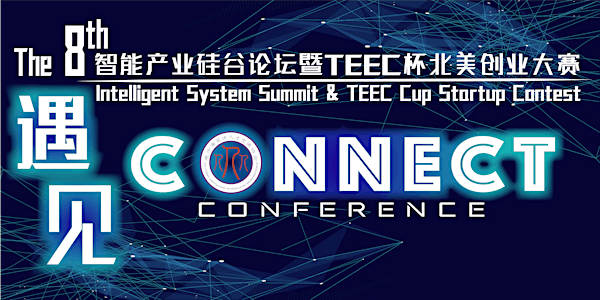 【Connect Conference】 Intelligent System Summit & TEEC Cup Startup Contest
Location
Santa Clara Convention Center
5001 Great America Parkway
Santa Clara, CA 95054
Description
【2018 UCAHP Connect Conference】
The 8th Intelligent System Summit & TEEC Cup Startup Contest
Website:www.ucahp.com
Silicon Valley's Only AI Technology/Application Collaboration Conference:
100 AI academic and industrial leaders

from Stanford, Berkeley, MCity, CMU, UCSB, Cloudminds, NovuMind, Vicarious, Beet Analytics, Horizon Robotics, Didi, SIASUN, HIT Robotics, AMD, Nvidia, Alibaba, Uber, America Express, AutoX, 5D Robotics, Cisco, Liftians, Assembly, Midea, Intellifusion, Inspirit IOT, LightIntelligence, Gyrfalcon Technology, Knowmail, Liberio, AgentQ, Leap.ai, Fenwick, Oriza Venture, TSVC, TEEC Angel, Vanke, Risong Intelligent, Chaint-Robotics, Buddha Robotics, Siliconvision, STEP, Team-Marquis, Yijiahe, Research Institute of Tsinghua University in Shenzhen (RITS)

, Zhangjiang, Suzhou, Nanjing, Weifang, CMIF, CRIA, TEEC etc. with speakers: Tuomas Sandholm, Yuan Xie, Huei Peng, Dawn Song, Silvio Savarese, Neil Trevett,

Kai Yu, Robert Zhang, Hongyu Wang, Shishan Ji, Dalong Lyv, Tao Yuan, Changhui Zhu, Jiang Zhu, etc.

AI Infrastructure & Applications

(Chip, DL, NLP, Security, Car, Robot, Manufacturing)

China Leading Corporations/Parks

looking for tech collaborations and recruiting

Startup Contest

– live pitch and Investor/KL Gates Entrepreneur PK

Cross-border Investment

– Investment Summit

AI Robotics Collaboration

- Sina-US Intelligent Robotics Summit

Networking

– VIP Dinner Banquet and Private Meeting

Showcasing

– Exhibition Hall
Theme:
Intelligent System, Technology Meets Industry
CONNECT Technology and Industry, Startup and Investor, US and China
Organizers:
UCAHP (US-China Association of High-level Professionals)
TEEC (Tsinghua Entrepreneur and Executive Club)
CRIA (China Robotics Industry Alliance)
CMIF (China Manufacturing Industry Federation)
AIIITA (AI Industry Innovation Technology Association)
CASTIP (China Association of Science and Technology Industry Parks)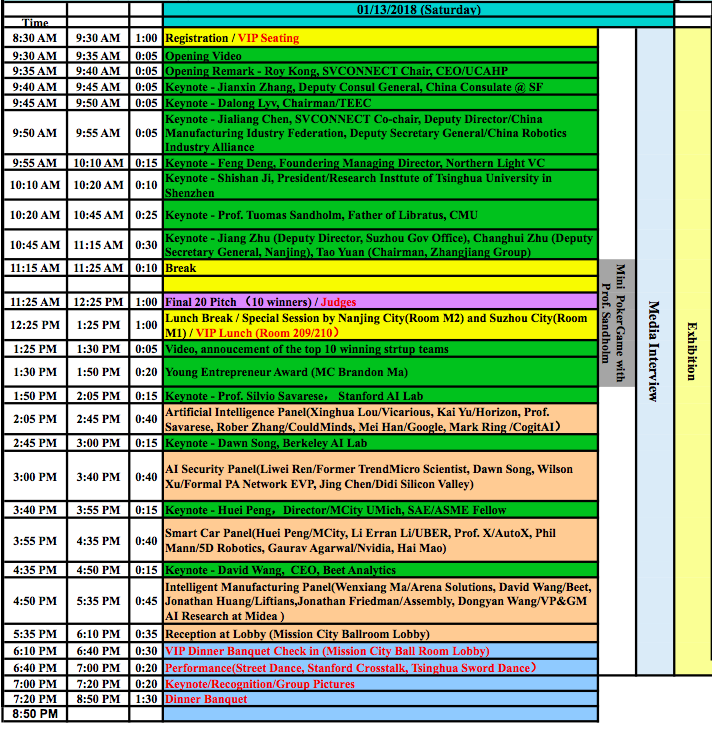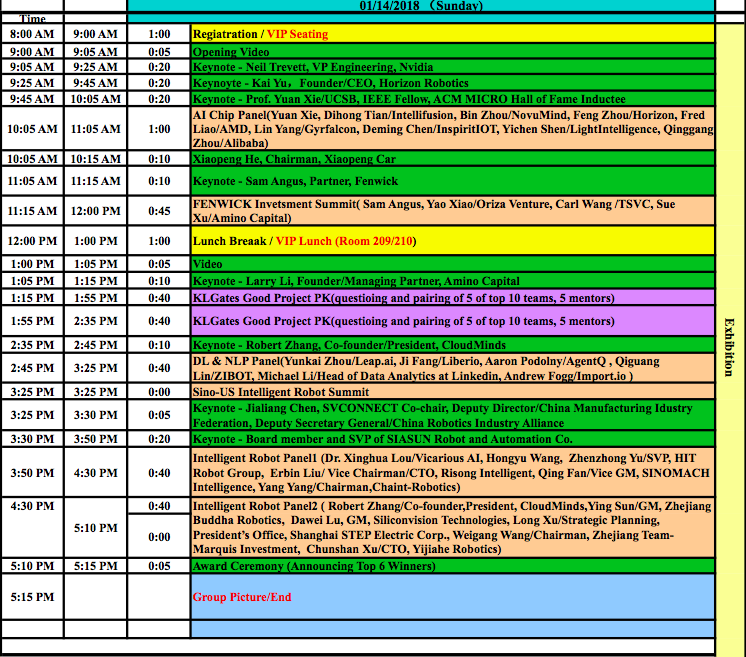 Keynotes:
Keynote Speakers:
Roy Kong, CONNECT Conference Chair, UCAHP CEO

Jianxin Zhang, Deputy Consul General, China Consulate General in SF

Prof. Tuomas Sandholm, father of

Libratus

.

Dalong Lyv, Chairman TEEC, Founding Partner, THC Ventures

Prof. Dawn Song, Berkeley AI Lab, Deep learning

and

Security

Prof. Silvio Savarese, director, Stanford SAIL-Toyota Center

Prof. Huei Peng, UM, director of MCity

Prof. Yuan Xie, UCSB, ACM Micro Hall of Fame Inductee

Feng Deng, Founder/Managing Director of Northen Light Venture Capital

David Wang, founder/CEO, Beet Analytics, Apple in manufacturing

Kai Yu, founder/CEO, Horizon Robotics, founder/head of Baidu IDL

Robert Zhang, co-founder/president, CloudMinds

Jialiang Chen, Vice director, CMIF (China Manufacturing Industry Federation), Deputy Secretary General, CRIA (China Robotics Industry Alliance)

Hongyu Wang, Sr. VP, Siasun Robotics

Neil Trevet

t,

Khronos President, VP NVIDIA

Shishan Ji, President,

Research Institute of Tsinghua University in Shenzhen (RITS)

Larry Li, Founder, Managing Partner, Amino Capital

Xiaopeng He, Chairman, Xiaopeng Car
China Science Park Leaders
Tao Yuan, Chairman, Zhangjiang (Group) Co., Ltd.

Vivian Sun, Zhangjiang Incubator Management Co., Ltd.

Changhui Zhu

, Vice Secretary General, Nanjing City Municipal Government

Songxi Cui, Vice Director, Nanjing Jiangbei New Area

Jiang Zhu, Deputy Director, Office of Suzhou Municipal Government

Jun Yin, Suzhou Industrial Park HR Development Co., Ltd.

Jinsheng Du, deputy director, Suzhou Gusu District HR and SS DEpartment
Intelligent Industry Panels:
1. Artificial Intelligence Panel
Topics include the newest developments in AI theory, algorithms
and
applications, as well as the trend of future AI applications from the perspective of processors, autonomous driving, robotics and manufacturing, Neural Networks and other machine learning technologies, machine
learning / computer
vision and profit
boost..
What are the implications with AlphaGo and Libratus beating the best human players in Go and Poker? How will AI change the manufacturing, transportation, energy industries? How far are we from the intelligent industry, and what to prepare?
Dr. Kai Yu, founder/CEO, Horizon Robotics

Prof. Silvio Savarese, director, Stanford AI Lab – Toyota center

Dr. Robert Zhang, co-founder/president, CloudMinds,

moderator

Dr. Xinghua Lou, Head of Commercialization, Vicarious

Dr. Mei Han, Research Scientist, Google

Mark Ring, Co-founder/CEO, CogitAI
2. AI Security Panel
Discussion on security trends and applications in AI enabled industries and applications, including fraud, intelligent system, IIOT etc.. AI, cloud computing, big data, CPU, MCU, sensing technology all together are changing the industry disruptively. Emergent Security AI, real-time threat detection
and
defense. Security Intelligence, how AI/Machine Learning help security and what are the threats presented
with
the connected and intelligent systems? What are the startup opportunities in Intelligent System Security?
Dr. Liwei Ren, former scientific advisor, Trend Micro, Moderator

Prof. Dawn Song, Berkeley AI Lab, on deep learning and security

Wilson Xu, Former SVP, Palo Alto Network

Raymond Wei, VP, Security Engineering, America Express

Jing Chen, Head of Security, Didi Silicon Valley Research Institute
3. Smart Car Panel
Topics include connected cars, infotainment, autonomous driving, future city and road network, sense fusion/hybrid sensors, low power and customized hardware/software systems,
trend
of future sensors in
car
, new computer vision development in
car
, challenges in
mixed driving environment
. Is a driverless vehicle even possible? How can we collaborate on
intelligent car
? What are the new startup opportunities? How will 5G and car-sharing accelerate the intelligent car trend? Who and how to certify the driverless car?
Prof. Huei Peng, UM, director of MCity, Moderator

Phil Mann, CMO, 5D Robotics

LI Erran Li, Perception at UBER

Gaurav Agarwal, Autonomous Vehicle Product Marketing, Nvidia

Hai Mao, CEO, American Automotive Innovation Technology R&D Center
4. Intelligent Manufacturing Panel
There exist both technology and business challenges in multi-dimension, inter-department,
data centric
manufacturing ecosystems. Critical real pains in manufacturing, domain knowledge of manufacturing, solutions and systems choices, sell into manufacturing industry.
Real time
information exchange and intelligent
decision making
manufacturing system. New sensors and control hardware in need? Challenges of
cyber connected
systems including business management, production management, process management, sensing and IT systems, inventory and product management systems, business intelligence, etc.. Trend of Intelligence Power Era transition from Machin Power Ear. Customization, individualization, on demand.
David Wang, founder/CEO, Beet Analytics, Apple in manufacturing

Jonathan Huang, Founder/CEO, Liftians

Wenxiang Ma, EVP/CTO, Arena Solutions, Moderator

Jonathan Friedman, Founder/CEO, Assembly

Dongyan Wang, VP&GM, AI Research, Midea Group
5. AI Chip Panel
AI chips brought new waves of startups and investments in the semiconductor industry, another example that SW requirements drive chip advancement. Why AI chips, and what can AI chips do, what are the architectures of AI chips. From BPU (Brain Processing Unit), GPU, IPU, LPU, TPU, what are the new innovations in AI Chip startups? What are the use cases of AI chips? Who are the front runners of AI chip startups? What are the different AI chip architectures? How important is this AI chip wave in semiconductor? What can Silicon Valley IC engineers do to catch and ride this AI chip wave? What are the opportunities in public and startup AI companies?
Prof. Yuan Xie, UCSB, moderator

Bin Zhou, CEO, NovuMind(China)

Fred Liao, Chief Architect, AI Chip, AMD

Dihong Tian, Cofounder, Intellifusion

Lin Yang, Founder/CEO, Gyrfalcon Technology

Yichen Shen, Founder/CEO, LightIntelligence

Deming Chen, Founder/CEO, Inspirit IOT

Feng Zhou, Chief Architect, Horizon Robotics

Qinggang Zhou, Director Deep Learning System, Alibaba

Roy Kong,CONNECT Conference Chair, 17 year GPU Veteran
6. Deep Learning and NLP Panel
Progresses in DL and NLP, real applications in NLP, and the trend in NLP in customer services, hiring, social media, in-vehicle speech application, office tool, travel, e-commerce etc.. Growing importance and use cases of NLP with $10B market size or healthcare and life science, media and advertisement, legal, IT, Finance and banking, etc.. Unlocking business value buried within vast data assets of a company.
Qiguang Lin, CTO, ZibRobot

Ji Fang, Founder/CEO, Liberio

Aaron Podolny, Head of Machine Learning, Agent Q

Yunkai Zhou, Co-founder/CTO, Leap.ai, Moderator

Michael

Li, Head of Global Data Science and Analytics at LinkedIn

Andrew Fogg, Co-founder and Chief Data Officer, Import.io
Fenwick & West Investment Summit
Investment trends in US venture capital, Including unicorn status, up/down round statistics, amount and field trend. Discussions from best known Silicon Valley Law Firm, it served 1/3 of Silicon Valley technology companies from startup to IPO.
Sam Angus, Partner, Fenwick & West

Yao Xiao, Investment Manager, Oriza Venture

Carl Wang, Investment Partner, TSVC

Sue Xu, Partner, Amino Capital
US-China Intelligent Robotics Summit:

CRIA/UCAHP present. Executives from top China robotics companies and leading Silicon Valley AI companies
sit
together and discuss the collaborations. AI and Cloud Robotics, machine-learning robots, collaborative robots, cognitive robotics. What are the technology and talent needs of top China robotics companies such as Siasun Robotics, HIT Robotics Group etc..? Industrial Robots and Consumer Robots. How to ride the wave of the internationalization of the China robotics companies, and the China market penetration of the US leading AI companies such as Vicarious AI. Siasun, HIT Robotics and other companies will also present their hiring and technology needs, and talk to candidates and partners in the event exhibition hall and meeting rooms.
Jialiang Chen, Vice director, CMIF (China Manufacturing Industry Federation)

Dr. Xinghua Lou, Head of Commercialization, Vicarious AI, Moderator

Hongyu Wang, Sr. VP, Siasun Robot

and

Automation Co., Ltd.

Zhenzhong Yu, SVP, HIT Robot Group

Erbin Liu, Vice Chairman/CTO,

Risong

Intelligent Technology Holdings Co.

Qing Fan, Vice GM, SINOMACH Intelligence Technology Co., Ltd.

Yang Yang, Chairman, Changsha

Chaint

-Robotics Co., Ltd.

Ying Sun, GM, Zhejiang Buddha Robotics Co., Ltd.

Robert Zhang, Co-founder/President, CloudMind, Moderator

Dawei Lu, GM, Siliconvision Technologies Pte., Ltd.

Long Xu, Strategic Planning, President's Office, Shanghai STEP Electric Corp.

Weigang Wang, Chairman, Zhejiang Team-Marquis Investment Management Co., Ltd.

Chunshan Xu, CTO, Yijiahe Robotics
TEEC Cup Startup Contest

:
Final live showcase of the winning teams selected from 500 applicants
Live Onstage Pitch of 20startup finalists

Judges: Tao Huang, Linda Zhou, Dongcheng Lu, Eugene Zhang, Kristie Liu, Fang Li, Tieming Zhao, Jackie Yang, Herman Liu, Xuhui Shao, Yi Zhao, Connie Sheng, Larry LiBijun He, Chun Xia, Likai Li
K&L Gates Good Project PK Program
Startup and Mentor PK for 10 finalists

Mentors: Dalong Lyv, Quansheng Li, Eugene Zhang, Linda Zhou, Shawn Lee, Lei Yang, Xuhui Shao, Li Gong, Larry Li, Pingrong Yu, Hongfei Zhang, Jing Liao, Tieming Zhao
Young Entrepreneur Award YEA
Award presented to high schoolers for their entrepreneurship and innovative social changes
VIP Banquet "Startup Night"
300 VIP Guests include winning startups

Performances:SV Engineer Street Dance,Stanford Crosstalk,Tsinghua Dancing Team

Keynote speeches
MC:
Vivi Lin, Founder of Vivi Media Group

Star Hu, Anchor, Singtao Radio

Longan Wu, President of UCAA (For VIP Banquet)
Media Interview
Reporters from China News Agency, Xinhua News, People's News, Qiao Bao, China Radio International, China Daily, World Journal, Singtao, Phoenix TV, CCTV, NetEase, Sina, Chinese Biz News, SV-China News, Vivi Media,
Exhibition Open
2018 CONNECT Conference & TEEC Cup Startup Contest
"遇见"硅谷智能论坛暨TEEC杯北美创业大赛(第8届)
海外最大的华人创业投资活动、3000人与会、500项目
硅谷唯一的AI技术/应用协作会议:
 100位业界大牛,来自斯坦福,伯克利,MCity,CMU,UCSB,Cloudminds,NovuMind,Vicarious,Beet Analytics,地平线机器人,滴滴,新松,哈工大机器人,AMD,Nvidia,阿里巴巴,Uber,America Express,AutoX, 5D机器人,思科,Assembly,Intellifusion,Inspirit IOT,Light Intelligence,Gyrfalcon Technology,Knowmail,Liberio,AgentQ,Leap.ai,K&L Gates,Fenwick,清谷创投,瑞松智能,国机智能,长泰机器人,瓿达机器人,矽景,新时达,天时沃力,亿嘉和,清远资本,深圳清华大学研究院,张江,苏州,南京,潍坊,美的,中国机械工业联合会,中国机器人创业联盟,清华企业家协会等。
 主题演讲:Tuomas Sandholm,谢源,Huei Peng,Dawn Song,Neil Trevett,Silva Savarese,余凯,David Wang,Robert Zhang,王宏玉,陈家良,嵇世山,吕大龙,邓锋,李强,何小鹏等
 "遇见"AI热点:
 冷扑大师(Libratus)和AlphaGo击败最好的人类玩家
 NIPS2017最佳论文
 人工智能芯片吸引了大量投资,AMD / Nvidia /阿里/初创公司谁家强
 阿里达摩院成立,学术届和业界深度合作
 自动驾驶硝烟四起,MCity认证有话说
 来自中国顶级机器人公司/制造业的30名高管
 中美智能机器人峰会/智能制造论坛
 技术合作、市场渗透、招聘人才
 创业大赛:现场演示、投资者/创业者PK
 跨境投资:Fenwick投资峰会
 社交宣传:贵宾晚宴和私人会议、展厅
主办:美中高层次人才交流协会、清华企业家协会、欧美同学会海归创业学院、中国机器人产业联盟、中国机械工业联合会
独家战略合作:苏州市
共同主办:南京市、张江高科技园区、人工智能产业创新技术联盟、中国技术创业协会
特别赞助:潍坊硅谷高科技孵化器、深圳清华大学研究院、潮商会、FutureTech Capital、TSVC(TEEC Angel)、Amino Capital、小鹏汽车、K&L Gates,Fenwick & West,Tsingyuan Capital, IPV Capital, Northern Light Venture, 清控银杏,华山资本,Westlake Venture, Heda Venture,Oriza Venture,GSR Venture, SinoBBD
协办:(美国)中国高等院校校友会联合会、VIVI Media Group、北加州清华校友会、北加州交大校友会、北加州北大校友会、湾区南京大学校友会、北加州东南大学校友会、中国科技大学校友会、中山大学校友会、华中科技大学校友会、华美半导体协会、华美信息存储协会、硅谷无线协会、中国留学人员创业协会、硅谷中国工程师协会、中美创新协会、斯坦福大学学生会、伯克利研究生会、斯坦福CEO、伯克利ACE、硅谷商学院、硅谷食堂、SVSIAN、中关村硅谷创新中心、瀚海硅谷科技园、普创等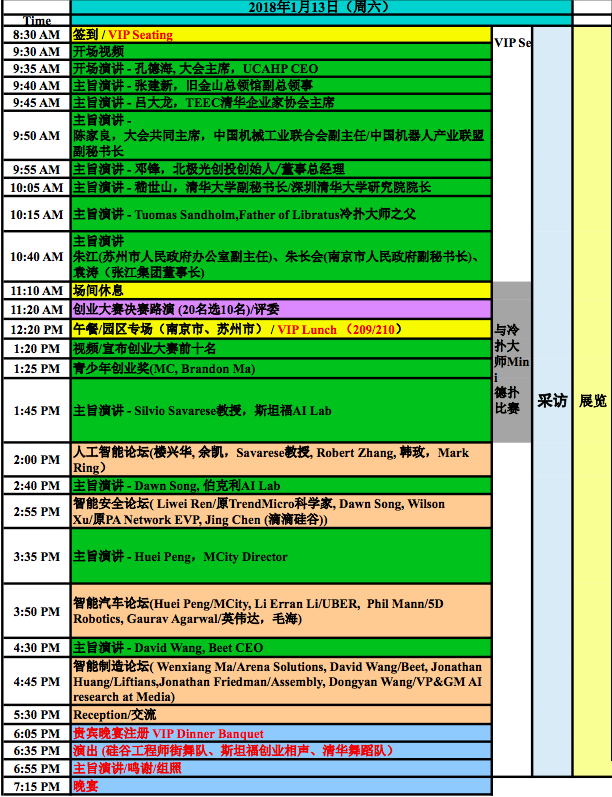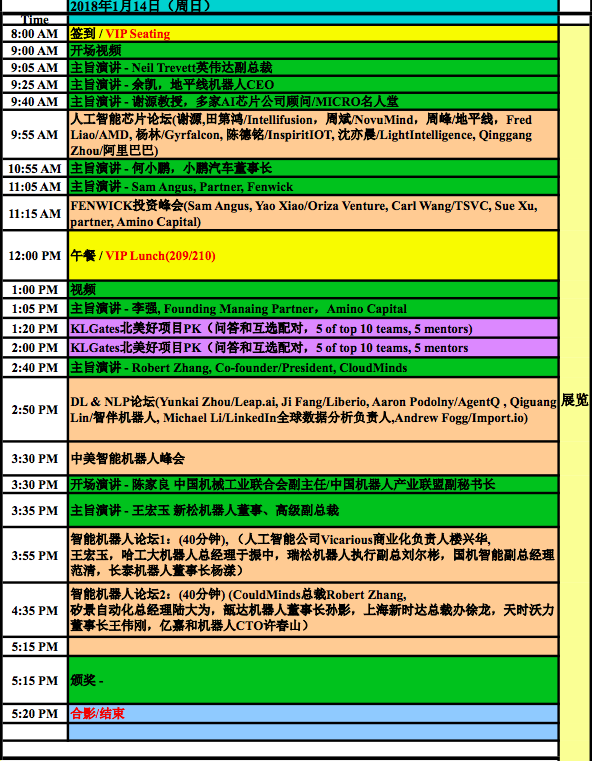 主旨演讲:
孔德海,大会主席,UCAHP CEO

张建新,中国驻旧金山总领馆副总领事

冷扑大师(Libratus)之父Tuomas Sandholm

清华企业家协会主席、清控银杏创投创始合伙人吕大龙


伯克利人工智能实验室Dawn Song, 深度学习和安全专家

斯坦福人工智能实验室Silvio Savarese,机器人,自动驾驶

密西根无人驾驶MCity主任Huei Peng,MCity是美国自动驾驶测试基地

阿里达摩院嘉宾/Micro名人堂谢源教授,计算机体系架构世界级专家,入选Micro名人堂,对人工智能的大规模计算架构有深入研究


制造业的苹果Beet创始人David Wang

原百度研究常务院副院长、地平线机器人创始人余凯

CloudMinds共同创始人总裁 Robert Zhang

中国机器人产业联盟副秘书长陈家良

新松机器人高级副总裁王宏玉

Neil Trevett, VP Engineering, Nvidia 英伟达工程副总裁

清华大学副秘书长,深圳清华大学研究院院长嵇世山

北极光创投创始人/董事总经理邓锋

李强,Amino Capital创始管理合伙人

何小鹏,小鹏汽车董事长
园区代表团
张江集团董事长袁涛、张江孵化器总经理孙维琴

南京市副秘书长朱长会、南京江北新区副主任崔松喜

苏州市人民政府办公室副主任朱江、苏州工业园区人力资源公司副总殷军、苏州姑苏区人社局副局长杜金生
智能产业论坛:
1. 人工智能人工智能研究论坛:最新人工智能理论和应用发展。主题包括AI理论,算法和应用的最新发展,以及处理器,自动驾驶,机器人技术和制造,神经网络和其他机器学习技术,机器学习/计算机视觉和利润等未来AI应用的发展趋势提升.. AlphaGo和Libratus在围棋和德州扑克中击败最好的人类玩家有什么意义? AI如何改变制造业,运输业和能源业?我们离智能行业还有多远?准备做什么?
原百度研究常务院副院长、地平线机器人创始人余凯

Prof. Silvio Savarese, 斯坦福人工智能实验室-丰田中心主任

Robert Zhang,Cloudminds共同创始人,总裁

Vicarious市场负责人 楼兴华

韩玫,谷歌研究科学家

Mark Ring, Co-founder/CEO, CogitAI
2. 人工智能安全论坛:信用、在线交易、智能互联相关之安全讨论。智能系统,IIOT等智能行业应用的安全趋势和应用探讨。人工智能,云计算,大数据,CPU,MCU,传感技术等都在颠覆性地改变着行业。突发安全AI,实时威胁检测和防御。安全智能,人工智能/机器学习如何帮助安全,以及连接和智能系统带来的威胁是什么?智能系统安全有哪些启动机会?
伯克利人工智能实验室Dawn Song, 深度学习和安全专家,麦克阿瑟天才奖获得者

原趋势科技首席科学家任力伟

原Palo Alto Network SVP, Wilson Xu

America Express VP, Raymond Wei

陈璟,Head of Security, 滴滴硅谷研究院
3. 智能汽车论坛:车联网、无人驾驶、未来汽车。主题包括联网汽车,车载信息系统,自动驾驶,未来城市和道路网络,传感融合/混合传感器,低功耗和定制的硬件/软件系统,汽车未来传感器的发展趋势,汽车新计算机视觉的发展,混合驾驶环境的挑战。无人驾驶能否成为现实?我们如何才能在智能汽车上进行合作?什么是新的创业机会? 5G和汽车共享将如何加速智能汽车的发展趋势?谁以及如何认证无人驾驶汽车?
密西根MCity主任,Huei Peng教授

Phil Mann, CMO, 5D Robotics

Li Erran Li, Perception at UBER

Gaurav Agarwal, Autonomous Vehicle Product Marketing, Nvidia

毛海,国投长期投资基金(北京)管理有限公司董事长/美国汽车创新技术研发中心CEO
4. 智能制造论坛:多维、跨部门、泛数据的制造产业形态和挑战。在多维度,跨部门,以数据为中心的制造生态系统中存在技术和业务挑战。制造业关键的真正的痛苦,制造领域的知识,解决方案和系统选择,销售到制造业。实时信息交换和智能决策制造系统。需要新的传感器和控制硬件?包括业务管理,生产管理,流程管理,传感和IT系统,库存和产品管理系统,商业智能等网络连接系统面临的挑战。机械驱动到智能驱动的大变革时代。
BEET创始人CEO,David Wang

Jonathan Huang Liftians创始人CEO

Wenxiang Ma资深副总经理, Arena Solutions

Assembly创始人CEO,Jonathan Friedman

Dongyan Wang, VP&GM, AI Research, Midea Group
5. 人工智能芯片论坛:全球AI芯片领域的创业公司及老牌公司。人工智能芯片给半导体行业带来了新一轮的创业和投资热潮,这也是软件需求推动芯片进步的另一个例子。为什么需要AI芯片?AI芯片能做什么?AI芯片的架构如何?从BPU(脑处理单元),GPU,IPU,LPU,TPU,AI芯片初创公司有哪些新的创新? AI芯片的应用场景是什么?谁是AI芯片初创公司的领跑者?有什么不同的AI芯片架构?这种AI芯片在半导体产业的意义如何?硅谷IC工程师可以做些什么来参与这个AI芯片浪潮?大型公司和创业型AI公司有哪些机会?
计算机体系结构世界级专家、达摩院嘉宾、MICRO名人堂谢源

AMD人工智能芯片首席架构师Fred Liao

人工智能实时视觉识别和监控创业公司云天励飞共同创始人CTO田第鸿

人工智能芯片创业公司Gyrfalcon Technology创始人/CEO杨林

光计算神经网络芯片公司Light Intelligence创始人/CEO沈亦晨

周斌,异构智能(中国)CEO,英伟达CUDA Fellow,前商汤科技深度学习科学家。

声波AI芯片公司Inspirit创始人陈德铭

地平线机器人首席架构师周峰

Qinggang Zhou, 阿里巴巴深度学习系统总监

孔德海,Connect大会主席,17年GPU研发管理经验
6. 深度学习和自然语言处理NLP论坛。主题含深度学习和自然语言处理方面的进展,实际应用,以及客户服务,招聘,社交媒体,车载语音应用,办公工具,旅行,电子商务等方面的NLP趋势。10亿美元的市场规模下,NLP的重要性、用例,如医疗保健和生命科学,媒体和广告,法律,信息技术,金融和银行业务等。解锁企业的巨大数据的商业价值。
Yunkai Zhou, Co-founder/CTO, Leap.ai

Ji Fang, Founder/CEO,

Liberio

Qiguang Lin, Co-founder/CTO of Guangzhou Zhiban Technology, President of its Silicon Valley Institute.

Aaron Podolny, Head of Machine Learning, Agent Q

Michael Li, LinkedIn全球数据分析负责人

Andrew Fogg, Co-founder and Chief Data Officer, Import.io
Fenwick & West投资论坛
Fenwick & West/UCAHP present,分享硅谷和美国投资现状,包括独角兽公司状态,up和down round统计,VC融资、投资和领域趋势。Fenwick是知名的硅谷律师事务所,为硅谷科技公司的大约三分之一提供从创业到上市的服务。
Samuel B. Angus, Partner, Fenwick & West

Yao Xiao, Investment Manager, Oriza Venture

Carl Wang, Investment Partner, TSVC

Sue Xu,Partner,Amino Capital
中美智能机器人峰会:
中国机器人产业联盟、美国机器人智能前沿公司、中国机器人领军公司。CRIA / UCAHP共同主办。来自中国顶级机器人公司和领先的硅谷人工智能企业的高管们讨论趋势和合作,如AI和Cloud Robotics,机器学习机器人,协作机器人,认知机器人等。新松机器人公司,哈工大机器人集团等顶级中国机器人公司的技术和人才需求如何?工业机器人和消费者机器人。如何参与中国机器人公司的国际化浪潮,以及美国AI公司进入中国市场。20家中国机器人公司如沈阳新松、哈工大机器人、广州瑞松、浙江瓿达、南京亿嘉和、长沙长泰、国机智能、上海新时达、南京矽景、浙江天时沃力以及其他公司也将展示他们的招聘和技术需求,并与候选人和合作伙伴在展会大厅和会议室交谈。
中国机械工业联合会副主任 陈家良

新松机器人高级副总裁王宏玉

哈工大机器人总经理于振中

瑞松机器人执行副总刘尔彬

国机智能副总经理范清

长泰机器人董事长杨漾

矽景自动化总经理陆大为

瓿达机器人董事长孙影

上海新时达总裁办 徐龙

天时沃力投资 董事长王伟刚

人工智能公司Vicarious楼兴华

亿嘉和机器人CTO许春山

CouldMinds共同创始人/总裁Robert Zhang
TEEC杯北美创业大赛:
20强现场路演
TEEC 杯北美创业大赛是海外最早、规模最大、层次最高的创业大赛。从500支团队里选出的决赛20强现场路演。
评委:
鲁东成,合伙人,Voyage Venture;
李利凯,云研资本;
夏淳 TSVC(TEEC Angel);
邵旭辉 Tsingyuan Venture;
刘媛媛 FutureTech Capital;
何碧筠 SVC Angel Fund;
李方 Tyche Partners
;
赵铁民 IPV Capital;
赵弋, Westlake Venture;
Hermann Liu, Managing Partner, Andra Capital;
Jackie Yang, Co-Founder & Managing Director, Translink Capital;
盛明慧,创始管理合伙人,乐得资本;
李强,丰元资本创始管理合伙人
K&L Gates"北美好项目"PK
十个团队,十位导师PK "非诚勿扰" + "中国好声音"
导师:Linda Zhou,合伙人,K&L Gates;吕大龙 董事总经理,清控银杏;李泉生 董事总经理,达泰资本;张于庆 管理合伙人,清谷创投;邵旭辉 管理合伙人,清远资本;宫力 原Mozilla全球总裁和COO;杨磊,董事总经理,北极光创投;李强,丰元资本创始管理合伙人;于平荣,管理合伙人,未名天使;张鸿飞,董事总经理,骑士投资集团;
廖菁,CHRO,SoFi;
赵铁民,合伙人,盈富泰克
青少年创业奖YEA:
"青少年创业奖Young Entrepreneur Award(YEA)"是TEEC杯UCAHP北美高层次人才创业大赛针对青少年中学生所特别设置的奖项,00后的创业展示舞台。
MC主持:Brandon Ma