An intimate gathering of success-minded women to connect, showcase their services/products, and collaborate in a mini-mastermind session.
About this event
Let's Connect & Collaborate
▶︎ Are you looking to meet other success-minded professional women and have the opportunity to connect and collaborate?
▶︎ Are you looking for a safe and supportive space to share ideas and receive feedback to grow your business or career?
▶︎ Are you interested in growing your thought leadership, gaining more visibility, or making a more significant impact to better the world?
If your answer is YES, then I invite you to participate in an intimate gathering of talented women just like you.
You'll have the opportunity to learn more about the Women Speakers Association— connect with other women, showcase your services/products, and collaborate in a mini-mastermind to receive support.
This event is for you if you are looking to:
🔹 Clarify and Own your Voice
🔹 Market and Monetize your Message
🔹 Scale and Leverage your Business/Career
Which category do you identify with the most?
Bring your energy, be ready to connect, and receive what you need to grow!
*Seats are limited to only 5 women
✨Grab YOUR seat, they fill up fast!
This Event is hosted by Teena Evert. She is the Women Speakers Association's Global Business Connector in Denver, CO.
Teena's vision for the Denver community is to provide an opportunity for talented success-driven professional women who want more visibility, recognition, and growth potential in their careers. It's an opportunity for like-minded women to come together and plug into the power of a local and global community where they can receive support in using their voice and talents to inspire change and engage in opportunities to grow both personally and professionally.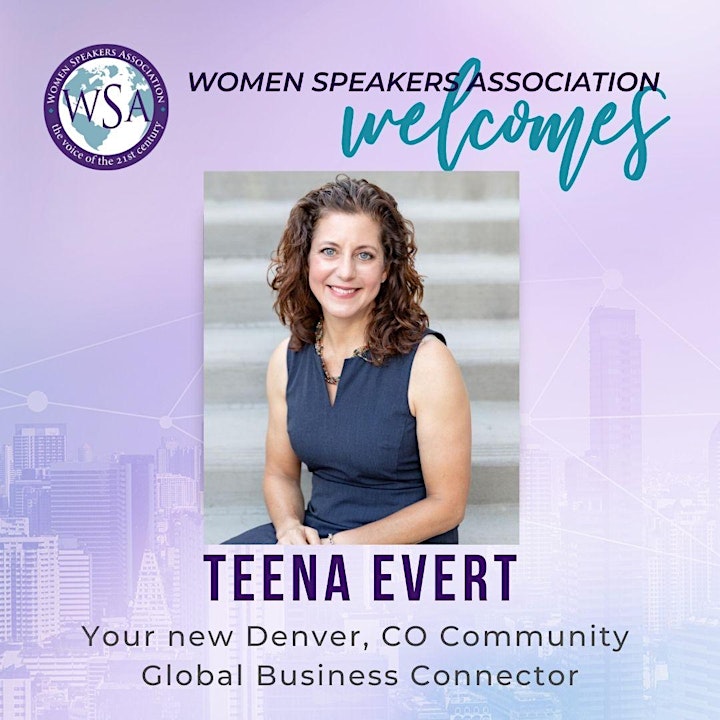 Date and time
Location
Refund policy