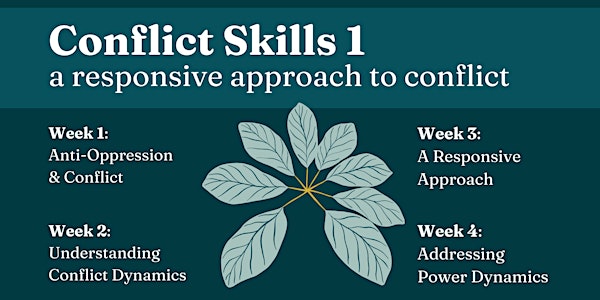 Conflict Skills 1: A Responsive Approach to Conflict
A 4-session, 4-week course introducing participants to core concepts and practices toward anti-oppressive, responsive approaches to conflict
Refund Policy
Contact the organizer to request a refund.
Eventbrite's fee is nonrefundable.
About this event
Conflict Skills 1: A Responsive Approach to Conflict is a four-week course designed and facilitated by Luna N.H. (@conflicttransformation) - more info about Luna can be found at www.lunanh.com.
Heading Photo by David Clode depicts a group of wallabes hanging around, with two of them standing up holding each other's hands as if arm wrestling or dancing.
Course Schedule:
Saturdays, 1:00PM - 3:00PM EST (with optional question + discussion from 3:00 - 3:30pm)
January 15, Session 1: Introduction to Conflict Transformation & Anti-Oppression
January 22, Session 2: Understanding Conflict Dynamics
January 29, Session 3: A Responsive Approach to Conflict
February 5, Session 4: Power Dynamics
Participants may find Conflict Skills 2: Anti-Oppressive Communication helpful. That two-session course will be held in the last two weeks of February. Register here.
Course Details
This course will be a virtual, discussion-based opportunity to grow knowledge and practice in anti-oppressive conflict skills for our day-to-day lives and closest relationships. Conflict Skills 1 is framed within Conflict Transformation, Transformative Justice, and anti-oppression.
A responsive approach is one which is aware of one's own history, skills, and needs, seeks mutual benefit by considering the needs and interests of others, and decreases reactivity, avoidance, and competition.
This course will help participants understand dynamics related to family, friends, neighbors, partners, colleagues, and organizations that you might otherwise avoid. The course will provide a practical process for approaching those dynamics which foster connection and understanding and avoid punishment, control, and abuse.
By registering, you will receive:
Attendance in all four two-hour sessions.
A one-on-one virtual session with Luna to talk through any conflicts, questions, or concerns that are personal for you or that you'd like to explore further.
A workbook with activities and resources for further learning and practice.
An invitation to a Slack channel where participants from all of my conflict courses can share resources, questions, experiences, and form longer term connections if desired.
An invitation to a three-month follow-up gathering to discuss how the concepts have been working or showing up in your life.
There will not be any required role plays, requirement to answer questions on the spot, or group projects. This course was designed by an introvert for people who struggle with virtual interaction (like me!). You'll be encouraged to practice IRL and report back.
There will be "assignments" between sessions to grow understanding of topics discussed in session. You will get out of this course what you put into it. If you are not interested in interacting in the sessions or doing the outside-session work, this course may not be the right learning format for you (and that's okay!).
Accessibility
There will be live, automated captioning.
All slides will also be provided in plain text, accessible to screen-readers.
This course will be in English only, there will not be any sign-language translation available this time. Please e-mail me at conflicttransformation@protonmail.com if you want to attend the course but would need interpretation in the future.
Sessions will be held on zoom.
Participants will be able to have their cameras on, speak verbally, and type in the chat throughout the sessions. Participants will be asked to speak verbally, if they are able, in response to questions and prompts, or I will read out their responses as typed in the chat. I welcome and encourage folks to have their video on, if possible.
Once registered, you'll receive all information and zoom links via e-mail.
FAQ
Is this a course on Conflict Resolution?
No. This course will not teach us how to resolve conflicts. This course focuses on our ability to act directly as agents in our own lives, to connect with people with whom we are in conflict, and to stay in those conflicts with compassion, care, and integrity.
Is this course for Conflict Facilitators or experienced conflict workers?
No. This course is for average people who do not intend to do conflict work, but who want to have stronger connections and relationships during conflict or want to respond to conflict in their day-to-day lives with confidence and intention. Facilitators and experienced folks are welcome to join and share their knowledge, but no previous experience is necessary.
Will this course be recorded?
No. This course is interactive and will not be recorded.
Is there a waitlist?
Yes, spots on the waitlist will be released if anyone cancels.
Will the course be offered again?
Yes, I plan to offer the course again in February or March 2022. Details TBD.