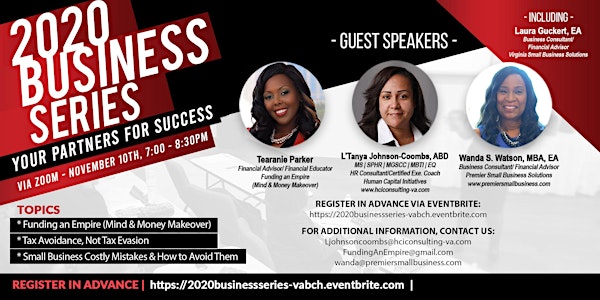 Confirm Today! 2020 Business Series, 7:00PM, Tuesday, Nov. 10th via ZOOM
Confirm Your ZOOM Ticket Today! 7:00 PM, Tuesday Night, November 10th 2020 VIRTUAL Business Series
When and where
Location
Click Here to join -- https://us02web.zoom.us/w/89160238618?tk=8f9LuLU6OMEgOzdurNg34p_Hsx0xcyeRRsuaYscHQuM.DQIAAAAUwl1GGhYxaVdEbVdBOFFGS2tuYXFfRDY3RVR3AAAAAAAAAAAAAAAAAAAAAAAAAAAA&pwd=T1dCK241RjRuWXFZQnB0VTdidmE2dz09 Meeting ID: 89160238618 Passcode: 990747 ZOOM Call, VA 23434
About this event
We invite you to join us at the 2020 VIRTUAL Business Series this year. Due to COVID-19 we had to pivot and bring the event to you via Zoom. Join us for a insightful hour of an engaging information. You will learn information and strategies that will have a significant impact on your business, work-life balance, and human capital management. If you are a Business Owner, Business Leader, or Professional that is seeking reliable strategies related to tax avoidance, funding a business venture, managing investments, and human capital best practices, you do not want to miss this ZOOM event.
The Discussions will focus on:
Funding an Empire: Mind and Money Makeover
Tax Avoidance, Not Tax Evasion
Costly Business/ Human Capital Mistakes and How to Avoid Them
Speakers:
Tearanie Parker, Financial Advisor, Author - Funding an Empire
L'Tanya Johnson-Coombs, ABD, MSHRM, SPHR
Wanda Watson, MBA, EA
Date: November 10th, Tuesday
Time: 7:00 PM Eastern Time (US and Canada)
Please click this URL to join. https://us02web.zoom.us/w/89160238618?tk=8f9LuLU6OMEgOzdurNg34p_Hsx0xcyeRRsuaYscHQuM.DQIAAAAUwl1GGhYxaVdEbVdBOFFGS2tuYXFfRDY3RVR3AAAAAAAAAAAAAAAAAAAAAAAAAAAA&pwd=T1dCK241RjRuWXFZQnB0VTdidmE2dz09
Meeting ID: 89160238618
Passcode: 990747
Confirm Today. See you soon!
Your Partners For Success.