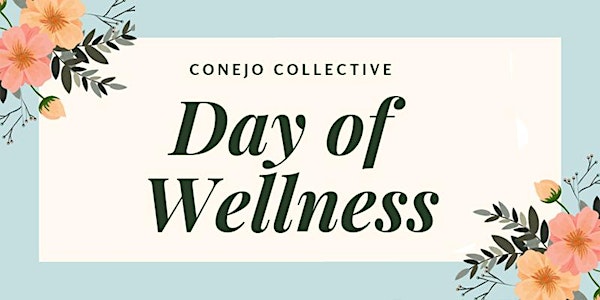 Conejo Collective: Day of Wellness
When and where
Location
The Beacon Wellness Center 5655 Lindero Canyon Rd, Suite 301 Westlake Village, CA 91362
Description
Join us for a day of Health and Wellness and get INSPIRED, ENLIGHTENED and EMPOWERED!
You will leave De-Stressed and De-toxified with Clear Energy to Apply and Implement what you learn.


We have a stellar line up of speakers:
Barbara Savin, Energy Healer & Hypnotherapist
Pam Pender, Anti-Aging Specialist
Kelly Bonanno, Eco Friendly Lifestyle & Wellness Coach
AJ Ruhr, Skincare Educator
Regina Korossy, Financial Advisor
Sepideh Yeoh, Elevate Life Coach
WE'RE GIVING AWAY AWESOME RAFFLE PRIZES! EACH REGISTERED GUEST RECEIVES 2 TICKETS ALONG WITH A CHANCE TO WIN ADDITIONAL RAFFLE TICKETS THROUGHOUT THE EVENT.
Choose from one of two sessions to attend:

Friday, October 4th, 5:30pm–9:00pm

OR

Sunday, October 6th, 1:00pm–4:30pm


Refreshments will be served!

Early Bird Registration BEFORE September 20th – $35/person

Registration AFTER September 16th – $59/person
*SPACE IS LIMITED, TICKETS AVAILABLE UNTIL ALL SEATS ARE SOLD OUT*


Testimonials from some of our wonderful previous guests:
"I left the afternoon feeling lighter and more peaceful. The room had such positive energy flowing through. The practitioners are truly great at their crafts and it showed with the way they shared their information with the group. I do look forward to going to another day of Wellness with these ladies and learning more about living and being well. Thank you so much for an empowering, delightful afternoon!" ~Mindy Werth
"It was amazing! #ccdayofwellness was a well-rounded event. A true body mind and spirit wholesome day... I HIGHLY recommend this group of empowering, smart, uplifting women. Each had a very important thing to say about the importance of caring and empowering our life as a whole. I truly appreciate people that take the time to share and spread knowledge with such passion, because it empowers us to take action! " ~Edith Harris
"Thank you, ladies, for a wonderful afternoon of enlightenment and camaraderie. My mind, body and soul are well-nourished with your insights, words of wisdom and uncomplicated path to well-being. I learned, I laughed, I left uplifted. I highly recommend this Day of Wellness as there is so much knowledge to gain from these highly articulate, wellness ambassadors. " ~Jackie Rome
#ccdayofwellness
THANK YOU TO OUR AWESOME SPONSORS:
*Jano Print *Cocoa Rome Chocolates *Lauren B. Beauty *Spa Lourdes *Candu Graphics