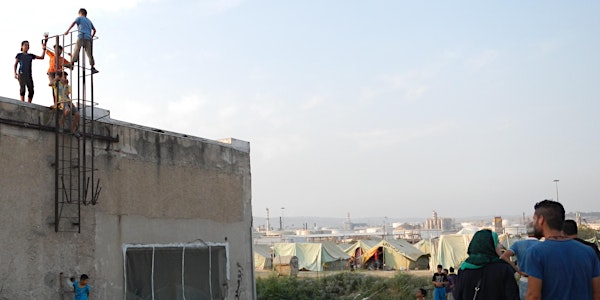 Conducting Research with Refugees: A challenges and opportunities workshop
By Boston Consortium for Arab Region Studies (BCARS) with the Feinstein International Center, Tufts University
When and where
Date and time
Wednesday, May 3, 2017 · 10am - 4:30pm EDT
Location
Northeastern University, 305 Shillman Hall 105 Forsyth St Boston, MA 02115
Refund Policy
Contact the organizer to request a refund.
Description
Overview
This workshop is aimed at helping academics and practitioners prepare for upcoming field research projects involving refugees and other forced migrants, and will address a range of practical and ethical challenges with research methods through a series of moderated discussions and plenary sessions.

This workshop is sponsored by the Boston Consortium for Arab Region Studies (BCARS) and the Forced Migration Field Researchers Coalition, which includes researchers from the following universities: Tufts, Worcester State, Clark, Northeastern, Boston University, and Oxford Brookes, and organizations: the Feinstein International Center, the International Institute of New England (IINE), the International Rescue Committee (IRC) and the Joint IDP Profiling Service (JIPS).

Your $5.00 ticket will include the cost of lunch, administrative fees, and a copy of the workshop outcome document.
_____
Draft schedule (details are subject to change)
10:00 - 10:30 am Introductions & Opening Remarks - Room 305 10:30 -11:30 am Methods Micro-sessions - Room 305
Attendees can choose 3 micro-sessions, one in each set, to visit in the hour and learn more about the full unconference sessions.
Each micro-session is hosted by an expert on a specific research method or approach. All seven sessions will be offered in each time slot.
10:30- 10:45 am First Set of Micro-sessions on research methods
10:45- 11:00 am Second Set of Micro-sessions on research methods
11:00- 11:15 am Third Set of Micro-sessions on research methods
11:15-11:30 am Break
11:30-3:00 PM Unconference Sessions
Attendees can choose either of the two sessions for each time slot.
11:30- 12:15 pm First Session, Discussion A, Room 325
"Migration research: Accounting for Power,"
Amira Mohamed & Roxani Krystalli
11:30- 12:15 pm First Session, Discussion B, Room 335
"Searching for 'participation' in participatory research with forced migrants,"
Adam Saltsman
12:15- 1:00 pm Lunch – Room 305
1:00- 1:45 pm Second Session, Discussion A, Room 325
"Research for… Whom?"
Denis Sullivan, Charles Simpson & Zeynep Balcioglu
1:00- 1:45 pm Second Session, Discussion B, Room 335
"Youth-enabled research in settings of displacement"
Kim Wilson & Zoe Dibb
1:45-2:00 PM Break
2:00- 2:45 pm Third Session, Discussion A - Karen Jacobsen & Graeme Rodgers, "The translation problem in research with refugees – is localization the answer?" - Room 325
2:00- 2:45 pm Third Session, Discussion B - Danilo Mandic, "Qualitative methods in tough spaces" - Room 335
2:45-3:00 PM Break
3:00- 3:45 pm Fourth Session, Closing Plenary, Room 305
"Narrative approaches to research with refugees"
Anita Fabos
3:45 - 4:30 pm Closing Remarks - Room 305
3:45-4:00 pm Debrief: Reflections and Discussion of Unconference Sessions
4:00- 4:30 pm What's next? Outcomes and Lessons
_____

Unconference Sessions
A) Will take place in Room 325
B) Will take place in Room 335
Closing Plenary will take place in Room 305
FIRST SESSION
A) "Migration research: Accounting for Power"
Amira Mohamed & Roxani Krystalli
How do gender, race, and class impact qualitative research with displaced populations? How do we assess our positionality and control for these variables? How can migration research benefit from qualitative and feminist methodologies?
B) "Searching for 'participation' in participatory research with forced migrants"
Adam Saltsman
What does it actually mean to engage in participatory research in contexts of forced migration? What are the barriers to such approaches and how can researchers navigate them? This session puts into question the idea of "participation" as it is commonly used in humanitarian research in contexts of displacement by asking who gets to participate and at what level. While humanitarian agencies have often considered participation a means to "empower" refugee clients, a participatory action research approach is also a way to achieve a more "authentic" set of findings that more closely adheres to the experiences and perceptions of the target population. Yet critics point out that forced migrant "participants" often have little power over the research agenda and the policy or programming objectives of such research. We will consider possible methodological tactics that graduate students, academics, and practitioners can use to address the uneven power dynamics of research contexts and create space for transformative practice by integrating principles of participatory action research into their work with forced migrant populations.
SECOND SESSION
A) "Research for… whom?"
Denis Sullivan & Zeynep Balcioglu
How do we produce research outcomes for a variety of audiences: academics, policymakers, aid/development practitioners, and refugees themselves? What are the research needs of policymakers and practitioners, and how can academics meet these needs? Are there opportunities where research can be directly beneficial to refugee sources and key informants? What creative products other than academic papers can maximize the impact of research findings (e.g. visualizations, Podcasts, white papers, briefings, workshops)?
B) "Youth-enabled research in settings of displacement"
Kim Wilson & Zoe Dibb
Young people (ages 18-24) may have a role in researching their own surroundings. This session explores self-reporting techniques through the case study of TEGA - Technology Enabled Girl Ambassadors, which has trained more than 100 girl researchers in countries like Nigeria, Rwanda, India, Indonesia and the US to document their own environments. The girl researchers receive intensive training and then are remotely monitored as they use an interactive mobile-based system of data collection. Based on Lean Research Principles as well as the concept of Shared Identities, TEGA has found that its technologies and protocols have implications for youth in contexts of stability as well as displacement. This session explores how the TEGA system may be adapted to environments of internal displacement as well as refugee settlement and integration.
THIRD SESSION
A) "The translation problem in research with refugees –
is localization the answer?"
Karen Jacobsen & Graeme Rodgers
One of the biggest and least discussed problems for researchers – whether in resettlement countries like the US (eg. credibility in asylum court) or in countries of first asylum and transit – is having to work with translators/interpreters in interviewing refugees. This panel will explore some of the problems (ranging from inadequately trained interpreters to back-translation of questionnaires), and some possible solutions, including some ways in which the localization of research (i.e. working with local teams) can address problems. The specific challenges and adaptations made by the International Rescue Committee will be covered. The panel will discuss the role of expat researchers more generally too.
B) "Qualitative methods in tough spaces"
Danilo Mandić
What are the differences between interviews, surveys and ethnographic observation in refugee sites? What are the particularities of each research method, and how do they fit together? What aspects of refugee dynamics should we study using each instrument? What are the ethical and practical challenges? We will discuss the limitations and advantages of different ways of observing and talking to refugees, navigating refugee camps and other sites, recruiting informants, recognizing and reacting to trauma, building trust, sampling respondents and evaluating data quality. Participants will be invited to do small-group exercises of real-world experiences from refugee fieldwork. Particular attention will be given to high-turnaround camps on the Balkan Route during the recent crisis.
FOURTH SESSION: CLOSING PLENARY
"Narrative approaches to research with refugees"
Anita Fábos
Narratives have long been central to the work of refugee and forced migration scholars, practitioners, activists, and affected populations themselves. Increasingly, scholarly attention has shifted to the ways narratives are elicited and, subsequently, used as evidence in a range of high-stakes settings—the courtroom, the asylum interview, and, more public spaces like the media. In all of these settings, the content, texture, and form of the narrative shape rulings, decisions, and public opinion. This panel considers the ways in which stories are told by, for, and about forced migrants and, critically, also the institutions that shape migrations. By situating refugee and forced migration narratives within the framework of multiple and competing power relations, this workshop considers processes, ethical dimensions, and modalities of producing narratives, as well as the outcomes of these situated narratives for individuals, groups, institutions, and the state.
_____
Session Leader Bios
(Alphabetical by first name)
ADAM SALTSMAN - Worcester State University
Adam Saltsman is an Assistant Professor of Urban Studies and Director of the Intergenerational Urban Institute at Worcester State University. Adam researches and publishes on issues of displacement and migration, looking in particular at gender and forced migrant agency within exclusionary political spaces. He specializes in participatory methods and has advised humanitarian agencies on gender and mixed methods research. Adam received his B.A. in Cultural Anthropology from Colby College and his M.A. and Ph.D. in the Department of Sociology at Boston College.
AMIRA MOHAMED - Clark University
Amira Mohamed is an assistant professor at the Department of International Development, Community, and Environment at Clark University. Both her Masters and PhD degrees focus on the nexus between gender, migration and globalization while her PhD dissertation had researched the vulnerabilities of female domestic workers in Egypt. Her work involved advocating for the rights of migrants, formulating response strategies, conducting operations research and evaluation, leading sizable international programs, nurturing results-focused partnerships and building institutional capacity through training.
ANITA FÁBOS - Clark University
Anita Fábos is an anthropologist who has conducted research and outreach among refugees and other forced migrants in urban settings in the Middle East, Europe, and the United States. Her scholarship and practice pursues a number of interconnected themes in the area of forced migration and refugee studies. Starting with a lengthy period of action research, NGO activism and outreach in Cairo, Fábos' research and writing has followed the movements of Muslim Arab Sudanese. She has worked as the Director of the Forced Migration and Refugee Studies program at the American University in Cairo, Programme Coordinator for the graduate program in Refugee Studies at the University of East London, and is currently at Clark University where her students have carried out community-based projects that have investigated refugee participation in community development initiatives, refugee access to higher education, and refugee livelihoods in Worcester.
CHARLES SIMPSON - Boston Consortium for Arab Region Studies
Charles Simpson has worked on Syrian refugee issues with BCARS since 2014. His research focuses on social resilience of Syrian refugee and host communities in Jordan, Turkey, and Europe. He has an M.S. in Security & Resilience Studies, and a B.A. in International Affairs from Northeastern University.
DANILO MANDIĆ - Harvard University
Danilo Mandić is a comparative historical sociologist and College Fellow in the Department of Sociology. Mandić received his AB from Princeton and his PhD from Harvard. His interests include social movements, nationalism, social theory, ethnic relations, civil war, and organized crime. He has done extensive archival and ethnographic work in the Balkans and Caucasus. He is interested in conceptualizing organized crime as a neglected non-state actor and in understanding the interrelations of states, social movements and illicit flows of people, goods and ideas in regions with separatist disputes.
DENIS SULLIVAN - Northeastern University
As Director of Boston Consortium for Arab Region Studies (BCARS), Prof. Sullivan has focused the Consortium's attention to the ongoing Syrian refugee crisis, conducting field research in Jordan and the Balkans. Prof. Sullivan teaches political science and international affairs at Northeastern University, and has been a consultant to the World Bank, USAID, U.S. State Department, U.S. Department of Defense, Council on Foreign Relations, colleges, universities, and human rights organizations.
GRAEME RODGERS - International Rescue Committee
Graeme Rogers is Technical Advisor for Research at the International Rescue Committee (IRC) in New York. He is responsible for promoting research that supports IRC's US Programs, to strengthen the organization's commitment to evidence-based programming. An anthropologist by training, his current focus on refugee resettlement in the US builds on a long-standing research interest in the local-level dynamics of durable solutions for refugees. This includes voluntary repatriation and local integration in both urban and rural settings, across numerous countries in Africa and Asia. Previously, he has developed and taught graduate level courses on forced migration at the universities of the Witwatersrand, Oxford and the New School. Dr. Rodgers has consulted widely on displacement and migration in the context of large-scale development projects in conflict-affected contexts in Africa, for governments, bilateral agencies and the private sector.
KAREN JACOBSEN - Tufts University
Karen Jacobsen holds the Leir Chair in Global Migration at The Fletcher School of Law and Diplomacy at Tufts University, where she also directs the Feinstein International Center's Refugees and Forced Migration Research Program. Karen is a recognized expert in the field of forced migration, and she consults and writes widely on this topic. From 2000–2005, she directed the Alchemy Project, which explored the use of microfinance as a way to support people in refugee camps and other displacement settings. Karen received her B.A. from the University of Witwatersrand in Johannesburg, her M.A. from Northeastern University, and her PhD in Political Science from MIT.
KIM WILSON - Tufts University
Kim Wilson is a Senior Fellow at Fletcher's Center for Emerging Market Enterprises and also at the Feinstein International Center. She graduated from Wellesley College and Simmons Graduate School of Management. She is interested in the financial resilience of households and markets at the base emerging market economies. She is the 2009 recipient of the James L. Paddock teaching award at The Fletcher School.
ROXANNE KRYSTALLI - Tufts University
At Feinstein Center at Tufts University, Roxanne Krystalli focuses on how to better generate, synthesize, and use evidence in the humanitarian field. Her own research focuses on patterns of violence in mass atrocities and on victim-centered transitional justice, paying particular attention to gender and other dimensions of power. She is also on the Steering Committee of Lean Research, a cross-institutional partnership to consider the ethics and practicalities of research in vulnerable or violent settings.
ZEYNEP BALCIOGLU - Northeastern University
Zeynep Balcioglu is a doctoral student in the Department of Political Science at Northeastern University, specializing in public policy and comparative politics. She has a strong background and research interest in migration and public policy. Zeynep is currently on the Scholars Advisory Board of the Boston Consortium on Arab Region Studies (BCARS) and organizes workshops on the Syrian Refugee Crisis in the MENA Region and the Balkans. Her current research focuses on refugees' access to social and welfare services in host countries.