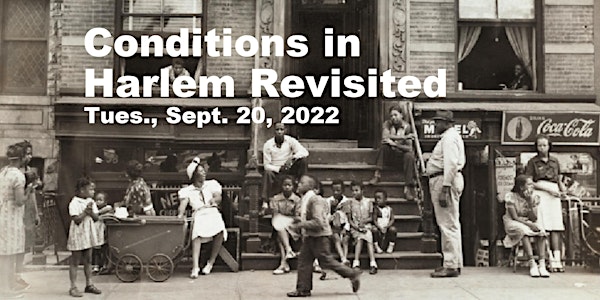 Conditions in Harlem Revisited
Join us for a one-day convening, Conditions in Harlem Revisited: From the 1936 Mayor's Commission Report to Today.
When and where
Location
Schomburg Center for Research in Black Culture 515 Malcolm X Blvd New York, NY 10030
About this event
Join us in-person or online for a one-day conference to consider the 1936 Mayor's Commission report on Conditions in Harlem and to ponder, what if? What if Mayor LaGuardia had released the findings to the public; what if the recommendations had been acted upon; and, what if the findings had been viewed broadly as indicative of the poor treatment of Black people in American cities?
The conference will feature panel presentations with scholars, advocates, historians, residents, and researchers addressing the key focus areas from the initial report: Justice, Education, Housing, Employment, Healthcare, and Social Services.
Appointed by Mayor Fiorello LaGuardia after a 1935 night of unrest and violence in Harlem, the Commission members elicited testimony at 21 public hearings and reported on by six subcommittees: Crime and the Police, Education, Housing, Discrimination in Employment, Health and Hospitalization, and Relief. Every chapter in the report presented an indictment of how the City was serving the 200,000 Black residents of Harlem. The report also listed dozens of steps that could help remedy the conditions.
The report was never issued by the City. The convening examines the what if question and where Harlem and its' residents are today.
The convening is provided in collaboration between The Department of Records and Information Services, the McSilver Institute for Poverty Policy and Research at NYU, the Schomburg Center for Research in Black Culture, Vital City, NYC Speaks, and the Office of the Deputy Mayor for Strategic Initiatives. Recently, the Administration of Mayor Eric Adams in partnership with NYC Speaks, a public-private initiative for government transformation, surveyed New Yorkers and convened community conversations on issues of concern to help shape the City's top initiatives. Many of the responses echo the concerns of those from the 1936 commission report.
Learn more about the 1935 events in Harlem and the LaGuardia Commission: https://www.archives.nyc/blog/2019/3/1/the-mayors-commission-on-conditions-in-harlem-1935
View the convening website to take a deeper dive into the subject and conference details: https://harlemconditions.cityofnewyork.us/
FREE AND OPEN TO THE PUBLIC
This event will also be live streamed.
#HarlemRevisited #SchomburgCenter @SchomburgCenter @NYCMcSilver @NYCRecords
Program:
8:30 Refreshments
9:15 Welcome
9:30 Plenary Panel
10:30 Employment & Economic Development
11:45 Lunch
12:30 Housing & Land Use
1:45 Education & Recreation
2:45 Break
3:00 Healthcare & Environment
4:15 Justice & Public Safety
5:30 Conclusions
6:30 Reception
PUBLIC NOTICE AND DISCLAIMER
IN-PERSON | By registering for this event, you are acknowledging that an inherent risk of exposure to COVID-19 exists in any public place where people are present. By attending an in-person program at The New York Public Library's Schomburg Center for Research in Black Culture, you voluntarily assume all risks related to exposure to COVID-19 and agree not to hold The New York Public Library, its Trustees, officers, agent and employees liable for any illness or injury. Wearing a mask or face covering is strongly recommended for indoor events. If you have symptoms consistent with COVID-19 or suspect you have been in close contact with someone who has tested positive, please stay home.
VIRTUAL | This Program uses a third-party website link for online streaming. By clicking on the third-party website link, you will leave NYPL's website and enter a website not operated by NYPL. We encourage you to review the privacy policies of every third-party website or service that you visit or use, including those third parties with whom you interact with through our Library services. During this Program, you will be using third-party platforms such as Livestream.com or YouTube for the purpose of communication.
FIRST COME, FIRST SEATED | Events are free and open to all, but due to space constraints registration is requested. Registered guests are given priority check-in 15 to 30 minutes before start time. After the event starts all registered seats are released regardless of registration, so we recommend that you arrive promptly, if not early.
GUESTS | Please note that holding seats in the Langston Hughes Auditorium is strictly prohibited and there is no food or drinks allowed in the auditorium.
AUDIO/VIDEO RECORDING | Programs are photographed and recorded by the Schomburg Center. Attending this event indicates your consent to being filmed/photographed and your consent to the use of your recorded image for any all purposes of the New York Public Library.
PRESS | Please send all press inquiries (photo, video, interviews, audio-recording, etc.) at least 48-hours before the day of the program to Leah Drayton at leahdrayton@nypl.org. Please note that professional video recordings are prohibited without expressed consent.
QUESTIONS | Contact SchomburgCenterEvents@nypl.org for all general inquiries about this event.