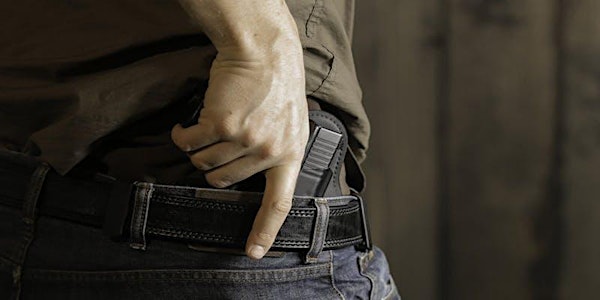 Concealed Carry Handgun Class Newport, Morehead City, Havelock,New Bern $60
Eastern North Carolina's most comprehensive Concealed Carry Handgun course, suitable for all experience levels. A course to be experienced!
When and where
Location
Home Front Freedom, LLC 245 Howard Blvd. Rotary Club Newport, NC 28570
About this event
Course costs:
$60.00 per person
If using our guns, add $10.00 usage fee
(costs of ammunition, safety gear, CCH application, etc. Is not included)
Course Summary/Topics Covered:
Our Concealed Carry Handgun Class is indeed our signature class. We have integrated our Introductory Pistol Course along with all of the mandated laws governing the use of deadly force and concealed carry in the state of North Carolina. Our North Carolina Department of Justice approved course is geared for all levels of firearms experience. But instead of the usual hum-drum classroom atmosphere, our instructors with decades of experience create a highly energetic and interactive learning environment that is sure to keep you on the edge of your seat.
We will teach you about the different types of handguns and handgun actions
How to safely handle handguns
How to know what ammunition to use for your intended purpose
The basic fundamentals of pistol marksmanship (the right way to shoot the pistol)
Proper stances and the tactical use of them
Practical applications in the classroom before we ever go to the range
Considerations in purchasing a handgun
Maintenance of your handgun
Concealed Carry technique and equipment
Lunch is ALWAYS a great time!
Federal, State and local laws regarding transportation and the purchase of a firearm
How to apply for your Concealed Carry Handgun Permit
What the law says about where you can and cannot carry concealed
What the law says about your use of deadly force in a self-defense situation
What to do after a self-defense shooting
Of course all of this knowledge is measured by an open-book written test and a range proficiency course of fire shooting 40 rounds of ammunition from the 3, 5, and 7 yard lines.
Prerequisites:
You must be a responsible adult (age 18 or above - must be 21 or older to apply for CCH)
You must not be prohibited by local, state or federal law from owning or possessing firearms and ammunition.
You must not be under the influence of alcohol, narcotics or any substance which would be considered to hinder your judgement, mental capacity, coherency or alertness (prescription or otherwise) at the time of, or throughout the class
You must exhibit and demonstrate that you can handle firearms safely (per the instruction that you will receive prior to going to the range). Unsafe behavior with a firearm will not be tolerated and will be grounds for automatic dismissal without refund.
Gear Requirements CHECKLIST:
Download this printable CHECKLIST (Click here)
If you are using your own handgun, it must be:
- In good, serviceable condition
-Cleaned prior to class
-If it is a Semi-Automatic Pistol:
--at least 2 magazines
--an outside the waistband holster
-If it is a Double Action Revolver:
--At least 1 speed loader, moon clip or speed strip
- an outside the waistband holster
-If it is a Single Action Revolver...leave it at home, that type of handgun is not suitable for this course. Use one of our guns.
If you are planning on using one of our guns, bring $10 in cash additional for a usage fee (we have to pay the owner to clean them). We provide the gun, magazines and a holster.
A suitable belt for supporting the weight of a loaded handgun in the holster
At least 50 rounds of target ammunition (no hand loaded ammunition please). If you are using our guns, you will need to bring 9mm factory target ammunition. We will retain the ammunition box for all ammunition that is used on our pistols.
Notebook, pen and or pencil, highlighters.
Eye and ear protection
Appropriate clothing for a firing range (please, no low or open shirts or blouses, no open toed shoes, flip flops, etc. Bring a ball cap). The goal is to keep hot flying brass from landing on your skin.
We buy lunch for all. If you have any food allergies or intolerances, please make arrangements for lunch. We have a kitchen where you may heat it up and a refrigerator where you may keep it.
The remainder of your registration fee in cash or gift certificate (no credit cards).
Course Length:
Some of this course is objective based. The minimum requirement is 8 hours of classroom instruction plus range time. Plan on all day. Our goal is to be finished by 6 pm, but that is a goal and not a promise. Because it is objective based, we may end up going slightly longer to meet the objectives.
Classroom and Range Information:
The classroom is the at the Rotary Club in Newport (see location in this listing). The range is a private use range which is about a 7 minute drive from the classroom. We will convoy to its location at that time.
Other benefits:
There will be an NRA membership presentation during the lunch break. You will be offered exclusive discounted membership rates into one of the premiere pro-Second Amendment civil rights organizations who is making a huge difference at the federal, state and local levels. This presentation is optional.
Our goal is for you to walk away from our class equipped with the knowledge, skill and attitude necessary for you to safely and confidently go about your everyday routine with a loaded firearm safely concealed on or about your person. We don't want to try to turn you into Rambo. We just want to get you to the store and back safely in this world that we live in.
See you in class!
FAQs
What can/can't I bring to the event?
Download this printable CHECKLIST (Click here)
Bring an unloaded handgun with a compatible holster, at least a 50 round box of ammunition, hearing and eye protection, a notebook, pen and a highlighter.
If you are using one of our handguns, you will not need the gun or the magazines, and a holster will be provided.
Please do not bring live ammunition into the classroom.
FAQs
What certifications will I get when I complete this course?
You will earn the North Carolina Concealed Carry Handgun (CCH) completion certificate necessary to present to the Sheriff's Office of your local county for your application.
FAQs
Do I have to bring my printed ticket to the event?
No, that is not necessary