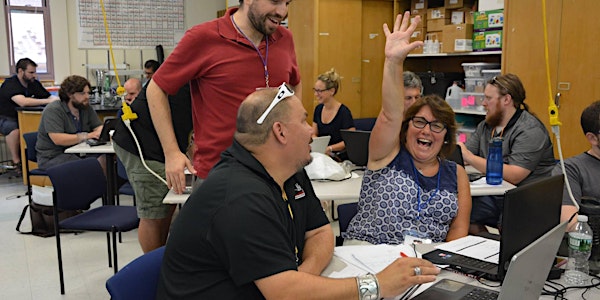 Computational Modeling in Physics Intensive with Pyret/Bootstrap
When and where
Location
Trinity School 101 W. 91st Street New York, NY 10024
Description
Computational Modeling in Physics

with Pyret/Bootstrap
Leader: Joshua Rutberg, Emily Pontius, and a team of master physics teachers
Calling All Physics and Physical Science Teachers! (including all who use Modeling Instruction™) Do you want to increase your students' motivation by incorporating Computational Modeling in your class? If so, this is the workshop for you!
Computational modeling is the use of computers to simulate and study complex systems. It is widely recognized as an essential skill for the future workforce and success in STEM and is also a perfect tool for the physics classroom. The use of simple programs and simulations with modifiable code allows students to visually and graphically represent physical phenomena and solve problems that they wouldn't otherwise be able to do with a calculator, or paper and pencil!
In this workshop you'll learn how to use computational modeling in your classroom and get an introduction to the powerful, new Pyret language, a browser-based, state-of-the-art teaching vehicle. In the first two weeks, you'll have a chance to practice the basic techniques of Modeling Instruction, a student-centered approach to teaching and learning while also working through computational modeling curricula developed over the past 2 years. This will include the basics of programming in Pyret, learning how to write simple functions and modify existing code, with opportunities to generate programs on your own. We'll cover physics topics such as (1) constant velocity, (2) uniform acceleration, (3) inertia and force pairs, and (4) Newton's 2nd law.
In the final week of the workshop, you will have a choice of group projects, including programming additional simulations and models in Pyret, adaptation of materials for your classroom, revising or supplementing the materials used in the first two weeks, and development of additional materials.
No prior computer programming or Modeling Instruction™ experience is required; all are welcome!
NOTE: All participants who complete the workshop successfully and submit the results of the four required pre- and post- research assessments and surveys will receive a $100 stipend.
All participants who have not previously taken a Modeling Workshop(TM), will receive a one-year membership in the American Modeling Teachers Association, which includes free access to a huge library of curricula and educator resources, including all the materials related to Computational Modeling Physics.
Computational Modeling in Physics is a project organized by STEMteachersNYC, AMTA, AAPT, and Bootstrap, funded by 100Kin10 and the NSF.
Schedule:
The workshop will run for 3 weeks July 23 - August 10, 2018 The workshop sessions will be from 9:00 am to 4:00 pm on Monday - Thursday and Friday 9:00 am to 3:00 pm, followed by an optional social hour from 3:30 to 4:30.
Location: Trinity School
Trinity is at W 91st & Columbus; entrance is on W 91st St. just west of Columbus. Nearest subways are the 96th street B/C station or take the 1,2,3 to 96th street.


*Note, this workshop requires a minimum number of participants. In the event there are not enough participants, the workshop may be cancelled, and all tuition would be refunded.


Cost:
Full Ticket Price $1050
Full Ticket prices are for participants who receive financial support (from their school, district or other organization) to attend this workshop. See links below to download an invoice template which can be found on the following registration page. Email questions to Registration@STEMteachersNYC.org.
INVOICE AND PURCHASE ORDER REQUEST:
Districts/Schools, to request an invoice for a STEMteachersNYC 2018 Summer Workshop, please fill out a quick survey at: http://stemteachersnyc.org/po-invoice/ This is a required step in order to process your request. Any questions please contact registration@stemteachersnyc.org
Please send Purchase Orders (POs) to our Billing Office
Via Email: billing@stemteachersnyc.org
OR Via US Mail: STEMteachersNYC - Billing Office 245 West 107th Street, Suite 10B New York, NY 10025
Teachers! Ask your school to pay for your ticket! All the school needs to do is send us a Purchase Order (PO). Please fill out a quick survey at: http://stemteachersnyc.org/po-invoice/ Or just copy and paste the information above and let them know the workshop you want to attend. Don't be afraid to ask. There's always a chance the money will be available and they'll say yes, but if you don't ask, there's no chance at all.
Teacher Discounted Ticket $750
Ticket Discounted Tickets are for teachers who are paying for the workshop themselves - meaning they are not receiving financial support from their districts or other funding organizations.
Early Bird Ticket Price $600
Early Bird Ticket Prices are for teachers who register early (before May 15th), and are paying for the workshop themselves - meaning they are not receiving financial support from their districts or other funding organizations.
Please note: We take photographs and record video of our workshops in order to publicize a positive image of science teaching, and of STEMteachersNYC - a recognized 501(c)(3) non-profit organization. If you register, you are agreeing to be photographed and to have your voice and image video-recorded. You are also agreeing to relinquish all your rights to the photographs and video recordings.
If you do not wish to be photographed or video-recorded - you must inform us at check-in. We will take one photograph of your face so that we can erase your image if we happen to catch it by chance during the workshop, and we will do our best to avoid you. We would also appreciate your cooperation in positioning yourself at the edge of the group so as to help us avoid you.
Also note: Workshop leaders are subject to change.
Please read the FAQs section below carefully before registering.
FAQs
Is STEMteachersNYC an approved NYC DOE CTLE Vendor?
Yes. STEMteachersNYC is a Continuing Teacher and Leader Education (CTLE) vendor for the New York City Department of Education (#STE-068881). New York State Teachers will receive a CTLE certificate at the end of the workshop. (CTLE ID # 23385)
Is there nearby lodging?
Yes, Please visit our website at: http://stemteachersnyc.org/lodging/ to view many possible options.
How can I contact the organizer with any questions?
Questions about registration and payments for this event should be addressed to STEMteachersNYC Registrar (Registration@STEMteachersNYC.org).
I am interested in taking more than one workshop. Can I register for multiple workshops?
It depends: Many workshops overlap so look closely at the start and end dates. Be sure to choose workshops that do not overlap, as reservations are not refundable. If you need help deciding which workshop fits your needs best, please email the STEMteachersNYC Registrar (registration@STEMteachersNYC.org).
Is the full workshop fee or the balance of the workshop fee refundable?
Refunds for the balance of the full workshop fee (must be requested within one (1) week of payment and at least four (4) weeks before the start of the workshop. All such requests must be accompanied by an acceptable, documented explanation. Judgments about acceptability of explanations and documentation, and about whether or not a refund will be issued are at the sole discretion of STEMteachersNYC and are final. Refunds will not include fees charged on the initial payment by Eventbrite, Paypal, credit cards, and/or banks.
Is my reservation/ticket transferrable?
Not without authorization, please contact the STEMteachersNYC Registrar (Registration@STEMteachersNYC.org) if you need to transfer your reservation to a different person/name, or if you wish to transfer your reservation to a different workshop.
Can I update my reservation information?
Yes, you can update your reservation information.
The name on the reservation/ticket doesn't match the attendee. Is that okay?
No, please contact the STEMteachersNYC Registrar (Registration@STEMteachersNYC.org) to address this.
Can I receive college level credits?
TBD - Email questions to registration@stemteachersnyc.org.
Where can I find more information about STEMteachersNYC?
Visit our website: http://STEMTeachersNYC.org or email info@stemteachersnyc.org
How can I join STEMteachersNYC?
Click here it's free! http://stemteachersnyc.org/join/
Members find out about workshops first and can sign up before others.