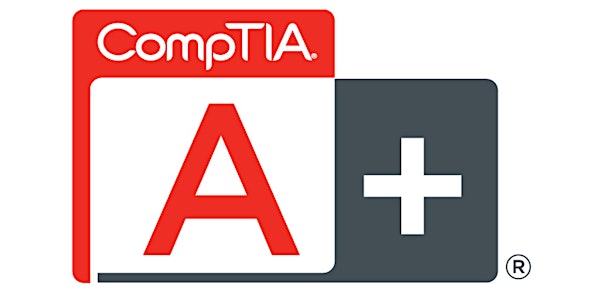 CompTIA A+ Core 1 and Core 2 Instructor-Led Course
Class Days: Monday thru Friday CompTIA A+ Core 1 and Core 2 Live Online Training
Refund Policy
Contact the organizer to request a refund.
Eventbrite's fee is nonrefundable.
About this event
Class Days: Monday thru Friday
CompTIA A+ Core 1 and Core 2 Live Online Training
Practice Tests for A+ Core 1 and Core 2
eBook for A+ Core 1 and Core 2
Practice Labs for A+ Core 2
Exam Vouchers will be required for certification.
What is CompTIA Live Online Training?
With all the comfort and flexibility of an online environment, Live Online Training with a CompTIA instructor simulates the traditional classroom learning experience by allowing two-way communication, allowing you to ask questions and participate in discussions.
CompTIA Live Online Training classes are led by highly qualified CompTIA instructors. Each instructor holds the certification being taught and has real-world IT experience. CompTIA instructors follow industry-standard IT training best practices to get results; at the end of your session, you'll be trained on everything you need to know to pass your CompTIA certification exam.
Live Online Training Computer Requirements
Internet access with a minimum of 10 Mbps download and 1 Mbps upload speeds. 20 Mbps download and 2 Mbps upload speed or higher are recommended.
Headphones, microphone and webcam compatible with your chosen computer.
Accessing Your Live Online Training Session
Your CompTIA Live Online Training Classroom Link will be emailed to you the Friday before class begins.
Topics Covered
Lesson 1: Supporting Operating Systems
Lesson 2: Installing and Configuring PC Components
Lesson 3: Installing, Configuring, and Troubleshooting Display and Multimedia Devices
Lesson 4: Installing, Configuring, and Troubleshooting Storage Devices
Lesson 5: Installing, Configuring, and Troubleshooting Internal System Components
Lesson 6: Installing, Configuring, and Maintaining Operating Systems
Lesson 7: Maintaining and Troubleshooting Microsoft Windows
Lesson 8: Network Infrastructure Concepts
Lesson 9: Configuring and Troubleshooting Networks
Lesson 10: Managing Users, Workstations, and Shared Resources
Lesson 11: Implementing Client Virtualization and Cloud Computing
Lesson 12: Security Concepts
Lesson 13: Securing Workstations and Data
Lesson 14: Troubleshooting Workstation Security Issues
Lesson 15: Supporting and Troubleshooting Laptops
Lesson 16: Supporting and Troubleshooting Mobile Devices
Lesson 17: Installing, Configuring, and Troubleshooting Print Devices
Lesson 18: Implementing Operational Procedures