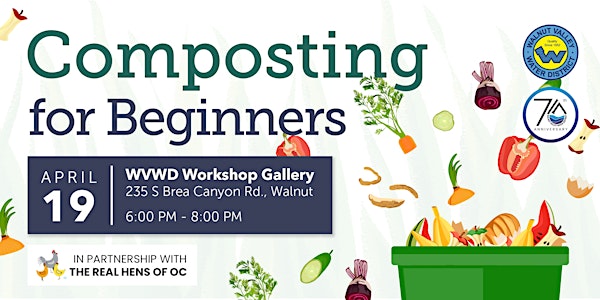 Composting for Beginners Workshop
Join us for a FREE Composting for Beginners Workshop! Please note, this workshop is for WVWD customers only.
By Walnut Valley Water District
Date and time
Wednesday, April 19 · 6 - 8pm PDT
Location
Walnut Valley Water District Workshop Gallery 235 South Brea Canyon Road Walnut, CA 91789
About this event
In partnership with The Real Hens of OC, join us for a FREE Composting for Beginners Workshop!
Topics covered in this workshop will include, but may not be limited to:
Benefits & basics of composting
Hot vs. cold composting
How to vermicompost
Greens vs. browns
Misinformation in composting
Managing your compost
Identifying problems with your compost
At the end of the workshop, you will:
Know the benefits and basics of composting
Know the differences between hot and cold composting
Know how to vermicompost
Know what can and cannot be composted
Be able to problem-solve the most common composting problems
Please note this class is for WVWD customers only. A valid WVWD Customer Account Number is required. Customer information will be verified and if you do not live in our service area, you will be notified and placed on a waiting list to accommodate our customers first.
Registration is required. Walk-ins will NOT be accepted. Local COVID guidelines are enforced.
About the organizer
Walnut Valley Water District (WVWD) is your trusted resource on all things water. We are dedicated to meeting the water supply needs of the communities we serve. WVWD is here to provide the tools and resources our customers need to lead a water-efficient lifestyle.
WVWD's service area includes the City of Diamond Bar, portions of the cities of Walnut, Industry, Pomona, and West Covina, and the easterly section of the unincorporated area of Rowland Heights. WVWD serves a population of over 100,000 customers within a 29-square-mile area, which includes more than 27,000 water connections with an average daily demand of over 18.5 million gallons per day.