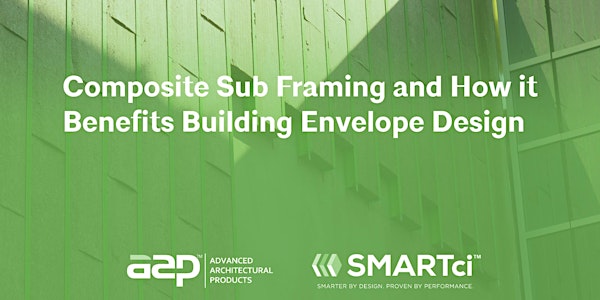 Composite Sub Framing and how it Benefits Building Envelope Design
An AIA Detroit Sponsored Webinar (contact AIAD to get YOUR webinar featured!)
About this event
Brought to you by Advanced Architectural Products – the maker of SMARTci and "Greengirt"
1 Health, Safety, Welfare (HSW) AIA Credit will be provided by SMARTci
Description: This course will introduce the learner of the latest standards, requirements, benefits and approaches of continuous insulation (CI) systems. Through the use of composite sub framing systems. The learner will review how non-conductive composite sub framing systems can benefit the performance and resiliency of building envelope construction while contributing to the health, safety and welfare of project participants.
Learning Objectives:
Participants will be able to relay how continuous insulation benefits modern building envelope design and construction
Participants will be able to identify potential issues inherent to modern envelope design using conductive materials
Participants will be able to identify how wall systems are constructed to make up an integrated envelope, and how the selection of systems can impact other adjacent systems
Participants will be able to identify and compare different approaches to continuous insulation and how each integrate into the design of the building envelope
About SMARTci:
SMARTci® combines decades of real-world, multidisciplinary design and engineering experience to provide continuous insulation systems that specifically addresses the needs and potential failure points of modern building envelopes.
New building codes make continuous insulation systems mandatory for new commercial construction. As a result, the construction industry finds itself needing a simple yet advanced, robust and cost-conscious product. SMARTci is designed to fill this need as the most energy efficient, lowest cost continuous insulation solution. The effects of poor thermal envelope design result not only in loss of efficiency, but also potentially ice, moisture and mold damage.