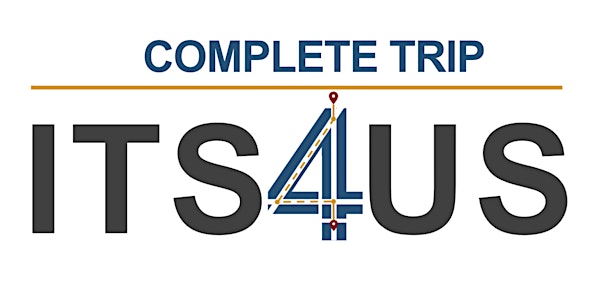 Complete Trip - ITS4US Deployment Program: HIRTA ICTDP Webinar
Integrated Complete Trip Deployment Plan Webinar - Heart of Iowa Regional Transit Agency (HIRTA)
About this event
Background
In early 2021, USDOT launched the Complete Trip - ITS4US Deployment Program that aims to solve mobility challenges of all travelers, regardless of location, income, or disability, in accessing jobs, education, healthcare, and other activities.
This Program is a multimodal, multi-year, effort let by the Intelligent Transportation Systems Joint Program Office (ITS JPO) with support from Office of the Secretary of Transportation (OST), Federal Transit Administration (FTA), and Federal Highway Administration (FHWA) to enable communities to showcase innovative business partnerships, technologies, and practices that promote independent mobility for all. The Program awarded $40 million to five sites to participate in Phase 1 of the program to plan and conceptualize their large-scale, replicable, real-world deployments of integrated innovative technologies to address the challenges of planning and executing complete trips. For more details on the Complete Trip – ITS4US Deployment program, see the program's website at: https://its.dot.gov/its4us/.
Session Description
ITS JPO is hosting a set of five free, public webinars to allow each of the five deployment sites to publicly share their Integrated Complete Trip Deployment Plans, which are being developed as part of Phase 1. This will be an opportunity for each site to discuss their integrated complete trip deployment plan, their deployment concept, and engage the broader Complete Trip-ITS4US Deployment Program Community about their efforts so far in Phase 1. At the end of the presentation, there will be an opportunity for the audience to ask the site questions about their project.
Deployment Site Information
The proposed ITS4US deployment known as the "Health Connector for the Most Vulnerable" and led by Heart of Iowa Regional Transit Agency will provide enhanced and equal access to healthcare options for all in Dallas County by integrating the scheduling and management of healthcare appointments and transportation, with a focus on underserved communities.
Accommodations
Live closed captioning will be provided during this webinar. Please note that the deadline to request additional accessibility accommodations for this webinar is April 5, 2022.
Webinar Details
Date: Tuesday, April 12, 2022
Time: 2:00 pm – 3:30 pm ET
Presenters: Fred Bowers, FHWA Office of Planning; Members of the Heart of Iowa Regional Transit Agency (HIRTA) Team