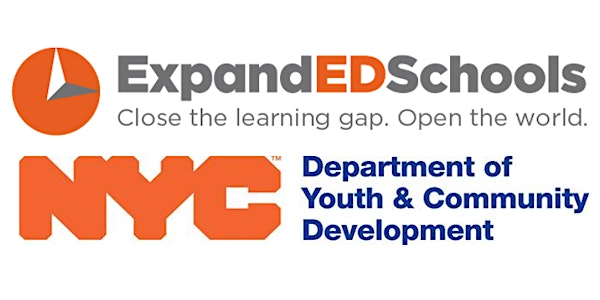 COMPASS DYCD Connect PTS Training (Elementary Programs)
When and where
Location
DYCD 2 Lafayette Street 21st Floor New York, NY 10007
Description
What is DYCD Connect? DYCD Connect is a single point of access to three applications for tracking participant and activities, program evaluation and monitoring, and requesting capacity building support. This training will focus on the Participant Tracking System (PTS), which captures and tracks program activities, participant intake and enrollment, and attendance.
This training focuses on workscope management after your workscope has been approved. This training will not cover functionality related to the Evaluation and Monitoring System (EMS), which includes evaluations, action plans and incident reports. Trainings are designed for COMPASS Elementary program staff members who are responsible for entering and maintaining program data. Individuals must know how to use a computer to attend this training.
This training will:
Offer hands-on training to users on the necessary steps needed to navigate efficiently throughout the PTS database system.
Educate staff with the rationale for and contents of the workscope.
Train staff to enter participant enrollment, activities/groups and attendance data.
Demonstrate how the Workscope reflects the program's plan and how to make adjustments/changes to accurately reflect any changes made to the plan.
Troubleshoot different scenarios that programs may experience in their day-to-day work, such as issues with attendance and changing Activity Schedules.
Registration Instructions:
Advanced registration for this workshop is required. Please note separate training dates for COMPASS Elementary and Middle School programs and select the appropriate date for the type of program you operate.
To register, please click on the orange "Select a Date" button and choose the training date you would like to attend.

On the new page, click on the green "Register" button, then select "Checkout"

Fill out the entire registration form. (NOTE: If you have one or more colleagues who will attend, please make sure each person completes a registration through Eventbrite).

Things to bring to the training:

(1) Photo ID to get into the building


Note: Attendees arriving thirty minutes or more after training has started may not be granted access to the training and will need to re-schedule for a later date.
An insufficient number of registrants will result in cancellation or postponement of this workshop. Registration is for the approved candidate only. Substitutions are not allowed without the approval of ExpandED Schools. In many cases, space is limited and a wait list has been established. The registrant is asked to cancel their registration in Eventbrite or contact ExpandED Schools (itdatamanagement@expandedschools.org) if they are not able to attend a workshop, so that the space can be awarded to another individual. We thank you for that courtesy.
This professional development opportunity is provided at no cost to you but has a value of $1714.29 for DYCD. If you register for and are subsequently unable to attend this session you are responsible for cancelling your registration or risk being waitlisted for future events.