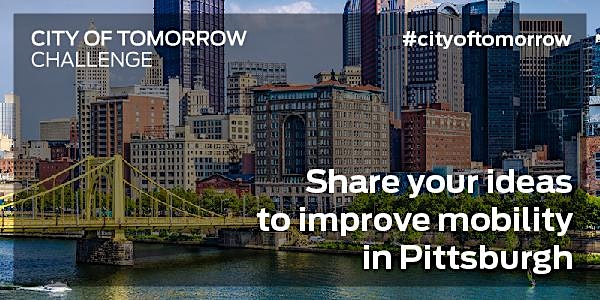 Community Working Session - Creative Infrastructure
When and where
Location
Coro Center for Civic Leadership 26 S. 27th Street Pittsburgh, PA 15203
Description
Join us to re-imagine urban mobility in Pittsburgh.
We invite you to help make Pittsburgh more accessible, inclusive, and mobile for everyone.
In the final of four events, you will collaborate with a diverse group of community members and leaders to consider how we might design creative infrastructure.
Doors open at 5:45PM and the event will start at 6:00PM.
About the City of Tomorrow Challenge:
The City of Pittsburgh, together with partners at Ford, has teamed up with AT&T, Dell Technologies, and Microsoft to launch the City of Tomorrow Challenge, which is aimed at crowdsourcing ideas that will transform transportation in cities. The goal is to identify new mobility solutions that create immediate impact for residents and support broader planning efforts in cities.
Through a series of community events, we're bringing together people from across the city to develop a deep understanding of the mobility experiences faced by residents, businesses, community groups, and visitors in the City of Pittsburgh. These events are co-facilitated by OpenIDEO.
Join us to help build the Pittsburgh of Tomorrow by sharing your ideas, stories, and insights.
What Can You Expect?
During this event we will:

Learn more about the City of Tomorrow Challenge

Hear stories and insights from fellow community members

Identify ways to improve mobility in our city
Be part of the movement! Share how you experience transportation in Pittsburgh.
Who Should Join?
This event is open to everyone. We hope to connect with a diverse group of people on transforming transportation and mobility in Pittsburgh. We encourage residents, businesses, and community groups to join us. Share how you experience transportation in Pittsburgh and how mobility either improves or detracts from important aspects of your daily life.