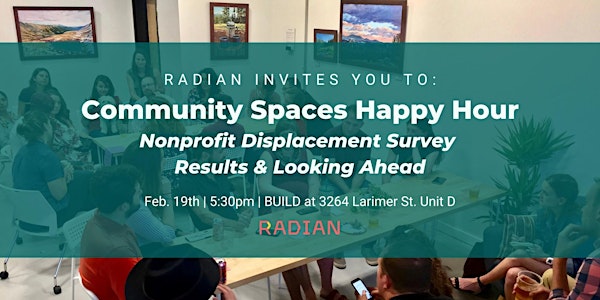 Community Spaces Happy Hour
When and where
Location
Radian 3264 Larimer Street Unit D Denver, CO 80205
Description
Calling all Denver Metro nonprofits and community-serving organizations: you are invited to a Community Spaces Happy Hour at BUILD by Radian. We will be sharing the results of our 2018 Displacement Survey and inviting you to co-create the 2020 survey with us.

Learn more about the 2018 survey here: https://www.radianinc.org/project/2018-nonprofit-displacement-survey/

Please join us for an interactive night of storytelling, collaboration, and partnership with organizations who are impacted by or advocate for the need for more affordable space opportunities in the Denver Metro Area. It is our hope that all who participate can contribute to and benefit from this research and subsequent policy recommendations regarding local nonprofit displacement.

In 2020, our goal is to have 500 nonprofit respondents participate in the survey. We plan to continue the same quantitative analysis as the previous surveys and build upon our research by collecting anecdotal evidence based on your own experiences and stories in the nonprofit real estate sector. Your participation will inform further areas of exploration for the 2020 nonprofit displacement data collection process.

Examples of data requests we have heard from you so far are:
- Are nonprofits being displaced because of rising real estate costs or are they voluntarily leaving to follow the displaced communities they serve?
- Is the cannabis industry contributing to the displacement of nonprofits that require warehouse space?

Drinks and small refreshments will be provided. We hope to see you there!