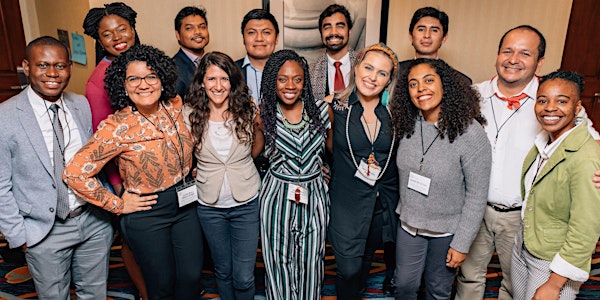 Community Solutions Networking Reception
When and where
Location
Washington Marriott Georgetown 1221 22nd Street Northwest Washington, DC 20037
Description
Connect with the world's most promising change makers.
Are you interested in making global connections and advancing international perspectives?
Spend an evening with 90 emerging leaders from 66 countries around the world.
Learn how these Community Solutions Fellows are changing the world.
After four months working alongside U.S. colleagues in 20 states and the District of Columbia, the 2018 Community Solutions Fellows are returning home with innovative ideas and plans to address critical challenges in their home communities.
Connect with these visionaries:
Adriana Sofia Mena Obregón, Colombia, promotes the concepts of cultural diversity and respect for differences through art.
Allan David Ortiz,Guatemala, increases democratic participation among youth from diverse backgrounds.
Auleria Kadyampakeni, Malawi, holistically helps women and girls contribute to the socio-economic development and decision-making of Malawi.
Dikla Lavertovsky, Israel, promotes social cohesion through dialogue among the diverse population of Israel.
Jevrosima Pejovic, Montenegro, helps mothers support their families and rejoin the workforce through career guidance and counseling.
Lionel Rogers, Fiji, raises awareness to reduce suicide through youth mental health advocacy and education.
Samantha Kuman, Papua New Guinea, empowers rural communities with effective plastic waste management strategies.
Sandra Wickrama, Sri Lanka, brings low-income families of different ethnic groups together to work toward solving community issues using social enterprise.
And 82 others working to make their communities more stable and prosperous in Albania, Algeria, Bangladesh, Bhutan, Bosnia and Herzegovina, Brazil, Bulgaria, Cambodia, Colombia, Costa Rica, Czech Republic, Democratic Republic of Congo, Dominican Republic, Ecuador, Egypt, El Salvador, Ethiopia, Fiji, Ghana, Guatemala, Guinea, Haiti, Hungary, Indonesia, Iraq, Israel, Jamaica, Kazakhstan, Kyrgyzstan, Lebanon, Lithuania, Macedonia, Malawi, Malaysia, Moldova, Mongolia, Montenegro, Morocco, Mozambique, Myanmar, Namibia, Nepal, Pakistan, Papua New Guinea, Peru, Philippines, Romania, Rwanda, Serbia, Sierra Leone, Singapore, Slovakia, South Sudan, Sri Lanka, Sudan, Syria, Tajikistan, Trinidad and Tobago, Tunisia, Turkey, Uganda, Ukraine, Uzbekistan, West Bank/ Palestinian Territories, Zambia, and Zimbabwe.
Beverages and hors d'oeuvres will be served.
Space is limited. Don't miss your chance to meet the next generation of change makers and hear innovative approaches to building healthy, sustainable communities around the world.