Description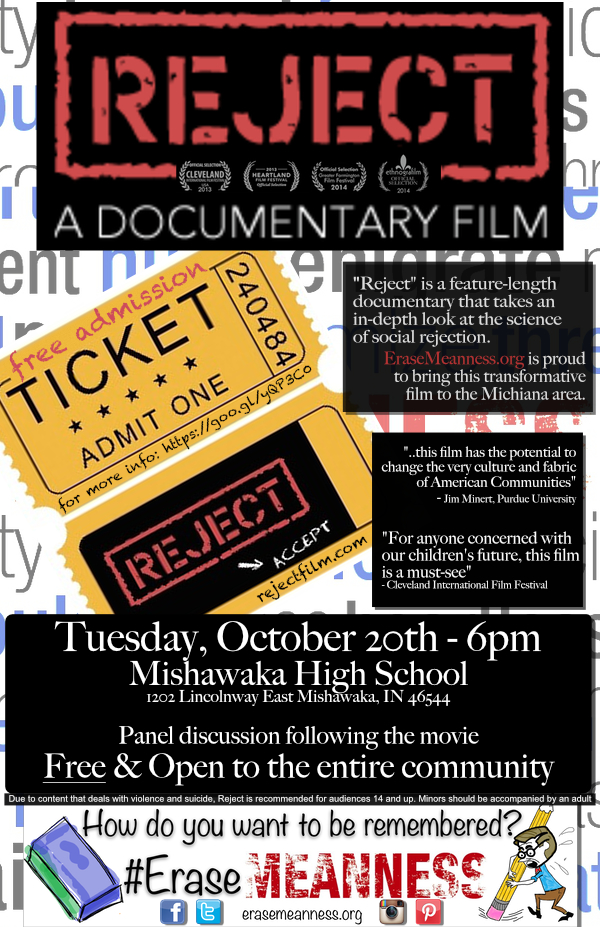 The South Bend, IN based EraseMeanness.org is proud to bring this transformative film to the Michiana Area as part of its Anti-Bullying Month efforts. REJECT is a feature-length documentary and takes an in-depth look at the science of social rejection. (The film was originally inspired by the work of the Director's father, Dr. Herbert E. Thomas, who wrote a book called The Shame Response to Rejection.)
From the film's website: REJECT takes a science-based and solution-oriented look at the roots of bullying behavior and violent behavior against the self or others. The film aims to raise public consciousness about the serious and potentially lethal consequences of interpersonal rejection in its many forms—peer bullying, parental neglect (or abuse), race discrimination, and other forms of social rejection across all age groups. It speaks to parents, teachers, administrators, organizations that train teachers, coaches, mental health professionals, clergy, counselors, juvenile judges, office managers—that is, anyone entrusted with influence over others and in a position to foster acceptance and inclusion.
Following the screening, local experts will participate in a panel discussion about the movie and related issues surrounding social rejection.
"REJECT" is an important film and it deserves a wider audience. Please join us for this special evening of discovery and discussion. Tickets are not required but will help organizers plan more effectively and registrants will receive email updates and info.
(*Please note that some content in the movie deals with violence and suicide and is recommended for children 14 and older. Minors should be accompanied with an adult.)
Please enter at the far West doors of Mishawaka High School or take a left at the US Flag located in the main quad/courtyard at Door B. (Auditorium)
Organizer of Community Screening of "Reject"

Since 2012, Erasing Meanness' purpose has been to give students tools and insights to Erase Meanness in their lives. 
The adaptable lesson helps students make the connection between the choices they make and the world they leave behind by asking "How do you want to be remembered?"
A sponsor of events througout the year, EraseMeanness.org's Worldwide Erase Meannesss Pledge Day and Erase Meanness Week has reached  130,000+ students in 48 U.S. States and 20+ countries on six continents participate.  
We believe that every child deserves  a life without meanness. While  meanness may never  be totally eliminated, that doesn't mean we'll stop trying.