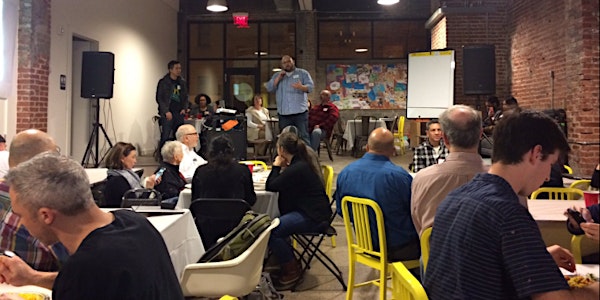 Community EngageMINT: Fresh Connections with involveMINT
When and where
Location
Repair the World Workshop 6022 Broad Street Pittsburgh, PA 15206
Refund Policy
Contact the organizer to request a refund.
Description
WHAT: Come celebrate the launch of our new mobile application, while learning how the city's first digital currency makes Pittsburgh more inclusive and participatory.
HOW: Connect with our nonprofit participants, see what local businesses have to offer, and be the first to experience involveMINT: a new mobile digital currency application.
DESCRIPTION: Within our 21st century economy, innovation and disruption are happening lightning fast. Many of our communities find themselves lagging behind, or unable to keep up with this dynamism. As traditional social structures, funding sources, and governmental safety nets are challenged or dismantled, communities and the stakeholders within them all face unprecedented challenges.
Locally, Pittsburgh has gained high number of socially conscious businesses and organizations to tackle these challenges. However, these organizations have previously lacked a means of connecting to the resources that they need most. What would happen if we could activate the local economy that exists in each neighborhood to help? The first step is to realize that we have all we need to thrive, it is just a matter of connecting resources with those who need it most!
Join us to experience how involveMINT is activating these resources and encouraging cross sector collaboration in an exciting new way!

Group activities and light refreshments will be abound!
A special thanks to the following participants:
We hope to see you there!
ABOUT INVOLVEMINT: involveMINT is looking to change the culture of volunteerism by crafting a broad, intentional network of organizations and businesses that will support those looking to impart change in our communities. This network will promote regular service and thoughtful collaboration around (re)building communities amid our increasingly stratified and busy lives. By using currency as a tool, involveMINT engages communities and create economic capacity where it does not currently exist - leveraging community assets (such as mainstay businesses and institutions) to create social impact. This technology decreases the degree of separation from becoming involved, and allows people to instantaneously learn about issues and become stewards of their own community.