Under The Canopy - Community Driven Country Cavalcade = A Fundraiser for Community Driven
About this event
Summit Brewing, Jack Daniels, Slane Irish Whiskey, The Hive & Nobool Presents
Community Driven Country Cavalcade
A Fundraiser for Community Drive
Live Performances by Cole Diamond, Pleasure Horse, Jake Duda Band, Tyler Haag, DJ Truckstache + a special appearance by Jeff Larson with Cole Diamond band
Friday, May 14
Under The Canopy at The Hook and Ladder Theater
"An Urban Outdoor Summer Concert Series"
Doors 6:00pm :: DJ 6:00pm :: Music 7:00pm :: 21+
Tickets: $15-$25*
Reserved Seats/Pods** of 2, 4, & 6
* Does not include Fees
** Must purchase the entire pod of seats
RAIN or SHINE
NO REFUNDS
BUY TOGETHER :: ARRIVE TOGETHER :: SIT TOGETHER
Together we will safely enjoy live music this summer!
-----
Community Driven and their support partners St Paul Bagelry, Wiseacre, Widmers & Chowgirls Catering are proud to present an evening of Country Music with Tyler Haag, Jake Duda Band, Pleasure Horse and Cole Diamond. There will also be live art from Rogue Citizen and a mid concert bagel sandwich served to all guests. If you would like to request a vegetarian bagel sandwich please email Joe: hollandusa@gmail.com
Community Driven is a 501(c)3 Food rescue non-profit with an eye for Art and Music support.
6:00pm - Doors / DJ Truckstache
7:00pm - Tyler Haag
7:45pm - Jake Duda Band
8:30pm- Pleasure Horse
9:15pm - Cole Diamond 
-----
Gentleman Forager Eats
Wild and wildly delicious food is expertly prepared by "Gentleman Forager Eats". Whether you are a carnivore or herbivore, there is something at our outdoor kitchen crave-worthy for you. The ever-changing menu—From mouthwatering meats and vegetarian shawarma to morel mushrooms on a stick—is fueled by our own Chef Taylor O'Brien and an impressive multitude of guest chef pop-ups. Come hungry for dinner with the show!
-----
Thank you to our supporting partners: Summit Brewing, Jack Daniels, Slane Irish Whiskey, The Hive Realty, Gentleman Forager, Nobool Presents, KFAI 90.3FM, The Hub Bike Co-op, Music In Minnesota, Geek Love Cafe, Moon Palace Books, Lake Street Council, & The MN State Arts Board
-----
COVID Safety
If you have any covid symptoms stay home!
Arrive early to allow time to get into the venue and your seats.
Wear a mask to your table, seat, bathroom, bar and respect others space.
Pods are spaced 6 feet apart.
Enjoy The Show!
The health and safety of our guests, artists, and staff is our top priority. We are monitoring the situation closely and will continue to follow the guidance and recommendations of the Minnesota Department of Health. Thank you! 
You are solely responsible for assessing and implementing the appropriate safety and security measures for yourself.  Your participation in safe practices is required.  Continued violation of social distancing and unsafe practices may cause you to be asked to leave the event.  
What's expected of attendees:
The World Health Organization, Center for Disease Control and the Minnesota Department of Health all have resources and guidelines available to understand the risks of attending events.  Your understanding of this information provided by the above mentioned agencies is your responsibility.
We require that attendees self-certify that they do not have symptoms, have not been diagnosed with or had direct contact with a known or suspected COVID-19 case in the past 14 days, and will comply with the event's safety policies and procedures including wearing face covering, physical distancing, and other determined requirements. Violation of policies will cause removal from the event.
Waiver:
By purchasing a ticket and or attending the event automatically begins the Assumption of the Risk and Waiver of Liability Relating to Coronavirus/COVID-19.
Assumption of the Risk and Waiver of Liability:
The novel coronavirus, COVID-19, has been declared a worldwide pandemic by the World Health Organization. COVID-19 is extremely contagious and is believed to spread mainly from person-to-person contact. As a result, federal, state, and local governments along with health agencies recommend social distancing and have, in many locations, prohibited the congregation of groups of people. The Hook and Ladder Theater has put in place preventative measures to reduce the spread of COVID-19; however, we cannot guarantee that you will not become infected with COVID-19. Further, attending events could increase your risk of contracting COVID-19.
As our guest you will agree to the following assumption of risk and waiver of liability: "By purchasing a ticket, I acknowledge the contagious nature of COVID-19 and voluntarily assume the risk of being exposed to or infected by COVID-19 by attending events and that such exposure or infection may result in personal injury, illness, permanent disability, and death. I understand that the risk of becoming exposed to or infected by COVID-19 at the event may result from the actions, omissions, or negligence of ticket holders and others, including, but not limited to, employees, volunteers, and program participants and their families. I voluntarily agree to assume all of the foregoing risks and accept sole responsibility for any injury to my guest(s) or myself (including, but not limited to, personal injury, disability, and death), illness, damage, loss, claim, liability, or expense, of any kind, that I or my guest(s) may experience or incur in connection with my guest's attendance at the event or participation in concert programming ("Claims"). On my behalf, and on behalf of my guest(s), I hereby release, covenant not to sue, discharge, and hold harmless The Hook and Ladder Theater, its employees, agents, and representatives, of and from the Claims, including all liabilities, claims, actions, damages, costs or expenses of any kind arising out of or relating thereto. I understand and agree that this release includes any Claims based on the actions, omissions, or negligence of the The Hook and Ladder Theater, its employees, agents, and representatives, whether a COVID-19 infection occurs before, during, or after participation in any event program."
To ensure the safety of our staff and guests, we are asking you to assess any symptoms you may have prior to attending the Event. Please review each symptom listed below and answer "yes" or "no" if this is a symptom that you or your guest(s) are experiencing and cannot attribute to another health condition. You must simply answer these questions for yourself.
Do you have:
* Fever or feeling feverish?
* Chills?
* A new cough?
* Shortness of breath?
* A new sore throat?
* New muscle aches?
* New headache?
* New loss of smell or taste?
If you answered "Yes" to any of the symptoms listed above, please contact us for options. Please send an email to tickets@thehookmpls.com or call us at 612-345-7166. We are looking forward to seeing you at the The Hook and Ladder Theater this summer!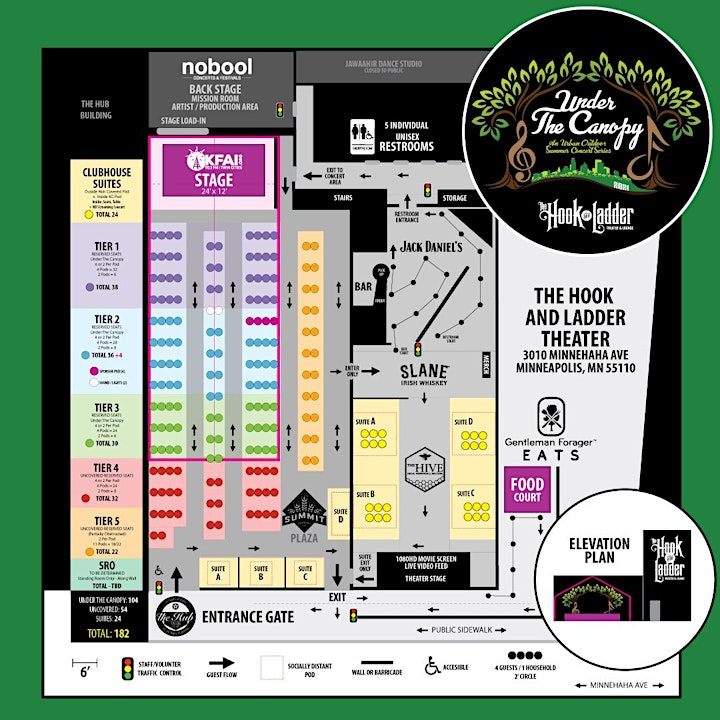 Organizer of Community Driven Country Cavalcade
Operated by the non-profit Firehouse Performing Arts Center (FPAC) The Hook presents a wide variety of original performing arts, including; music, literary, visual, comedic, culinary, craft and theater. The range of services include, but is not limited to, ticketed concerts, wedding rentals, non-profit fundraisers, birthday/retirement celebrations, community programming, outdoor festivals, album & book releases, art shows, private events, presentations, workshops, and seminars.