Description
Memphis Community Development Book Club - Class:
Part I
A community that reads together, grows together. Readers, practitioners, and interested community members gather to not only read books but to also share how Memphis can benefit from the lessons granted from each reading. Join us for the next Community Development Book Club, where we'll discuss Paul Fussell's novel called "CLASS: A Guide Through the American Status System."
The New York Times Review
Fussell draws thick dividing lines before drawing thin ones. He suggests, for example, that "you could probably draw a trustworthy class line based wholly on the amount of sugar consumed by a family, making allowances for the number of children in the household." A prickly observer of language, he notes that "an important class divide falls between those who feel veneration before the term executive and those who feel they want to throw up."
His book investigates how Americans talk, how we decorate our homes, how we dress, how we read. This book is nearly 35 years old, and some of its examples are out of date. It is less and less true, for example, that "top-class food resembles British, being bland and mushy, with little taste and no chances taken." Continue reading overview…
Schedule for this Read: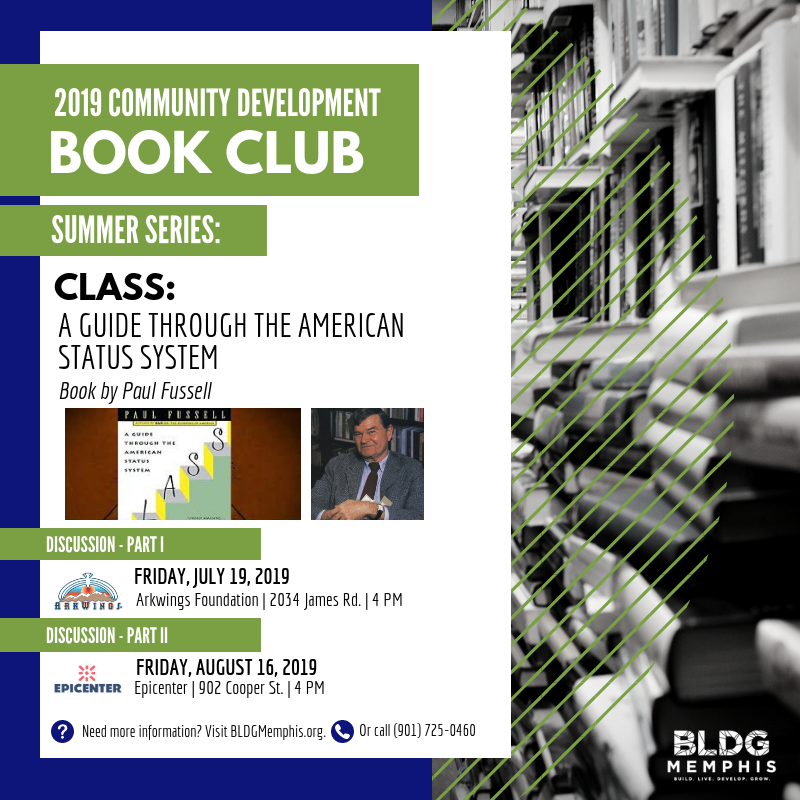 Questions, Comments or Concerns?
Email us at info@bldgmemphis.org.