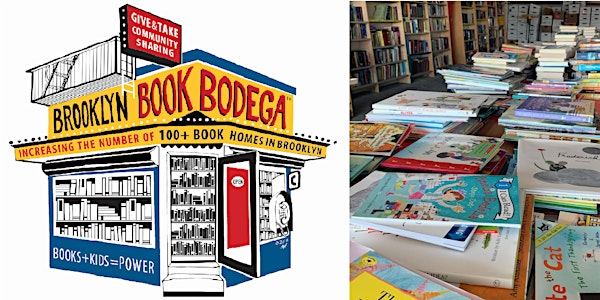 Community Day at the Book Hub
Be part of the Brooklyn Book Bodega's mission to increase the number of 100+ book homes by selecting books at our Book Hub!
When and where
Location
Brooklyn Book Bodega 141 Flushing Avenue Suite 302 Brooklyn, NY 11205
About this event
Who: You! If you are an educator or part of a community organization
What: Select well-loved used books from the Book Hub
When: Saturday, Dec 11, 2021 10:00 AM - 5:00 PM
Where The Brooklyn Book Bodega Book Hub - 141 Flushing Ave, Suite 302
Why: To increase literacy and the number of 100+ book homes in NYC for kids 0-18!
We want as many kids as possible in NYC to have books that they want to read. If you are an educator or part of an organization (church, school, community-based organization, food pantry, etc.) who wants to get more books into children and adolescents' homes, please join us for Community Day at the Book Hub!
(*If you do not fall into these categories, please join us at one of our in-person events! https://www.brooklynbookbodega.org/inpersonevents)
Please click "register" to sign up for a 45 minute appointment on Saturday, December 11, 2021 to pick out books at our facility at Brooklyn Navy Yard, 141 Flushing Avenue. (You will be entering an active warehouse space so: Individuals 14+ are allowed in our space, books will be on tables and the floor. )
During your 45 minutes, you will be able to select as many books as you can carry (approximately 100 books). We have well-loved used books for children, adolescents, teens, and adults prepared for this event. Please bring your own bag or luggage to take them with you.(If you will have someone join you to help, please select a ticket for them as well during the registration process.)
Although our books are free, Brooklyn Book Bodega operates on a slim budget. Please make a donation to help support our operational costs. Brooklyn Book Bodega is a 501(c)3 and your donation is tax deductible to the fullest extent of the law. More info here: https://www.brooklynbookbodega.org/donate.
*Please note that because we are located in a warehouse space, for safety no one under 14 years old is allowed in the space.
If you have any questions, please reach out to cecilia@brooklynbookbodega.org