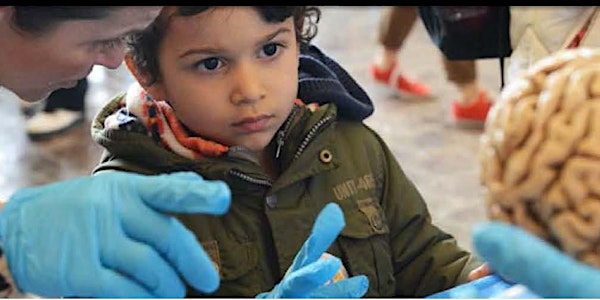 Community Brain Expo at Columbia University
When and where
Location
Kolb Annex Lobby 40 Haven Avenue, New York, NY 10032 Located 1 block west of West 168th Street and Forth Washington Avenue, at the entrance of the New York State Psychiatric Institute
Description
Community Brain Expo: A Celebration of Science and the brain
The Mortimer B. Zuckerman Mind Brain Behavior Institute invites you to celebrate Brain Awareness Week with real brains, exciting demonstrations, experiments, and activities for every age, all led by actual neuroscientists!
Families, teachers, and adults are invited to learn about the brain through series of interactive activities and demonstrations. Come test, trick, and learn about the brain at the Community Brain Expo at Columbia University Medical Center.
The Expo is free and open to the public. Adults require photo ID for entry. Registration is highly encouraged especially for groups.
For more infromation, please contact us at zuckermanoutreach@columbia.edu or 212-853-0600.
See pictures and videos from past brain expo here: http://www.columbia.edu/cu/news/brain-expo/brain-expo.html.

This event is a braiNY event in celebration of Brain Awareness Week in New York City; organized by Columbia University Neuroscience Outreach, Columbia University's Mortimer B. Zuckerman Mind Brain Behavior Institute, the Dana Alliance for Brain Initiatives and the Greater New York City Chapter of the Society for Neuroscience.