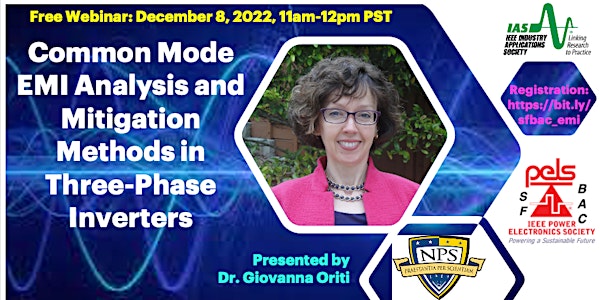 Common Mode EMI Analysis and Mitigation Methods in Three-Phase Inverters
SF Bay Area Chapter of IEEE PELS Presents the Webinar: Common Mode EMI Analysis and Mitigation Methods in Three-Phase Inverters
About this event
The SFBAC (combined Santa Clara Valley, San Francisco, & Oakland/East Bay) IEEE Power Electronics Society (PELS) is very pleased to have Dr. Giovanna Oriti, Professor at the Electrical and Computer Engineering Department of the Naval Postgraduate School, to speak on the topic of "Common Mode EMI Analysis and Mitigation Methods in Three-Phase Inverters"
This event is co-sponsored by the Santa Clara Valley Joint Chapter of IEEE Power and Energy Society (PES) and IEEE Industry Applications Society (IAS).
Additional event details are listed below:
Registration is FREE TO ALL!!!
THE MEETING WEB LINK FOR THE EVENT WILL BE DISTRIBUTED WITHIN 24-48 HRS OF THE EVENT TIME TO ALL THOSE REGISTERED FROM THIS EVENTBRITE PAGE.
SFBAC PELS WEBSITE LINK: https://r6.ieee.org/scv-pels/
Talk Title:
Common Mode EMI Analysis and Mitigation Methods in Three-Phase Inverters
Abstract:
The common mode (CM) voltage generated by a switching power converter yields unwanted currents to circulate in the ground paths, tripping ground faults relays, accelerating motor bearing aging, and producing electromagnetic interference (EMI). Typical differential mode (DM) models of power converters do not account for CM paths and currents, so models including parasitic components and CM voltages must be used to predict CM EMI. In this presentation CM modeling and analysis will be highlighted and popular CM EMI mitigation methods, including passive filters, active filters, and novel power converter topologies will be briefly summarized.
The second part of the presentation will focus on novel CM voltage elimination methods based on a game-changing shift from pulse width modulation (PWM) to pulse density modulation (PDM) for grid-forming and grid-following inverters. Rapid prototyping of three-phase four-leg inverters, built with wide bandgap devices (WBG), will also be presented to demonstrate the elimination of the CM voltage at the switching frequency and significantly reducing the size of the CM passive filters required to meet the conducted emission limits in MIL-STD-461G.
About the Speaker:
Giovanna Oriti received the Laurea (with Hons.) and Ph.D. degrees in Electrical Engineering from the University of Catania, Italy, in 1993 and 1997, respectively. She was a Research Intern at the University of Wisconsin, Madison, for two years, then worked in industry for 10 years. In April 2008, she joined the faculty of the Electrical and Computer Engineering Department of the Naval Postgraduate School, where she is now a tenured Professor. Her research interests include electromagnetic interference in power converters, power electronics for energy management, shipboard electrical power, microgrids and renewable energy interface.
For more information and list of publications, please visit http://faculty.nptis.edu/oriti/